Rivals100 WR Michael Redding Ready To See Notre Dame Following Offer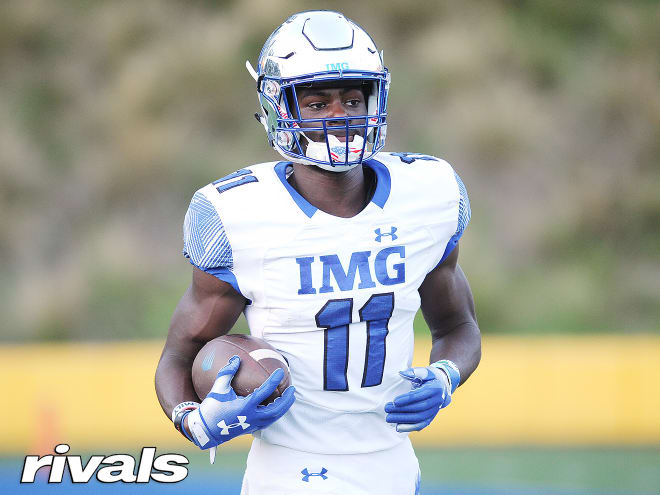 Notre Dame has been recruiting four-star wide receiver Michael Redding for a long time now, but an offer didn't come for the Bradenton (Fla.) IMG Academy standout until Tuesday.
Redding, the No. 41 overall player in the nation, said it was an offer he'd been waiting on.
"I was very excited," Redding told Blue & Gold Illustrated. "I've been talking to them for a while, so it's very exciting to get that offer."
After watching big-bodied pass catchers like Miles Boykin and Chase Claypool standout at Notre Dame in 2018, Redding said he can tell the Irish offense would showcase his abilities.
"They have some big wide receivers already there," Redding said. "They know how to use those guys to make big plays. I've been talking to Coach Alexander and he's been telling how they'd use me. I think I would fit in their offense very well and that sticks out to me."
Redding has been talking mostly with receivers coach DelVaughn Alexander, who has made a strong impression so far.
"He's a good guy," Redding said. "You can tell he knows what he's talking about."
Even though the offer didn't come for Redding until Tuesday, the talented receiver has already set up a visit to South Bend.
Redding will see Notre Dame for the first time on March 28, and said he made a trip to South Bend a priority because of the sincere interest the Irish coaching staff has shown in him.
"I want to visit because of my high interest in them. I want to see what's up there," Redding said. "I want to meet with the coaches since they come down to IMG a lot."
While in the Midwest for the Notre Dame visit, Redding will also make a stop at Purdue.
As he begins to take more visits, Redding said he'll have his eye on a few key factors that will help him evaluate his options.
"I look at the players and the leaders of the team to see what the culture is like," Redding said. "I want to see how the coaches are and how they interact with the players. You can't see that over the phone. You have to see it in person and that's very important to me."