OFFICIAL: 2020 Post Elijah Taylor Signs With Notre Dame
Philadelphia Imhotep Institute Charter School big man Elijah Taylor put pen to paper and officially joined the Notre Dame men's basketball program.
The 6-foot-8. 215-pounder is listed as a center by Rivals but offers the versatility to play the four or the five for Mike Brey's Fighting Irish. Taylor officially visited Notre Dame Sept. 13-15 and committed to the Irish Sept. 19.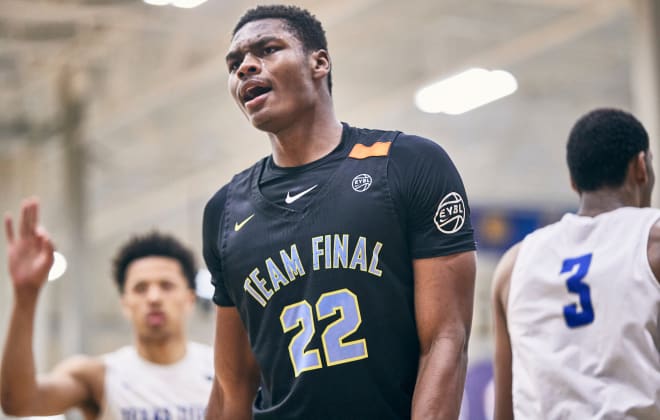 RANKINGS
Rivals: Three-star talent, No. 28 center
ESPN: Three-star talent, No. 34 power forward, No. 5 recruit in Connecticut
RECRUITMENT
Offer Sheet: Florida, Pittsburgh, Providence, Rutgers, Seton Hall, St. Joseph's, VCU
The Irish actually arrived a little bit late to the party for Taylor, offering him July 3. Just a couple of weeks later. Taylor narrowed his recruitment down to Florida, Notre Dame, Pittsburgh, Seton Hall, and VCU.
He officially visited four of the five with the school left out being Pittsburgh. Taylor was going to visit Pitt on Sept. 20-22 but committed to the Irish following his official visit on Sept. 13-15.
"They're a great academic school and give great exposure on the court," Taylor said after he landed an offer from Notre Dame. "They're well-known. I've been working really hard and it just so happened that I got the [offer]. They watched me and I grabbed their attention."
Taylor is listed on his Rivals profile as a center, but he is likely a power forward who can also play center in a small ball type lineup. Taylor is very athletic and can put the ball on the floor.
"I play hard, am passionate, and my effort is always on 100," Taylor stated. "I stay in the gym to make sure I'm working hard on my craft. I'm trying to get better at my shooting and being able to create shots for myself."

ANALYST TAKE
"He's a hard-nosed and tough big man. He's a little undersized in the front court but does have long arms and a ready college body. Taking plays off is not something Taylor does well. He's going to compete and set the tone each time down the floor. He is a quality 15-foot and in weapon that should make for a solid college contributor all four years.
"I can't really think of a perfect comparison for him, but he is a rugged big man that is more in your throwback Big East type of mold. He might be best used as a small ball 5-man but can play either big man position and produce accordingly. You'd like to see him make shots more consistently but he is really good around the basket thanks to his go-to lefty hook and has begun to shoot it decently from the mid-range. At worst, he is a shot changer, rebounder and finisher in the lane." - Corey Evans, Rivals.com National Basketball Analyst
COACH'S TAKE
"He's really physical around the rim. I think what's really changed for him is how much he has improved his face up game. He is really efficient at putting the ball on the floor and getting to the rim. He shoots the high school three point shot really well now. We're proud of the growth he's made with his shooting and doing more things on the floor. Obviously, he's a good rim runner. His post-game is good, especially on the turn-and-face."
"He's a tremendous defensive player. He draws charges, rebounds the ball well, he blocks shots, and plays with an unbelievable motor." -- Andre Noble, Imhotep Head Coach
LINKS
HIGHLIGHTS