Notre Dame Signees In The Final Rivals State Rankings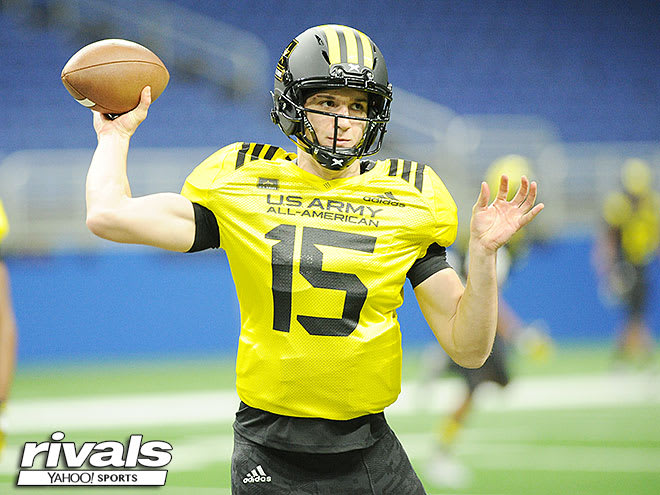 The final edition of the Rivals250 for the class of 2018 was released this week, and Notre Dame was well represented with nine Irish signees making the list.
On Friday, the final state rankings for the class of 2018 were released, and several Notre Dame players landed in the top groups in their states, showing how much success Notre Dame has had recruiting at a national level.
Here are a few notes on where Irish signees finished in the final state rankings.
—Quarterback signee Phil Jurkovec was the highest state finisher for Notre Dame, coming in at No. 2 in the Pennsylvania rankings.
—Jurkovec and linebacker signee Matthew Bauer (No.4) give Notre Dame two of the top four players in the state of Pennsylvania. Defensive end Micah Parsons (No.1) and tight end Zack Kuntz (No.3) are both headed to Penn State.
—Notre Dame also signed two of the top five player in New Jersey in rover Shayne Simon (No. 4), and defensive tackle Jayson Ademilola (No.5). Defensive end Justin Ademilola finished at No. 16 in the state.
—In Florida, Notre Dame picked up three of top 50 players in the state by signing defensive back Houston Griffith (No. 11), wide receiver Kevin Austin (No. 22) and tight end George Takacs (No. 50)
—Three other Notre Dame commits finished in the top five in their respective states. Offensive tackle commit Luke Jones came in at No. 4 in Arkansas, wide receiver Braden Lenzy checked in at No. 3 in Oregon, wide receiver Micah Jones finished at No. 2 in Illinois.
—Other top 10 finishers included linebacker signee Jack Lamb (No. 10 in California) and linebacker Ovie Oghoufo (No. 9 in Michigan)