TE Brock Wright 'Great' On And Off The Field, Coach Says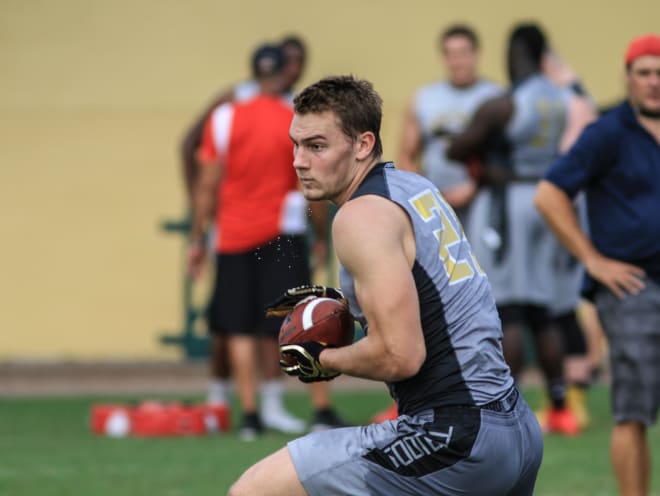 It's been over a year now since Cypress (Texas) Cy-Fair tight end Brock Wright became the second commitment for the Irish in the 2017 class. According to Cy-Fair head coach Ed Pustejovsky, it does not appear Wright will be changing his mind about attending Notre Dame.
"Oh yeah, he's rock solid (to Notre Dame)," Pustejovsky said. "When he committed, I guess, the summer before his junior year, I called him in just to make sure he was solid because I knew there would be a lot of coaches coming through. He said 'no coach I'm solid.' He's very nice and cordial to all the coaches that came in, but he didn't visit with them or anything of course. He's made up his mind and he doesn't want to waste their time and I think they appreciate that as well."
The four-star is ranked as the top tight end in the country by Rivals and is the highest rated member of the class coming in at 47th overall nationally. What makes Wright, as Pustejovsky described him, an "awfully good player."

"He's a physical kid who can handle the line of scrimmage at the edge and takes pride in that," Pustejovsky said. "He's also a kid that can get down the field vertically and catch the deep balls, crossing routes. He's got good hands. He's an extremely hard worker and does everything you ask him to do. Notre Dame is getting a fine young man and a great football player."
Pustejovsky said Wright's work ethic and demeanor are his biggest assets and what separate him from the pack.
"He's very intense," Pustejovsky said. "He likes to win every individual battle out there when the ball is snapped. He takes pride in that. You know, that's not something you get out every kid. If he doesn't it bothers him. He'll find a way to fix it and get it done."
Pustejovsky said he and his staff knew early on they had a good player in Wright.
"When he came in as a freshman we anticipated him being an awfully good player for us," he said. "He played on the freshmen team and missed a few games, but came back and had a good year. He played up as a sophomore and we had a returning letterman, but he ended up starting for us a sophomore making all-district and playing extremely well. That's when we knew we had a special individual and I think everyone in the country knew it after his sophomore year."
Pustejovsky said he expects good things from Wright when he arrives at Notre Dame and his tight end will accept his role and "be a team player no matter what you ask him to do."
Wright is not only a good player, but he represents himself and his family well off the field as well.
"The bottom line with Brock is he's a great player, but more than that he's a great young man," Pustejovsky said. "He's a fine young man. His whole family are fine people and they've done a great job of raising him (and his siblings). It's just a great family and Brock is a product of that."