Weis, Faust highlight banquet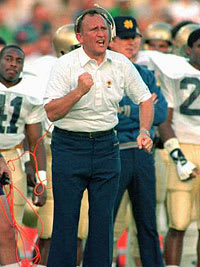 A sincere and thoughtful Charlie Weis honored the senior class of the 2006 football team that continued the winning ways started last season when the Irish earned the first of two straight bids to the Bowl Championship Series.
More than 1,200 were in attendance for the 86th Notre Dame football banquet, which featured the return of former Irish head coach Gerry Faust, who was attending his first banquet since his final season in 1985.
A subdued and reserved Faust—who toned down his enthusiasm long enough to give a thoughtful and measured speech—became emotional for a few seconds when he mentioned that he was attending his first Notre Dame football banquet in 21 years.
Weis and Faust highlighted the evening with their speeches, which came after various members of the Notre Dame football team were honored.
Carlson was recently named a first-team Academic All-American.
The evening began with the usual video montage of the season, narrated by legendary NFL broadcaster and "the voice" of the NFL, Harry Kalas.
Local television broadcaster and WNDU-TV sports director Jeff Jeffers served as master of ceremonies.
Irish athletics director Dr. Kevin White was in North Carolina for the women's soccer Final Four and could not attend the banquet. Serving in his place was Deputy Director of Athletics Stan Wilcox who, on behalf of White, opened his brief speech by declaring "how blessed we are to have the best head football coach in the country."
Faust, who met with the media briefly before the start of the banquet, said he promised that he would visit the University's Grotto, in honor of the Blessed Mother, every day if he were ever named head football coach at Notre Dame. On Nov. 24, 1980, he was tabbed by the late Fr. Edmund P. Joyce.
Faust recalled the 5,000 fans that showed up at the first spring practice, the two-hour lunch he had with former University president Rev. Theodore M. Hesburgh, in which Hesburgh gave Faust a thorough review of the Notre Dame football coaches from Rockne through Devine, and the appearance of wheelchair-bound Keith Penrod for Notre Dame's upset victory over No. 1-ranked Pittsburgh in Pennsylvania.
Faust described the moment he decided to resign as head coach: When future Heisman Trophy winner Tim Brown sat in the Notre Dame locker room—head in hands and crying after a dropped pass in a 10-7 loss to LSU in the final home game of the '85 season.
"At that point, I decided to step down," Faust recalled. "Notre Dame's been too good to me. We need a new direction. We need a new coach."
Faust also told the story of Tom "Rock" Roggeman, the undersized defensive lineman who was not going to receive a scholarship from Notre Dame. But when Faust realized how committed he was and how much playing football at Notre Dame meant to him, he granted Roggeman a scholarship.
Weis talked about the familiar theme that he heard from the people around him when he arrived. "Give him five years. Wait 'til he gets his players in there."
Weis said the players that sat before him were his players, and "my agenda is to recognize the contributions of this senior class." Weis had all the fourth- and fifth-year seniors stand up to show just how many players would be departing the program after this season.
"These are our guys," said Weis, in perhaps the most poignant moment of his speech.
He praised the 2006 football team, proudly declared Notre Dame's football graduation rate at 99.3 percent, and then added, "This is not a recruiting promo; this is fact."
Weis talked about the unselfishness and teamwork of the 2006 squad, speaking directly to the handful of recruits in attendance.
"These guys represent what Notre Dame stands for," Weis said. "When we score a touchdown or someone makes a play, they celebrate with their teammates.
"Anytime you can get a group of guys to suppress their egos the way this group has, you always have a chance to win."
Weis talked about how the players blend in with the rest of the student body, just as they did during his undergraduate days in the late 1970s.
"Joe Montana, perhaps the greatest quarterback of all-time, was just another guy, just one of my boys," Weis said.
University president Rev. John I. Jenkins thanked the seniors for their contributions, excused the team so they could get a jump-start for their early Saturday morning practice, and offered the benediction as the 86th Notre Dame football banquet came to a close.