Chat Transcript: On QB development, ND's talent quotient, new coaches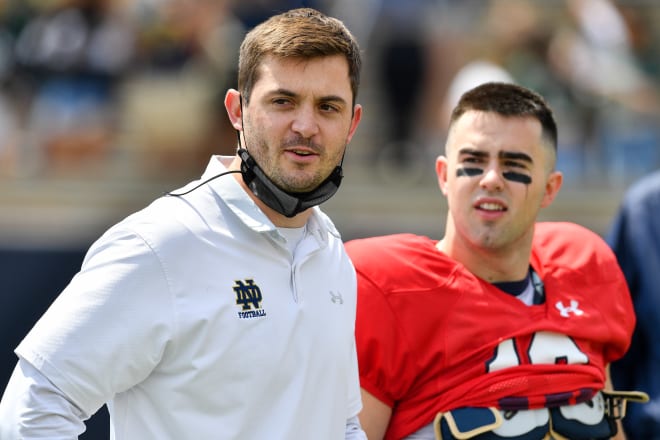 Eric Hansen: Welcome to Notre Dame Football Live Chat on a frigid day in South Bend, Ind. Please remember to include your NAME and HOMETOWN with your question. A full transcript will be available at insidendsports.com later this afternoon.
Marie from Atlanta.: Hi Eric. I hope you're having a good week. How confident are you in the ability of Tommy Rees to develop a quarterback from a technical standpoint? I think we can all agree he is progressing well with the scheme part of being an offensive coordinator, but what about the technical QB piece? Some of his coaching was in the NFL, and I assume the emphasis is decreased on technique by that point and more focused on scheme. Additionally, we can assume Brian Kelly was his mentor in this area, and his track record for developing quarterbacks is not good. Also, I know these players all have private coaches. Do the private QB coaches work with Rees to coordinate a program for development of the quarterback or are they two parallel coaching philosophies that never interact? It seems like if Notre Dame wants to start getting some of these top quarterbacks, they really need to hit on developing someone soon. Thanks, as always, for your great insight.
Eric Hansen: Hi Marie and thanks. One of the most fascinating aspects of post-Brian Kelly football at Notre Dame is who does Tommy Rees become, now that he's no longer tethered to Kelly? As a strategist? As a QB developer and evaluator? As a recruiter? The current offseason, the 2022 season and the 2023 recruiting cycle are going to go a long way toward defining those things. It's difficult to completely uncouple Kelly's influence, for better or for worse, in these areas up to this point. Tyler Buchner becomes the most relevant (and critical) pupil. Dante Moore or Christopher Vizzina need to end up in ND's 2023 class. Period. End of Sentence.
Ian Book lauds Rees. So does Jack Coan. But what happened with Brandon Wimbush and Phil Jurkovec? You could argue the Jurkovec development falling apart was more a Chip Long thing. So again we circle back to Buchner. And Rees will have to make progress with Drew Pyne and Steve Angeli as well. Remember, Rees is a young coach who puts a lot of work in the offseason to get better at all parts of his job. He visits with other coaches and does so with an open mind. I like that about him.
As far as the private QB coaches, there's a more concerted effort now for consistency than there was, say, in the days of Everett Golson, to make sure things sync up better with what's being taught and ND and what's being taught elsewhere. So to circle back to the very start of your question, I am optimistic about Rees in all his roles. I've seen things on all fronts that are encouraging. And that trend needs to continue.
Ken from Pensacola, Fla.: Eric/Tyler, miss you guys. Hey how goes the new venture? I promise to join as soon as I can turn in my Coke bottles. So, question what you all see as the greatest pitfall for our 2022/23 team besides playing Ohio State for the first team on our schedule.
Eric Hansen: Hi Ken, and thanks. Hope you're thirsty! I think the greatest test for this team in 2022 is how it handles adversity and how well Marcus (and staff) is able to fix things on the fly. As far as a roster standpoint, the secondary, the wide receivers and the QBs all need to be in the headlines (for good reasons) this offseason.
Steve from St. Louis: Eric, Congrats on the HOF! Well deserved. In the latest Rivals 250 rankings, ND has 4 top 100 players and 13 top 250 players. This is ND's best class since 2013. In comparison, Alabama has 14 top 100 and 20 top 250 players, and Georgia has 10 top 100 and 16 top 250 players. In your opinion, is this a big disparity or can ND compete on the field in the next couple of years? The 2023 class looks great so far, but without a bigtime QB I have concerns about the offensive upside following Tyler Buchner. Can Tommy Rees/Marcus Freeman get one of the big QBs in 2023?
Eric Hansen: Hi Steve. There is still disparity, but at least there was progress. And with some of the individual rankings bumps, ND moved from No. 7 to No. 6 in the class rankings. They're No. 1 currently in the 2023 rankings, with that class due for a re-ranking next month. They've got four top 50 players with just eight so far committed. That matches the number of top 50 players the Irish landed in the 2018-through-2021 classes combined. So things are moving in a really good direction. But the high school rankings are only part of the talent equation. The portal (both incoming and outgoing) needs to be taken into account. So do draftable players who return to boost their NFL stock. So ND adds a consenus All-America safety, (Brandon Joseph) the best returning interior offense lineman in college football (Jarrett Patterson), per Pro Football Focus, and one of the best edged defenders in Isaiah Foskey, to name a few. That's like adding three five-stars to the roster, even though none of them were five-stars coming out of high school.
Notre Dame's player development model is one of the best in the country, with Matt Balis the cornerstone of that. But you are right, Notre Dame has to be able to recruit (and develop) elite quarterbacks and needs to get the kind of top-flight wide receivers that it gets in its tight ends room.
Rick from St Pete: Eric, thanks for doing these as always. I have read that Chansi Stuckey blew the staff away with his insight into the game in his interview. Any insights from you as to what it was that blew them away and how that might change WR play this year?
Eric Hansen: Hi Rick. His football IQ is off the charts, and that showed up in his NFL career. I'm not sure if you had a chance to see my piece with Brady Quinn on Chansi, but it shed some light on how he could be such a good fit with so little actual coaching experience. Tyler James has a piece coming next week likely that will provide even more insight ... on Stuckey's coaching and his recruiting prowess.
John from South Bend: Have been hearing a lot around South Bend that Mike Elston was not welcomed back, after he mentioned wanting to stay here long term. Any truth to this?
Eric Hansen: That is not true. I addressed Mike Elston's exit in last week's chat. Here's a link to the the transcript.
Jake from LaPorte, Ind.: Eric, was wondering with Marcus Freeman taking his time on hiring a defensive coordinator, can we assume he is looking for someone specific who will run the defense his way or maybe someone who isn't going to come in and change his type of scheme? It seems like he would have a tough time giving that role up but knows he has to.
Eric Hansen: Hi Jake. If you want a little more depth on this, I've written about that, and we discussed it on our most recent podcast. ... As you look at all four finalists, they all have a history of being either scheme-adaptable or they run something similar currently. So Marcus has kept his word on keeping a lot of continuity defensively.
Frank from Royse City, Texas: When do you think Notre D will name a defensive coordinator and running backs coach.
Eric Hansen: I think we're getting close on both. Al Golden is the linebackers coach with the Cincinnati Bengals, and their success has perhaps slowed the process. NFL coaches whose teams are alive can interview for other jobs, but it's up to the team and the coach himself if they want to do that. And if the Bengals went to the Super Bowl, it'd be difficult for Golden — if he were to be offered the job — to give his full attention to ND in time to get things ready for spring practice.
Jeremy Cobb from Bakersfield, Calif.: Hey Eric. Good afternoon. I have a question regarding my hometown young man Ramon Henderson. With his steady improvement this past year, I have a two-part question. First part do you believe he (Ramon) stays at safety with a chance to share time with the All-American stud from Northwestern transferring in? Second part, as someone who is extremely proud of Ramon being from Bakersfield, Calif., and playing for our beloved Irish, what — if anything — has the coaching staff (Marcus) in particular thought of Ramon's progression and what their expectations or outlook is for him this next fall? Thanks for your insight and always a job well done. And one last thing — Go Irish!!!
Eric Hansen: Hi Jeremy. I do think Ramon Henderson will stay at safety. He was starting at the end of the year, and Notre Dame will probably play four or five in its rotation. in 2022 There are only six on the roster, and three (Houston Griffith, DJ Brown and Brandon Joseph) will all be gone after this season if everything goes as planned. So Henderson would move up. And the way he's playing, he could beat out two of the more-experience safeties to start alongside Joseph in 2022. Let's see how he does in spring. Marcus Freeman was really impressed with the way Ramon was able to adapt to a new position on the fly in the middle of a season.
Kirk from Chantilly, Va: Do the new position coaches get to meet with players during winter training? Would love some Intel on how they are being received by the team.
Eric Hansen: Kirk, they absolutely do. Jarrett Patterson mentioned the other day that the coaches are showing up for player workouts. something Marcus Freeman wants in the winter time. The players are loving it. Now, as soon as these guys are being named, they've gone out on the road recruiting. So the contact has been somewhere limited. That recruiting contact period comes to an end Saturday. So, once they get into a rhythm with the players, I'll be glad to share how that's going.
Neil from Naples, Fla.: Many head coaches are successful coordinators first. After watching Fiesta Bowl, why wouldn't Marcus Freeman continue to call the D-schemes during the game? The Ohio State head coach calls plays. Even the KC Chiefs head coach calls the plays.
Eric Hansen: If I'm understanding you correctly, you are asking about what Marcus Freeman is going to do going forward rather than why he didn't do it in the bowl game? The head coaches who are play-callers are in the minority and usually on offense. That doesn't make it the wrong move. But I think Marcus giving up the play-calling, but staying involved in the defense (which is the plan), makes the most sense. Two main reasons, he wants to establish relationships with the offensive players too, which will help him grow as a coach and help him in recruiting. Also, the Notre Dame head coach is pulled in a lot more directions than most college head coaches, so he's better of delegating some things ... and that's one of them.
Bob Vale. from Hollard, Mich.: Would it be more beneficial for coach Freeman to be the head coach and defensive coordinator, and then hire a top offensive coordinator?
Eric Hansen: Well, Bob, there's already an offensive coordinator in place, in Tommy Rees -- unless you're advocating for a change. The only openings are for running backs coach and defensive coordinator. Marcus could be his own DC, but I don't think that's prudent at this stage of his head coaching career. I think being involved in defensive meetings will be an asset, however.
Shaun from Boston: Who will be the starting quarterback in the Horseshoe? What QBs in the portal are legitimate possibilities to land in South Bend? Thank you.
Eric Hansen: If he's healthy, I would expect that to be Tyler Buchner. As far as the portal possibilities, it's too late for Notre Dame to add someone for spring semester/spring practices as the third week of classes conclude Friday. The smart thing to do is first see what you have in Tyler Buchner, Drew Pyne and Steve Angeli — from both a health standpoint after 15 spring practices and a development standpoint. There will be a whole 'nother wave of transfers after spring practices on other campuses, so there are two good reasons for ND to wait and evaluate in April.
Len from the Jersey Shore: Hi Eric. How is the snow in South Bend? In Jersey we will get hit this weekend following days of bitter cold. The 2023 recruiting class looks awesome. Can the staff hold onto them with just the usual level of decommits? Is there a player/players who if he/they left the dam might break with other players following? The glue that holds the class together?
Eric Hansen: It hasn't been too bad .. yet. Temps in the single digits today. 40s next Tuesday. ... Let's start with the usual level of decommitments. They really vary. In the last 13 cycles. Going back to Brian Kelly's first (2010), it's been 5-2-0-1-3-6-0-2-3-3-4-4-3. And yet ND has poached way more than it has lost and in, general, the poached recuits coming in the door are high-caliber players. NOW, 2023 is a different animal, because ND is going to be dealing with higher-caliber prospects who other schools aren't going to want to concede losing. So expect a lot more baby-sitting of those prospects, a lot more drama. Not necessarily decommits, but drama and rumors and visits to other schools. ... I don't think the player you described exists in this class (whose decommitment would cause the class to crumble) ... but Drayk Bowen strikes me as a leader and a unifying force in the class.
Dan from Vernon Hills: Hi Eric, really enjoy the chats. I was wondering: what are the main duties of an analyst? Is there a limit on the number of analysts and is it an entry-level position for would-be coaches, a landing spot for former coaches or both? Thanks.
Eric Hansen: Thanks Dan. Analysts vary in number and role from campus to campus. Their roles even very within a program. And in terms of entry-level or experienced coaches, it's both. And then last year, when ND was in a hiring freeze, Brian Kelly had to be creative in adding analysts Chad Bowden and Dre Brown. These were two incredibly impactful hires, and neither did traditional analyst duties. They were all about recruiting and upgrading those efforts. At some point, I think they'll get a title change. The one thing analysts CAN'T do, per NCAA rules, is actual coaching during practices or games. But they can still impact players. Chris Watt is expected to come back to ND, likely as an analyst. And that will be a significant addition.
One more thing, before Jeff Quinn was the offensive line coach, he was an analyst, and in that role, he'd do all kinds of deep dives on game analytics to help coaches make the right in-game decisions.
Mike from Lemont, Ill.: Eric, in your opinion who is the best and worst coaching hires since you have covered the IRISH? I would say, hands down, the best was Barry Alvarez and the worst were Brian VanGorder, Jim Colletto and Gary Darnell. All the best. Cheers!
Eric Hansen: Hi Mike. I'm going to limit it to the Brian Kelly/Marcus Freeman Era. Best: Harry Hiestand 2012 (and maybe 2021 as well). Most regrettable Brian VanGorder 2014, with runner-up offensive coordinator Charley Molnar 2010. Cheers back at you.
Bob from Wyoming, Pa.: Eric: Congrats on your being selected to the Indiana Sports HOF! Well deserved. Do you know if Brian Kelly"s contract with ND had a buyout clause and the amount that LSU or Kelly had to pay? Thanks, and keep up your great work.
Eric Hansen: Thank you, Bob. It is believed to be $5 million, and LSU picked up the tab on it.
Don in Phoenix: Turnover occurred on the staff. I think it's all good, as it gives Marcus Freeman a chance to bring in new views while keeping enough of the old staff for continuity. What don't we see that walked out the door? We know Harry Hiestand will focus on the details, but what's coming with the new guys that adds to what's there.
Eric Hansen: Hi Don. In short, Hiestand is a difference-maker in attention to detail and technique. He may not be a gung-ho recruiter, but he's good at it. Chansi Stuckey has the personality to be a top-level recruiter and the football chops to be really good on the field with the wide receivers. Al Washington is at this best coaching the D-line (he's also coached linebackers) and is a proven strong recruiter. Brian Mason has consistently produced some of the best special teams units in the country, and is especially adept at his teams blocking kicks and punts. He also has good recruiting chops. The four defensive coordinator finalists -- Al Golden, Doug Belk, Joe Rossi, Tem Lukabu -- all bring something different. The top running back candidates are elite recruiters or at least have the potential to be.
A final note on the DC, I'm not sure why Phil Parker of Iowa didn't gain more traction. I heard he'd have been open to listen, he was a schematic match and had the most-proven track record among everyone considered/approached, with the possible exception of Wisconsin's Jim Leonhard.
Nick from Granger, Ind.: Any chance we see JT Daniels or are we ride or die with Tyler Buchner?
Eric Hansen: Georgia's JT Daniels can't transfer in somewhere until after spring, so I wouldn't write him off. He can commit somewhere, though, while he's finishing his coursework this spring at Georgia. But spring practice needs to play out at Notre Dame first to see if that move makes sense. Because if Daniels comes in, there's a chance someone will leave.
Palm Beach Irish: Good Day from sunny Florida — home of the early bird special. ... 4 p.m. to 6 p.m. Bill Parcells famously said football is about 2 things: The QB AND THE QB IN THE 4TH QUARTER. Eric, going into next season, I don't see one on the horizon. Can we do it with our roster or are we in for a transition year? Thanks.
Eric Hansen: If 2022 is a transition year, that would be a disappointment. There are some areas on this time in which there's needs to be significant improvement, but I like this roster as much as any I've covered in the post-Lou Holtz Era. NOW, the coaching piece has to come together and those areas (secondary, WRs, QBs) have to shine, but I like the potential of this team so far.
Mike from Ann Arbor: Hi Eric. Thank you for your excellent coverage of ND football. What do you think Coach Freeman wants to have as an offensive identity? He has so far been very deferential to his offensive coordinator. Do you expect with their strong returning offensive line and mobile quarterback that they will be more run-oriented? In many ways they have become a more spread-out, finesse offensive team, which I think hurts them in short yardage and in the red zone.
Eric Hansen: Thanks, Mike. Marcus is deferring to offensive coordinator Tommy Rees a lot, because he trusts him and thinks highly of him. And quite, frankly, he's tied up with other things. In time, though, Marcus wants to get more involved in the offense. Rees like to tailor his play calls and playbook to the talent he has on hand. They both would like the offense to have the ability to be balanced. If you look at Georgia, they were. Alabama was not. They had the best player in America at quarterback, but they couldn't run consistently, and it finally came back to bite them. Notre Dame needs to be a much better running team, and that will help its passing game. And ND needs to be top 10-15 in passing efficiency, something it hasn't done since Jimmy Clausen 2009. That, in turn, will help the running game. ... I think where Marcus can help in the offensive meeting room is talking about what kind of offenses, formations, plays and personnel gave him challenges as a defensive coordinator.
Jeff from Phoenix: Cheers Eric. I always thought Paul Moala brought a lot of character and energy to the team from day 1, so it was disappointing to see him announce he was leaving due to "unforeseen circumstances." Any more detail on what led to this decision and where he has/will end up? Thanks.
Eric Hansen: Jeff, thanks for the reminder for me to check up on him. He hasn't found a landing spot yet. I believe the circumstances that helped coax him into the portal were Jack Kiser and the young talent at rover that didn't give him a clear path to playing time. Great guy with bad luck on the injury side of things. He deserves a happily ever after somewhere.
Stan in Siberia, Ind.: Some of the transfers and decommits likely are related to grades; how much of a factor is this?
Eric Hansen: Transferring players can't get the exemption to play right away if they're not in good academic standing when they hit the portal. And they can't land anywhere but a junior college if they don't meet minimum academic progress requirements. As far as decommits, that does happen from time to time — a defection because they didn't meet agreed-upon academic benchmarks — but it's been a while.
Eric Hansen: OK, that's going to do it for today. Thanks for all the great questions. We'll be tied up next Wednesday with interviews with Marcus Freeman and the new coaches, so the chat will likely be Thursday or Friday. I'll let you know on Twitter (@EHansenND).