Chat Transcript: Dishing on Elston's exit, DC dynamics, portal priorities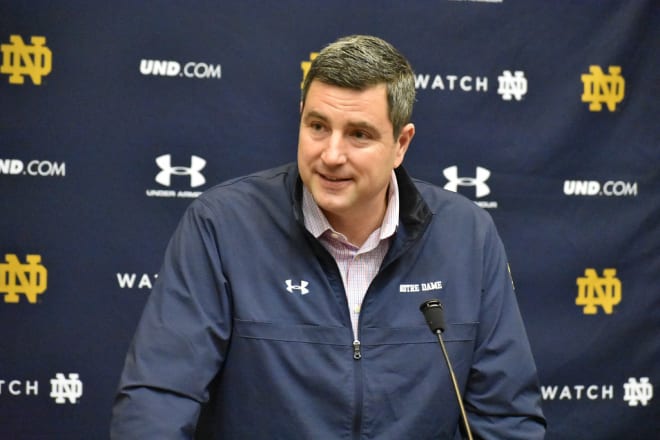 Eric Hansen: Welcome to Notre Dame Football Live Chat. No 17-part questions and no manifestos. A reminder, please include your NAME and HOMETOWN with your question.
Let's get rolling.
Tim from Vancouver, Wash.: Hello Eric and Tyler, I made the switch with you guys, and I'm excited to see all you're going to do with this new platform. I really appreciate you guys. My question is simple: What happened with Coach Elston? He had, very recently, made it sound like he was staying at ND for his kids to attend ND.
Eric Hansen: Tim, thank you for the support. We really appreciate it. The question is simple, The answer is a bit more complicated. Let me preface my answer by saying Mike Elston made the Notre Dame football program better during his 12 years in a number of ways and especially at very critical junctures. ... Mike has aspirations to be a head coach someday. He also didn't want the journey there to negatively impact his family. He's 47 years old now. During his time at ND, he was technically passed over for the defensive coordinators job five times. When Brian VanGorder replaced Bob Diaco in January of 2014, I don't think Mike was seriously considered, though. He did have a chance to go with Diaco and be his DC at UConn and turned it down. He's turned a lot of jobs down to stay at ND.
I don't think Marcus Freeman ever considered Mike a candidate this time, but I believe Mike thought that if he did a great job with the Fiesta Bowl prep and play-calling, that he'd perhaps change his mind. Mike had done a great job in 2016 picking up the pieces after VanGorder was fired following Game 4 of that season. Greg Hudson was the front man as interim DC, but Mike called plays and was the real interim DC. Things did not go well at all in the Fiesta Bowl, and both Marcus and Mike knew Marcus wouldn't go in that direction. So Mike contradicted what he said in December about staying and left for Michigan.
He sounds bitter in the interviews I've read. I think he'd like to prove to ND that they made a mistake. He'll be very competitive on the recruiting trail in trying to lure prospects that he had relationships with at ND. I think in time he'll look back at his 12-year run at Notre Dame more fondly. But this isn't the time.
John from Elkhorn, Neb.: Hey Eric. Any official word on C'Bo? Doesn't sound like he will be returning. What's the story there? Thanks!
Eric Hansen: From what I'm hearing there is a conditional path for running back C'Bo Flemister to return to the Irish roster in 2022. That said, he could decide to parachute out anyway. And there's a chance he does not meet the conditions. So for now, he's in limbo.
Jeff from Phoenix: Hey Eric, first, I truly enjoyed your goodbye column on the SB Tribune site, and no spoilers but other chatters will certainly enjoy the message. My question is about the outcome of the Jan. 10 College Football Playoff board meeting. I read that no expansion of the playoffs was agreed on, but did not hear specifically where Jack Swarbrick landed with respect to ND's stance on expansion after this meeting. Did he publicly comment on how he voted? Several head coaches have weighed in on proposals, but do you know where Freeman stands on expansion (I realize he is currently kind of busy ...). Thanks again for continuing the chats.
Eric Hansen: Thanks Jeff. If anyone's interested, here's the link to the column that Jeff mentioned. ... It's safe to say ND athletic director Jack Swarbrick supports expansion. He made the initial presentation back when it looked like a lock to happen. He still is very much in favor of it for the good of college football. ... I haven't had a chance to ask Marcus about it. We'll get a chance to catch up with him in a couple of weeks. In the meantime, there is player availability on Friday. That includes some of the seniors who elected to return for 2022 as well as incoming transfers Brandon Joseph and Blake Grupe, so be sure to check out those stories Friday evening and into the weekend.
Marie from Atlanta: Hi Eric. I hope you are having a great week and are not too exhausted from covering the ND coaching carousel. Can you offer any insight as to why it did not work out with Jon Heacock? I understand the need to make sure the new DC fits the with the current defensive scheme, and it seems that maybe coach Freeman is going to be more involved with the defense as a head coach than he originally thought, which may be a deterrent to hiring an experienced DC, resulting in a younger, less-experienced hire. All that being said, are you at all concerned about the overall lack of experience on the coaching staff and do you think it will result in some significant and costly growing pains in the next couple of years? Do you see ND hiring some older, experienced analysts to try to help speed up the learning curve? If the new DC is very inexperienced, do you see Freeman calling the plays? Thanks for keeping the chats going, even when we all know you must be buried in work right now. It is greatly appreciated.
Eric Hansen: Hi Marie. I enjoy interacting in the chats and will always prioritize that. Once we expand our staff later this month and the news cycle slows, I hope to interact more on the message board as well. ... Jon Heacock turned the job down as it was presented to him to stay at Iowa State. There was match in terms of Heacock and Marcus having worked together before and that Heacock is a pretty strong tactician. What didn't align were some other philosophical things, particularly that Heacock didn't also want to coach a position group. That would mean eliminating another position coach, just so he could do that. Wasn't going to happen. ... Again it's a great job, but there are a lot of conditions that might not appeal to some candidates, including not being able to hire any of his own staff members. They are already in place.
It's not unusual for head coaches to try to stay involved on the side of the ball where they have expertise. Luke Fickell was heavily involved in the defense when Marcus was at Cincinnati. Marcus plans on doing the same. ... There is a blend of experience and younger coordinator candidates, but at least all of them have coordinator experience. I do think adding some experienced coaches as analysts will help balance things out.
Ed from Ocala by the way of Niles, Mich.: Love your new gig, Eric! I find it curious that a punter declares to transfer when he's the incumbent. Any insight behind him following Brian Polian and Brian Kelly to LSU? I cannot see an advantage for him to do that. What am I missing?
Eric Hansen: Jay Bramblett is from Tuscaloosa, Ala. His dad is a high school coach there, so traveling to South Bend to see his son play wasn't easy. Bramblett hoped to land at Alabama, but there wasn't a scholarship available for him there, so he settled on LSU, which is about a five-hour drive for his family. He also cited wanting to play in warmer weather and in the SEC.
Mike from Costa Mesa, Calif.: Eric, out of the current list of defensive coordinator candidates, who would be your pick? Please don't defer. Is Chris Watt coming back to ND? I am thinking that the reason Marcus Freeman has waited late to hire the defensive coordinator is that it will be someone that could be young and that Freeman can influence?
Eric Hansen: Hi Mike. Not sure I get there "don't defer" reference, unless you think Marcus is consulting with me about what to do with the coin toss (he's not). Of the nine possibilities I listed in Wednesday's analysis piece, two of the three are DCs that would seem to be the least motivated to come -- Iowa's Phil Parker, who has a long track record of elite defenses and is a schematic fit, and Barry Odom, who's got head-coaching experience, is really innovative and adaptable when it comes to running different fronts and has been really good at several different stops. The guy I like the most among the more realistic candidates is Joe Rossi from Minnesota.
He's the guy I knew the least about when the DC search started. But there's a lot to like. He's a positional fit in that he's coaching linebackers currently, though he's also coach d-line and safeties. He's had two top 10 defenses nationally in the past three years. There's a good chance former Irish lineman Chris Watt will return in an analyst role. After serving as a GA at ND in 2020, he spent last season at Tulane as the O-line coach. He would be an outstanding asset to go along with Harry Hiestand. The reason Marcus waited so long for the DC was that it looked like it was going to be Heacock until it wasn't. As I wrote about Wednesday, there are a number of factors that makes filling this opening a trickier dance than usual, and worth getting it right.
Frank from Royse City, Texas: When will ND name their coaches? They can't have grad assistants recruiting? Hopefully, they will be in place soon!!
Eric Hansen: We should have a pick-the-date pool with fabulous prizes about when the HR/vetting process will end. It's happened every year since the George O'Leary fiasco in December of 2001, and it's because of the George O'Leary fiasco of 2001 that it endures. My sense is at least the first wave of the four will be announced before ND's big recruiting weekend next weekend. And the analysts are really doing a great job on the road recruiting, but ultimately you'd like it to be the new hires.
Jim Hill from Terre Haute, Ind.: Eric, thanks so much for continuing these chats. Have you heard anything new about who we may be looking at for the DC position? Also, in your opinion, do we need a younger, less-experienced DC who Marcus can mentor and mold into what he desires in a coordinator or a DC with extensive experience that allows Marcus to focus more on the overall program? I feel like Marcus may not be ready to give up all of his defensive duties and could make it more difficult to land a more-experienced DC ... just my opinion. Thanks again for all of the feedback you continue to provide to all of your followers.
Eric Hansen: Thank you, Jim. There are two candidates who are younger than Marcus and three in their 50s, so it really runs the gamut. I don't think it's about younger or older or molding as much as it is schematic fit, willingness to take on a staff that's already in place and knowing Marcus is going to have his hand in the defense, so there's not complete autonomy. From Marcus' standpoint, he wants someone, young or old, who is a collaborator, but doesn't need the hand-holding at this stage. I don't sense Marcus will call plays, but he will be involved with the defense.
Steve from St Louis: Hey Eric. Hope all is well. Was Mike Elston ever considered for DC or do you think Freeman knew he had interest in going to Michigan? Thanks.
Eric Hansen: Nope to the first part, although he hoped to be. They both knew it wouldn't happen after the bowl. But Michigan didn't have an opening until four days later (Jan. 5), when Shaun Nua left Michigan to join Lincoln Riley's staff at USC.
Kelly from Calgary: I love what Marcus is doing with the coaching staff hires. The D-coordinator is a big hire, and who do you think is No. 1 on the list
Eric Hansen: Hi Kelly. Who I think is No. 1 is different than who I think should be No. 1. ... and a lot of these guys just got extensions and raises. I don't think the field has necessarily narrowed this week with Marcus on the road recruiting, but it wouldn't surprise me if at the end it is Doug Belk from Houston. Educated guess, not based on progress in the process.
Ken from Portland, Ore.: There has to be more about the Elston story than what I've read. I don't understand how a parallel move to Michigan either enhances his career or benefits his daughters, who have spent most of their lives in South Bend. What part did the Fiesta Bowl play in this move? And did Elston jump or was he pushed?
Eric Hansen: Jumped. Was NOT pushed.
John from York, Pa.: Hi Eric. Great to know you are continuing these chats with your new employer. I am wondering why it has taken so long to name a new defensive coordinator. What names are being mentioned? Who has Marcus Freeman interviewed? My last question is about ND's use of the transfer portal. What percentage of the players who enter the portal are available to Notre Dame? Are the academic standards so high that we can't take most of them? In my opinion, we need another quarterback and at least one more wide receiver, but it looks like we will not be taking anyone from the portal. Football and basketball seem to only take kids from Northwestern, Stanford, Navy, Yale, Harvard when we need guys from Oklahoma, Alabama, Ohio State, Clemson, Georgia and other successful programs.
Eric Hansen: John, we've gone over the DC stuff (after you submitted your question) so let's focus on the portal questions. With grad transfers in the portal, it's a pretty straightforward transaction, and ND has a large pool from which to choose. With underclassmen, it becomes about transferrable credits, and that's where it gets sticky. That's why there are and will be so few matches. The higher academic schools tend to make those matches more likely. Notre Dame has taken safety Brandon Joseph and kicker Blake Grupe and non-scholarship punter Jon Sot so far in this portal cycle. There will be another wave of grad transfers after spring practices and Notre Dame could be active with that group.
Denis from Niagara Falls, Ontario: Hey Eric. A very large strength of the ND football program is its elite culture. As Kelly frequently touted, ND recruited the right kind of guys. It could be argued that the quid of this philosophy limited ND's recruitment efforts to fewer higher-level players, but the quo was maintaining culture. Is it possible that Marcus Freeman recruits outside the box so much that the culture of ND football will begin to deteriorate? Or is it possible to recruit more aggressively while maintaining culture? How much is culture to be sacrificed in the pursuit of more elite players? Thanks Eric.
Eric Hansen: Hi Denis. I don't think you have to sacrifice one to satisfy the other. Now there are going to be players, both highly skilled and less gifted, that aren't fits, period. Marcus' philosophy. beyond what Kelly was already doing, is to find elite players who are fits but didn't initially consider that they could be fits at Notre Dame, teach them to appreciate what ND can do for them after football and be committed to that part of the college experience. That's been his secret sauce in his first recruiting cycle and in a strong start to cycle No. 2.
John Utterback from Palmyra, Pa.: I asked last week about David Cutcliffe and a specific quarterback coach to assist Tommy Rees. Any word? Also, do you see Sonny possibly giving ND another look with the acquisition of his lead recruiter, Al Washington, and the immediate need for additional star power at safety? Go Irish!
Eric Hansen: John, I'm glad I could get to your question this week. Thanks for your patience. Notre Dame can't hire a QB coach per se without sacrificing another position group coach. So that's not going to happen, at least this season. I also think Marcus believes Tommy Rees is a strong developer of QBs (you may or may not agree). If David Cutcliffe, or someone like him, were hired, it would have to be as an analyst. Analysts can't coach players in practice or in games, so while there'd still be some value to that kind of move, it might not be the impact you are looking for. As far as Sonny Styles, he reclassified in December into the 2022 class and signed with Ohio State on Dec. 15, so he's off the market. He'll be playing (or at least on the bench) against his brother and the Irish on Sept. 3.
Mike from Honolulu: Hi Eric - two questions for you. What can the new assistant coach hires do while awaiting the vetting process? Just wondering how they spend their time and if they have any contact with current players/prospects? The second question relates to the transfer portal. I've noticed players going through multiple times like JT Daniels. Is there a point where they would not be eligible immediately? I was under the impression that immediate eligibility was on the table (only) the first time through, but that doesn't seem to be the case. Thanks.
Eric Hansen: Hi Mike. They can reach out to players, current ones and signed ones and even recruiting targets on the phone, but they can't go out on the road recruiting. They can also meet with other staff members and get ready for spring football. ... Players can transfer the first time without sitting out. The second time. that is not in play UNLESS they are a grad transfer. JT Daniels has been in college for four years and is expected to graduate in May. In that case, he would not have to sit out the second time, because he's doing so as a grad transfer. The only way a grad transfer would not be immediately eligible is if he's not in the transfer portal by May 1. He doesn't need to have picked a school by then, but he does have to be in the portal.
Doug from Coeur d'Alene, Idaho: Do you see a big change in the offense with Tyler Buchner at QB?
Eric Hansen: Absolutely. Tommy Rees purports to mold the offense around the talent and Tyler Buchner has a different skill set than Jack Coan.
Nick from Granger, Ind.: Do you see any skill-position players coming through transfer portal this time around?
Eric Hansen: Notre Dame will definitely monitor those, this winter. Spring practice and its aftermath will help dictate those decisions post-spring practice.
Jim Tal from Valley Center, Calif.: Hi Eric. Congrats on the new gig, and I hope all is well with you. Frankly, I think there are just too many variables as it relates to next season to expect something special. From the numerous coaching changes to legitimate uncertainty at quarterback, to a testing schedule as well as other pertinent concerns, I can't foresee the Irish getting in on the playoff picture. There's simply too much that would have to go right. A 9-3 season seems like a reasonable outcome to me. Am I right in my appraisal about ND's prospects or am I being much too skeptical about their chances? I would truly appreciate your opinion in this regard, thanks.
Eric Hansen: Hi Jim. As I look at each Notre Dame team and try to projects its record each year, I kind of start that process in the middle of the previous season and start with a floor and a ceiling for that team. The January churn helps me focus a little more and the spring a little more. Then come August, after I've seen some practices, I've narrowed my range. In the three recent seasons during the Kelly Era in which ND was in the BCS or playoff, none of those were teams highly predicted to get there. Things fell into place each of those years, especially 2012, where all kinds of things went wrong that offseason. The Charlie Weis team of 2005 was a huge surprise in getting to a major bowl.
I really like this roster, even with the challenging schedules. The biggest unknowns involve the coaching staff. The Hiestand hire is huge in my opinion. Right now I am more optimistic about the ceiling of this team than you are. That could change, but I really like the roster. I hope I like the DC choice. ... and thanks.
Beau from New Orleans: Eric, what are your thoughts on Al Golden as a candidate for the defensive coordinator position? He has coached linebackers as well, so he would be able to fulfill both duties!
Eric Hansen: Hi Beau. There's a lot to like about Al Golden. He's been a college head coach. He's coached in the NFL. He was a really good recruiter at different points of his career. He has coached linebackers, as you've pointed out. But the last time he coordinated a defense was 2005. That's a different era of X's and O's. His most recent year coaching at the college level is 2015. So that's where my concern is. And if I'm Marcus, that's where I'd have to be won over in the interview. Again, there are a lot of positives.
Bret from Cincinnati: I saw Derek Mason is now expected to take the Oklahoma State job. Is Freeman getting any closer to naming the DC?
Eric Hansen: Hi Bret. Derek Mason is rumored to have emerged as a strong candidate for the DC job at Oklahoma State. Strong résumé from his time at Stanford and head coaching experience. Not sure he's a fit at ND, including him not having full autonomy. He can coach a 4-3, but I think his comfort zone is 3-4. Yes, Marcus is getting closer, but if Mason goes to Okie State, it's not the end of the world as we know it.
Ken, in Shipshewana, Ind.: Hey Eric. So great to see you in a new home and with new and great opportunities! The '22 season should be fun, with all the usual twists and turns! I'm thinking Chris Tyree would be better featured and add more to the offense from the slot. Agree or no? And, do you anticipate any other interesting position switches for next year?
Eric Hansen: Ken, thank you. 2022 is going to be fun. And maybe scary. And maybe not scary. I love sifting through all the unknowns and tracking how those are addressed and solved. One of the most fun parts of my job and probably least fun sometimes as a fan. Fans tend to like absolutes. I think Chris Tyree gives Tommy Rees some nice versatility, and it will be used. So I wouldn't move him to the slot per se, as much as I'd use him in both spots. As far as position switches, Josh Lugg to guard likely. Might see Rylie Mills pop out at end. And you might see one of the young corners down on the depth chart get a look at WR if depth is still an issue going into or coming out of spring.
Steve from Dallas/Fort Worth: Hi! Can Harry make enough difference to take the O-line up for 2022? Thanks!
Eric Hansen: Hi Steve, Harry can and will make a difference in 2022 -- and beyond. There's a lot of talent, and Jarrett Patterson coming back is huge.
Steve from Kenosha, Wis.: Eric, the official coaching announcements from ND just seem to be taking particularly long. We all know the thorough vetting that occurs, but do you have any insight on their particular steps? And speaking of hires, an update on your recruiting expert search? You and Tyler are doing great!
Eric Hansen: Hi Steve. It seems like they're taking lots of lunch breaks and coffee breaks, doesn't it? I honestly don't know the steps and might be more frustrated if I did. But it works for them. ... We have pared our list of over 100 applicants down to the people we want/need to get to know more about. We'll reach out to those people this week and schedule some Zooms next week. Thanks for the feedback and interest.
Kevin from Memphis: Hi Eric! Wide receiver has been a big topic this off season. Is ND better off standing pat with what it has at this point? Hear me out. It appears ND is not going to land a WR in the portal any better than the combination of Braden Lenzy, Joe Wilkins and Avery Davis. What legit WR is going to come to ND to be a depth piece? Also, ND seems to be tapped out of valid '22 WR options. ND has eight wide receivers in the room right now, but ND could expand its "WRs" with Chris Tyree in the slot and Michael Mayer split out. I'd love to see lots of 12 and 13 (formations) this year. Possibly Xavier Watts can come back over to WR. ND should focus the WR search on the class of '23 and '23 transfers.
Eric Hansen: Hey Kevin. Thanks for your question and analysis. I agree with parts of it. Keep in mind, Lorenzo Styles could very well be WR No. 1 in that group. I think you could live with eight WRs, but what are the chances all eight are healthy for the whole season? And consider the injury history over some of them. The portal is so bloated right now and will be in the spring, that the quality available, I think, will surprise you. And some who are in the portal have egos that will tell them they won't be a depth piece but a star. That might not be realistic, but that's the way they think. Tyree full-time in the slot means less Avery Davis and only three running backs. Tyree moving between roles would be my preference. I don't think Xavier Watts will or should move back to WR. He could be a starter at safety in 2023, with Houston Griffith and DJ Brown moving on after the season and possibly Brandon Joseph too if everything goes right for him. Yes, 2023 is a big cycle for Chansi Stuckey and Tommy Rees in recruiting wide receivers.
Tim Leahy: Who should ND fans watch for in the Polynesian Bowl Saturday night?
Eric Hansen: Notre Dame has three players in the bowl game ... TE Holden Staes, WR Tobias Merriweather and OT Aamil Wagner. Merriweather told me Thursday, though, that he's got a lingering hamstring injury and won't play in the game. LB Niuafe Tuihalamaka, who's already in school, is flying out today (Thursday), but is not expected to play.
Denny from Beaverton Ore.: Hi Eric. A few chats back I asked you the question if you thought Brian Kelly offered Mike Elston the DC position at LSU, but my question didn't make the list. My gut tells me no. Elston did not distinguish himself in the last game by not making any defensive adjustments in the second half, but I wonder if he was truly in control? I think he has given a lot to ND for many years and probably feels slighted and decided to leave. Do you share any of these thoughts or have any other opinions?
Eric Hansen: Your gut is right. He was not offered the DC job, but rather a chance to be a position coach. The setup for the bowl game wasn't ideal, but Mike was in charge. Yes, he feels slighted. Big time. It's been mounting.
Tony from Lake Mary, Fla.: Eric, I was reading an article regarding coach (Tony) Alford from Ohio State being promoted, potentially as a result of coach Freeman pursuing him. And at the end it mentioned this: "With Alford's promotion, Ohio State now has Kevin Wilson as its offensive coordinator, Brian Hartline as its passing game coordinator, Justin Frye as an associate head coach for offense and Alford as the running game coordinator. None of them are them will call plays for the offense, however, as Ryan Day will retain that responsibility." I thought it was bizarre that there is both an offensive coordinator and an associate head coach for offense. What on Earth can be the different items in those job descriptions. And then to think that neither call plays. So I get that there are ways to generally justify promotions for retention, but board of directors approving this seems silly. Curious if you think differently.
Eric Hansen: It is kind of like Oprah giving away Buicks, in a way. "You get a title." It's a way to give them prestige and a pay raise. Sometimes there is functionality to the title. Sometimes there is not. It doesn't bother me as long as I don't have to type in the whole title each time I mention the coach.
Robb from Colorado: Eric, do you see the coaching staff bringing in a veteran QB to serve as a solid back up to Buchner? What happens to Drew Pyne if they do that?
Eric Hansen: I think if there is a long-term injury to any of the QBs in the spring, then that forces their hand to do it. The Irish coaches have the luxury of the spring to see how things play out, both from a health standpoint and a developmental standpoint of Tyler Buchner, Drew Pyne and Steve Angeli. I do think a fourth QB makes sense if you can find the right player for the right role.
Joey G from Philadelphia, Pa: Hi Eric. With all the fan base hype on Tyler Buchner, do you think Marcus Freeman is going to go into next season with just Buchner and Pyne as the QBs. That to me is a big gamble going into your first season as head coach. Or do you see him bringing in a QB from the transfer portal?
Eric Hansen: Hi Joey. Going into spring, the biggest concern about Tyler Buchner in 2022 isn't whether he's ready. It's whether he can be as involved in the running game and stay healthy. Maybe this will make you feel better ... heading into this year's national championship game, eight of the teams that won the titles were quarterbacked by first-year starters and the other four by second-year starters. Stetson Bennett of Georgia could probably be classified as one or the other (he started 5 games in 2020), but I'd put him in the first-year starter category, so nine out of the last 13.
Bert from Windermere: I read "…. and Tyler James is coming with me." I had read Tom Brady say"….and Gronk is coming with me." Did you paraphrase on purpose? Wish you the best.
Eric Hansen: Bert, thanks. You give me way too much credit. it was not intentional.
Eric Hansen: OK, the first of the coaching hires is now official. Special Teams coordinator Brian Mason has been fully vetted!
Steve from St Louis: Any chance you return to SportsBeat? Used to enjoy you and Darin on my drive home, although my drive home now consists of walking upstairs from the basement office.
Eric Hansen: Never say never.
Tim from Irmo, S.C.: Are the new coaches who haven't been announced by the school yet allowed to be out recruiting?
Eric Hansen: Not out recruiting, but remotely, yes.
Rog in STL: Given that most of the contributors to this year's team are already known, what position group are you most interested is seeing at spring practice? Is it linebackers/rover or some other group?
Eric Hansen: It's hard to think of one that wouldn't interest me, but safeties and corners need to step up, and I'll keep a close eye on those two. Can't wait to see what Harry Hiestand does with the O-line.
Peter from Providence, R.I.,: I was very disappointed to see Mike Elston leave. Everything I have seen says he was a great role model for the players and a fine coach. However, I think it would be as unreasonable to expect Marcus Freeman to hire a DC with no prior DC experience at his first head coaching job, particularly at a pressure cooker like ND. My questions are: 1) Why Brian Kelly never gave him a shot as DC at ND; and 2) whether Kelly gave him consideration as the DC at LSU? If the answers are no, it seems that he should be more frustrated with Kelly than Freeman and ND, since he had been with Kelly for so many years. I appreciate your thoughts. Thank you.
Eric Hansen: Kelly was always resistant to give the job to a first-time coordinator. He felt less apprehension on the offensive side when he promoted Tommy Rees (without experience), because Kelly could involve himself more in the offense if he needed to be. He did hire Clark Lea as DC without experience, but Clark had Mike Elko's system down pat and Brian finally came around to it after kicking the tires on some experienced guys after the 2017 season. So Mike Elston got passed over under Kelly for Elko, Lea and Freeman. I think he's just frustrated, period.
Tom in Virginia: Hope all is going well with your new gig. You are among the very best. Wondering how Carter Karels is doing these days? Always appreciated his work and very disappointed when he was let go.
Eric Hansen: Thanks Tom. As we speak, Carter is driving a moving truck to the site of his new job. I'll let him announce it in the next few days. He has an incredibly bright future. We still talk all the time.
Kevin from Chicago: Hi Eric. Really enjoyed your work over the years. Any chance JT Daniels transfers to ND? Also, what is your favorite Ramones song?
Eric Hansen: Thanks Kevin. There are a few JT Daniels questions in the queue, but no one else was clever enough to pair it with a Ramones question. ... JT won't enroll at his new school until summer, so there's not a rush here. Again, given that ND doesn't know what will happen in the spring from a health/injury standpoint and given Daniels' talent, I think you have to be diligent in making contact. That doesn't mean you make the move, but you need to establish whether there could be a fit. You can decide whether to make the move in May. ... For the Ramones song, it's I Wanna Be Sedated, followed closely by Sheena is a Punk Rocker.
Jason from Grand Rapids, Mich.: Perhaps I missed it, but with Kelly gone, was there ever a detailed review on the UM blowout? Love your chats!
Eric Hansen: You did miss it. We had it in a special section at the SB Trib in the summer of 2020. If you email me, I can try to send you a link, but I'm not sure if it's behind their pay wall.
Mike from Maricopa, Ariz.: Hi Eric,. It seems to me that you, your fans and many other "Golden Domers" have great insight into ND football. Do you ever share your thoughts with the football staff. And if so, do they ever take your advice? Thanks and keep up the good work!
Eric Hansen: Thanks, Mike. Well, they certainly can read what I write and what others post, but I would be surprised if they took my suggestions. Thank you for considering that a possible reality.
John from Fort Wayne, Ind.: Hello Eric. I haven't seen this question asked before and I've wondered about it for years. Often times players recruited by Notre Dame are recruited as two-sport athletes that intend to play both sports in college. Let's say football and baseball. While our football facilities are some of the best in the country, our baseball facilities are not up-to-par with other elite baseball programs. Have you heard of any push to upgrade our baseball facilities in order to be considered among the elite facilities in college baseball? I believe if an elite two-sport athlete (football and baseball) is considering Notre Dame, then the baseball facilities could make a major impact on their final decision. What are your thoughts? Thanks!
Eric Hansen: John, I'm running out of time, and this is something I'd like to talk about in more depth at another time. Yes, there is a commitment for upgrading the facilities (but not an overhaul), and at least now there's a coach who makes upgrading the facilities worthwhile. The fact that ND was on the brink of getting the CWS last season gets recruits' attention.
Kellen Hartman from Lansing, Mich: Do you think ND still hires Freeman if they knew that Devin Moore and two WRs would (decommit) along with Elston leaving and potentially crushing our 2023 recruiting class? Seems like not only did Freeman lose momentum, it's going wildly the other way. Still love the guy, but it's been an ugly few weeks.
Eric Hansen: If Marcus had left to go to LSU with Kelly, the recruiting class would have been been gutted and the 2023 class might have as well. The sky is not falling. Quite the opposite despite some setbacks.
Jeff from Phoenix: Wow! I just saw your sportswriters Hall of Fame honor! Will you now answer chat questions by the name, "Eric Hansen, HOF '22"? Congrats on the recognition-
Eric Hansen: Ha. Thank you and of course not! I'm beyond humbled.
Eric Hansen: OK, that's going to have to do it for today. Thanks for all the great questions. We'll do this sometime next week, depending on the breaking news cycles. I'll keep you posted on the message board and on Twitter @EHansenND as to the date and time.