{{ timeAgo('2022-08-03 15:02:24 -0500') }}
football
Edit
Chat Transcript: Camp predictions, navigating ND's recruiting potholes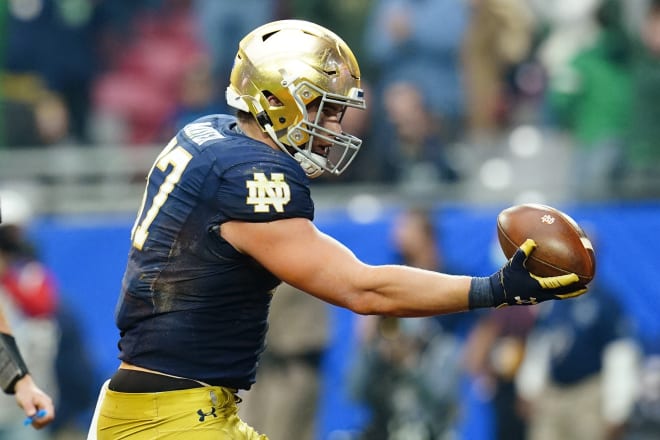 Eric Hansen: Welcome to the first edition of Notre Dame Football Live Chat of the preseason/season! A reminder ... please include your NAME and your HOMETOWN with your question. And if you really want to show off, throw in your 40 time too.
A couple of notes to start ... Players report Thursday for fall camp, with the first practice happening Friday morning. We'll have complete coverage of it. Also on Thursday, Tyler James and I will have breakout stories on Michael Mayer and Tyler Buchner, respectively, from our recent one-on-one sit-downs with them.
You won't want to miss them ... and you won't have to. Everything behind our paywall is available during a free trial in August. Sign up here if you're not already a premium subscriber: https://notredame.rivals.com/sign_up?promo_code=KICKOFF2022 ... and use Promo Code KICKOFF2022.
OK, on to the questions ....
Johngipp from Lititz, Pa.: Hey Eric, hope you had a good vacation. With Tyler Buchner's injury history, is it feasible to adopt a two-QB system in ND's offensive structure? I know this is not a most desirable scenario, but with ankle injuries walking steps and jumping in the air (see Va. Tech), a full season of play would seem far-fetched. Is this a practical solution?
Eric Hansen: Thanks, John. Vacation was great. Got to spend a lot of time with my six grandkids. No one got bitten, best of all me, so I consider that a rousing success. ... I think the best-case scenario regarding Notre Dame's QBs in 2022 is to play one but have two ready who can win games. Tyler Buchner or not, it's not unusual for starting QBs to miss a game or a significant chunk of an important game. It happened more seasons than not at ND in a dozen years under Brian Kelly. Last year, because of the incomplete skill sets at the time of Jack Coan and Buchner, a two-QB system was a necessity. This season that dynamic doesn't exist. By the way, I'm presuming Buchner as the starter even though he hasn't been officially named as such yet.
Martin from Enfield, Conn: I read that Isaiah Foskey played only 282 snaps last year. If this is true, why so few?
Eric Hansen: Hi Martin. Not true. Somebody is NOT getting an 'A' in math. Isaiah Foskey logged 564 snaps last season. CB Clarence Lewis led all Irish defensive players with 832, followed by LB JD Bertrand (753) and CB Cam Hart (739) . Foskey's more moderate number reflects the Irish depth and the desire to flex it and keep people fresh on the D-Line. The cornerbacks' numbers show how dire the depth situation was at that position group last season and how significant the emergence of freshman Jaden Mickey is.
Rui from Westchester, N.Y.: Please tell me that I am totally wrong, LOL, but I will not be surprised at all if Keon Keeley changes his commitment to Alabama. How big of a "need type of a recruit " is he for the program at this moment? And how big of a loss will he be should he leave? Appreciate what you do for us fans.
Eric Hansen: Hi Rui. I appreciate you and your question. Keon Keeley is a five-star defensive end from Tampa who's been committed to Notre Dame for a little more than 13 months. He took an unofficial recruitng visit to Alabama over the weekend, and his mom has been quoted as saying he'll likely see a couple of more schools when the visit window reopens in September. I believe the best way to perceive his situation is that ND leads but they'll have to fight all the way to the finish — the December signing period. Longtime recruiting analyst Tom Lemming is one of several in his industry who believe as much as half the top 100 recruits will switch their commitments during the final few months of the 2023 cycle. NIL will be a factor in SOME, but not all of those decisions. Having said that, let me answer your specific questions. Notre Dame is in position to replace Keeley in terms of numbers, but not in quality. At No. 18 overall in the Rivals player rankings, he's underrated in my opinion.
He could make a case to be the No. 1 player in the class regardless of position during his senior season. So his loss would sting even if ND replaces him with a four-star prospect. He's THAT good.

Robert K from Sartell, Minn.: Great Day to be an Irish Fan! Hope you are well, Eric! Quick question: What are you hearing about the availability of some of our injured studs, like Diggs, Davis, Evans, Riordan, etc.
Eric Hansen: It's a fun week, Robert. We're talking to Marcus Freeman on Friday, so we'll get the official word on all of the injuries then. But to address the four you asked about ... I believe the timetable tor Logan Diggs is still sometime during September for a full return, early September for Avery Davis, midseason for Mitchell Evans and no restrictions for Eli Riordan ... all subject to change.
Bob Alvey from Loganville, Ga.: Any idea where I might be able to find a schedule for fall camp?
Eric Hansen: Sure. I'll share the media schedule with you, which is pretty complete.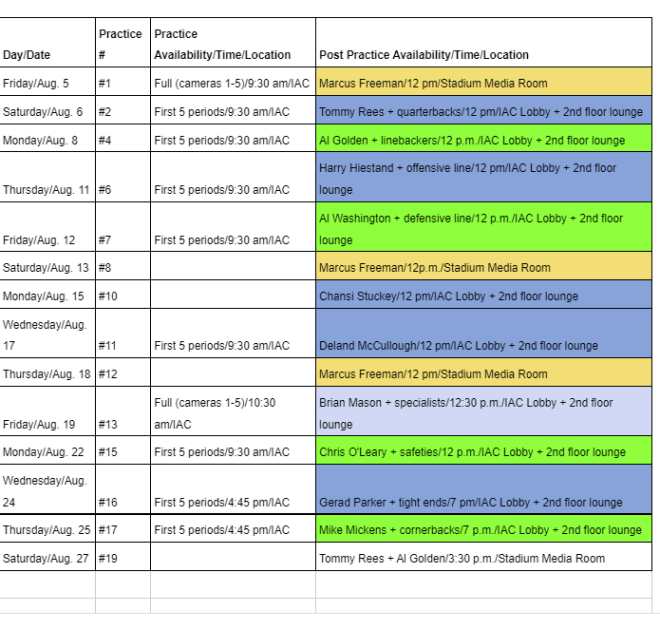 Lorne: From Reno, Nev.: Recruiting momentum seems to have been lost (though Ausberry could help a late surge; is Love still a possibility?) and we are now looking at potential decommitments and "Plan B" or "C" (at QB) targets. Are we getting to the point of holding scholarships for transfers rather than signing players who will never be more than practice team/emergency depth/transfers-in-waiting? I am not a recruiting fatalist. We are recruiting at a level reminiscent of Lou Holtz's early years. I'm rather a pragmatist who doesn't want to see scholarships wasted when immediate needs can be met with grad transfers.
Eric Hansen: My read is much different than yours with regard to momentum and what's still ahead in the 2023 cycle, provided the Irish hold on to the 20 commits they already have. The Irish sit atop the Rivals 2023 team rankings (and 2024 too) with three Irish targets announcing their college decisions in the next three days — LB Jaiden Ausberry on Thursday, S Ben Minich Friday and RB Dylan Edwards on Saturday. It would not surprise me if ND got all three. So that puts the Irish at 23. And yes they can go over 25. They'd still like to add RB Jeremiyah Love, WR Ronan Hanafin, an edge player (Samuel M'Pemba or Tennessee commit Caleb Herring) and they'd like to flip Pitt QB commit Kenny Minchey. I'd say they have the best chance of landing Love among that group and none of them are slam dunks. I suppose that's where you get into backup plans. I don't see ND settling at those positions. If they don't find a prospect they like/can build a relationship with if they miss on those guys, they'll peruse players from the portal after the season.
Joe from K.C.: Hi Eric, thanks as always for doing these. I was at the Tennessee Super Regional (baseball) Game 3, and that was quite hostile, especially after the seventh inning. I will also be at the OSU game week one. How do you see that environment/fans being, especially considering late kickoff?
Eric Hansen: Hi Joe. Thanks for being here. I have not been to Ohio Stadium since 1995, but have friends who go to every game there. I would be prepared to experience what you did at the Tennessee-ND baseball game and multiply that exponentially. It's not a fan base known for its hugs and its charm. And the late starting time gives them all day to "amplify" that. Having said that, would you rather be anywhere else on Sept. 3?
Bill from St Joe, Mich.: Eric, nice to have the chat back! I know it's a bit early, but where do you see Jarrett Patterson — at center or left guard?
Eric Hansen: Hi Bill. Thanks, and nice to be back. I am finally leaning toward Jarrett Patterson being at left guard. I would not rule out a U-turn. Harry Hiestand will get his first look at that alignment this weekend, since Patterson missed the spring with an injury. Zeke Correll's surge at center when Patterson was out is the catalyst for the likely O-line shuffle.
Jack Bates from Shorewood, Ill.: When Notre Dame plays Ohio State in their first game, what compensation does ND receive for participating on the road?
Eric Hansen: A return trip from the Buckeyes next season at Notre Dame Stadium.
John from Elkhorn, Neb.: Hello Matt. Hope you've had a great summer. My question involves Xavier Watts. Do you think this is the year he gets meaningful playing time? Thanks for the chats — always look forward to them.
Eric Hansen: Hi John. I had a great summer. but not to the extent that I changed my name to Matt. At least I don't remember doing that. Xavier Watts is a big part of the plan at safety in 2022 and 2023. Otherwise, he'd be back working at WR. DC Al Golden and safeties coach Chris O'Leary believe they can go five to six deep over the two safety positions. Watts' tackling puts him firmly in that mix with a chance to be a starter next season. The better his coverage gets, the more snaps you'll see him on the field this season.
Rog from St. Louis: Looking forward to your analyses of the upcoming practice camp. Would like to know what personnel or position groups have the most to prove during camp, since these are the players that will have a direct impact on this year's performance. Love the recruiting news, but none of the '23 and '24 recruits will have much impact for 2-3 years from now.
Eric Hansen: Hi Rog. Going into training camp, I don't think there's any question it's wide receivers and quarterbacks who have the most to prove. Health-wise and performance-wise. The O-line and cornerbacks were in that group too heading into spring, but both made significant progress then. And there's little reason to doubt that the momentum will slow with those positions.
Ryan from Upstate New York: What wide receiver are you most interested in seeing? Who do you think will emerge as the best wide receiver this season?
Eric Hansen: I can't wait to see Tobias Merriweather. The freshman came to campus in June ready to work and has been impressive. If he can push through the "freshman wall" in camp and beyond, I like his chances to be a significant contributor. Bradon Lenzy is the most likely to surprise. The best WR on the roster? Lorenzo Styles all day long.
Len from the Jersey Shore: Hello Eric, I am so happy chats are back. I hope you are having a great summer. Thanks for hosting. I listened to the podcast. A follow-up question: I know ND is not promising NIL money to recruits but NIL opportunity when enrolled. Will that opportunity only include charitable functions or will other avenues be there for ND athletes? On the O line. Can Zeke Correll at center move people off the ball? Or will teams line up a mobile 290-pound wrestler (think Curly Culp lined up on Mick Tinglehoff in Super Bowl IV) and neutralize our running game? Isn't this move a risk? Can Josh Lugg demonstrate enough ability to keep that guard position? Or do you see him being unseated as a starter?
Eric Hansen: Hi Len. Hope you had a great summer as well ... and seeing as though you live near the ocean, I'm betting yours was superior to mine. NIL is not limited to charitable endeavors at ND, but that is the mission of the FUND, the collective with which Tom Mendoza and Brady Quinn are involved. There are/will be other collectives with different missions. There's also individual opportunities -- clothing, gear, car dealerships, etc.
Zeke Correll did enough in the spring from a technique and strength standpoint that Harry Hiestand was willing to ponder a position change for perhaps the best returning center in the country. Word is Correll continued to add bulk and strength this summer — two qualities he was lacking last season when Andrew Kristofic overtook him at guard. Can't wait to see him this weekend. As far as Josh Lugg, I think at times playing through injuries has been a factor in his overall consistency. If he's healthy, I expect him to be a starter and an effective one.
Robb from Colorado: Welcome back, Eric. Worried about RB depth, although I am thinking there are worse No. 3 backs in the country than Gi'Bran Payne. How does Tommy Rees manage that workload at least until Logan Diggs gets back?
Eric Hansen: Hey, Robb. RBs coach Deland McCullough talked a lot in the spring about different RBs doing different jobs when he had four healthy backs in the spring and Gi'Bran Payne on the way. I don't see the philosophy changing with just the three backs for a few weeks. They'll play to each back's strengths. So I'd expect Chris Tyree to get the most carries early on, but not in the realm of Kyren Williams-type volume.
Tom from Kennesaw, Ga.: Hi Eric, great to be back in Chat season and not far away from Camp and the Season. Hope you had a relaxing and enjoyable summer. I am a little surprised at the ability to recruit Top 10 (by position) tight ends on a consistent basis. With the number of TEs we have in the NFL, plus the type of offense that we run, you would think there would be a real attraction to the top TEs every year. Mayer No. 3 and Bauman No. 5 were a great haul. We will see how Raridon No. 5 and Staes No. 8 develop. But Berrong was the No. 35 TE and Evans No. 26. Recent commits Flanagan, 2023 and Larsen 2024 were both rated as the No. 12 TE. Any insight on this?? Second question: Place kicker could be a real roll of the dice this year? Have you had anh
Eric Hansen: Tom, the end of your question got cut off, so if there's something important I miss, please resubmit it. As far as the tight end recruiting, keep in mind the rankings of the recruits can change in a hurry — at tight end, especially, here bodies are drmatically changed and growing. Eli Raridon was a three-star prospect and No. 18 tight end nationally when ND offered him a scholarship. He was even lower-ranked by 247Sports (No. 29 tight end) at the time. I think he has the chance to be the next great one at ND. Mitchell Evans and Cane Berrong were both converted high school QBs, which helps account for the lower rankings. So I'd be patient with the two committed tight ends and see where they end up. ND has a really good track record of evaluating. As far as the kicker, Blake Grupe and Josh Bryan have had all summer to address their spring accuracy issues. We'll see very quickly if there's been progress.
Mike from Quakertown , Pa.: Hi Eric! Thanks again for taking our questions. How was your offseason? Do you think Notre Dame is comfortable not taking a quarterback this recruiting cycle, or do they continue to pursue one for the 2023 class? Is Tyler Buchner, Drew Pyne, Steve Angeli and CJ Carr in 2024 enough for the near future of the program? Thanks for taking our questions!
Eric Hansen: Hi Mike. It was great to get some time to recharge the battery. No, Notre Dame does not want to skip taking a quarterback in this cycle. If all else fails, they'd add from the portal. You need quality, but you need quantity too in this day and age of a more liberal transfer policy.
ND Harvey from Philly Pa.: E, ND football is in the air. Big fan of Kevin Bauman. What do you see in the '22 season from him? Also, who is going to be our kicker? We need consistency from the kicking game. Stay safe. Go Irish.
Eric Hansen: Hi NDH. With Mitchell Evans sidelined for the first part of the season, there's a clear path for Kevin Bauman to be the No. 2 tight end. He also has strong challengers in the younger classes. Bauman positioned himself well by getting healthy and having a solid spring. I do think Eli Raridon is going to make the tight end depth chart very interesting. ... As far as the kicking game, I'd expect Blake Grupe's experience will take over at some point and he will be the kicker — but I'm not ready to push all my chips into the middle of the table on that one yet.
Joanne from Atlanta: Hi Eric, welcome back from a well-deserved vacation. I hope you had a great time. If the Ohio State game were today, please predict the starting lineup. With the changes happening in college football, are you at all concerned about the future of the game? Unregulated NIL is bad enough, but now the push to let kids transfer as much as they want without any penalty very much concerns me (Note: The NCAA tabled that today until Aug. 31 because of some pushback). One of the things I've always enjoyed about college football was all the non-NFL players who were playing for their school. This will completely eliminate that dynamic and make it feel more like the NFL, where the players are out for themselves instead of their team . I know many people who have been pretty steady college football fans who have told me they are completely uninterested this year because of all that is going on. I feel as if college football is cannibalizing itself. What do you think about the whole thing? As always, thanks for your great insights.
Eric Hansen: Joanne, the requirements of me in this question really does mean vacation is over. And I love it. Ready to live football. In predicting the starting lineup, I am omitting injured players. So ...
On offense: Tyler Buchner at QB; Chris Tyree at RB; Michael Mayer at TE; Lorenzo Styles, Bradon Lenzy and (surprise) Tobias Merriweather at WR. O-line from LT to RT: Joe Alt, Jarrett Patterson, Zeke Correll, Josh Lugg, Blake Fisher.
On defense: Isaiah Foskey, Jayson Ademilola, Jacob Lacey, Rylie Mills at D-line; Jack Kiser, Marist Liufau, JD Bertrand at LB. Cam Hart, Clarence Lewis and TaRiq Bracy (nickel) at CB; Brandon Joseph and DJ Brown at safety.
Unlimited transferring (one step further than it is now) and unchecked NIL is troubling. I think there's good sides to more liberal transfers and NIL as those changes were originally intended, but I do think a culture shift may happen with those things abused. It flies in the face of what I love about college football. I'm willing to be patient, though, and see if there are some self-corrections.
Brian from South Bend: Hey Eric, Are there any rule changes that fans will notice on the field when the season kicks off? More specifically, has the targeting rule been changed at all? Thanks.
Eric Hansen: Yes, Brian. There are some significant ones. You can read all about them all here. Let me touch on two of them, one of which you mentioned. There is now an appeals process for targeting ... not within the game itself. But if a player is going to have to sit out the next game as a result of the call in the second half of a game, teams can appeal that part of the punishment. ... Also there's going to be potential consequences for players/teams faking injuries to stop the clock or slow the tempo within a game.
Tom from Grand Rapids, Mich.: Eric, been away for a while. Glad to be back. With Chris Watt returning to ND under Harry Hiestand, do you see him as the protégé that could step in and take reins when HH retires to keep the continuity and keep the O-line delivering the punishment rather than taking it. I was critical of Jeff Quinn. Was that fair of me?
Eric Hansen: Hi Tom. Glad to have you back. Depending upon how soon Harry Hiestand retires — and he just unretired and is loving life — your premise is plausible. Certainly if not an immediate successor then an eventual one, depending upon the timing. I'm not sure what your criticism of Jeff Quinn entailed, but let me say this. He was a way above-average recruiter. I think he was an above-average O-line coach. But Harry Hiestand arguably is the best of this generation. So in comparison to that, it's easy to criticize and justify it.
John from New York: Hi Eric, hope all is well. What do you think will be the second-most challenging game on the schedule?
Eric Hansen: Hi John. Assuming Ohio State is No. 1, I think Clemson in November, with its elite defense, could be a problem.
Tom from Kennesaw, Ga.: Eric, as I mentioned to you, Paul Duncan's parents and sister attend the same parish as I do and we have become friends. I attended the wake and funeral and talked with Sam Young and Brady Quinn at the wake. There were probably 8-10 players at the funeral Mass, which was nice to see. And I know the family appreciated all their support. The ND mantra of not for four years but for 40 years does not just apply to a student-athlete's ability to earn a living after graduation but rather the strong bond that Irish players develop among each other. Sam was saying how some people just do not have the special bond that ND players and alumni develop and nurture. I am sure that this is a big recruiting pitch. Thanks.
Eric Hansen: Tom, thank you for sharing that ... and sorry for your loss.
Adam from Dayton, Ohio: I always hit send to fast haha...a few questions. 1.) Recruiting. We all see that Marcus Freeman and staff are doing things not seen since Holtz on the trail. That being said, the Keon Keeley and Peyton Bowen situations do not look great. And quarterback, while not necessarily wrong to hone in on Dante Moore, it is fair to question the "eggs in one basket strategy." That being said, is Freeman learning more lessons to recruit at the highest level? The game is different that before with NIL and committing so many years in advance (a lot of time to change before signing day). Does Freeman need have to have bigger boards going forward? Even upon securing a verbal from a Keeley-type player, do you still work to get visits from other top 100 defensive ends because there is always danger of a "flip"? I'm babbling, but basically, as good as Freeman has been on the trail, can he improve? 2.) What game are you most excited for? If you could choose any game to win, what would it be? If you could choose any game not to lose, which one?
Eric Hansen: Adam, you're like the water in the hose when it's finally unkinked. Whoosh. This is very very close to violating the 17-part question limit, but I love your enthusiasm and you're from Dayton, so I will try to do my best to wade through this. 1) With Dante Moore, I think ND contracted its QB board too quickly with regard to its 2023 options. And to be honest, reading the NIL factor in this cycle was and continues to be a challenge. 2) I think ND has played the board smartly at other positions. They expand when they need to expand, and have other candidates in mind when that happens. I like the aggression, though, of going after players like Caleb Downs and Richard Young and getting them on campus, even if they ultimately picked another school. 3) The game I'm most excited for? C'mon now Adam, I think you can answer that one without my help. OK, I'm convinced you finished your last two questions during Happy Hour -- it's the same question LOL. My answer — the playoff game.
Dudley from South Bend: Eric, even though you are not with the SB Trib anymore, any chance we will be able to hear you on SportsBeat this season?
Eric Hansen: Never say never, but I don't anticipate that happening. However, you need to check out our Inside ND Sports podcast. Also, we'll be adding content on our YouTube channel, like live shows, at some point this season. So stay tuned.
Joe Capuana from Massapequa , N.Y.: Which Coordinator has to perform better on 9/3 for ND to beat OSU ?
Eric Hansen: I'll start with ... they both better be at the top of their games. OC Tommy Rees has the more unproven unit of ND's two, but he's going against an Ohio State defense that ranked 59th in total defense last season. DC Al Golden's unit is much further along in its development, deeper too. But he has to face the team that finished No. 1 nationally in total offense last season. Having said all of that. I think Rees is going to have to overcome bigger challenges on game night for Notre Dame to have a chance to leave Columbus with a victory and save that city's couches.
Robert K from Sartell, Minn.: Will Notre Dame pursue Emeka Megwa, Washington RB, in the portal??
Eric Hansen: ND is done with the portal until after the season.
Sean from Schaumburg, Ill.: Keon Keeley stays committed — yes/no? Losing him would sting. Bad. Reminds me a bit of Robert Beal. Committed early. Went to UGA. Not nearly as highly rated. Losing Keeley would feel worse.
Eric Hansen: You're right Keeley is WAY better than Robert Beal, but I can see some parallels. I'm not sure Keeley knows what he's going to do, but I'll take a stab at your question and say yes, he sticks after some anxious moments for the staff.
Jeff from Phoenix: Eric, welcome back! Its great to be chatting again and am trying to curb my enthusiasm for Sept 3. In your article on the seven storylines heading into ND camp, you called director of recruiting Chad Bowden "innovative". Recruiting is going so well, so can you add a couple comments on how he is innovative? Other than Freeman of course, off the field could he considered the most important guy for future ND football success? He has to be a sought after person for other programs, so do you think ND can retain him? Much thanks.
Eric Hansen: Hi Jeff. I see what you did there. Fortunately, there's such a strong bond between Freeman and Bowden (they came together from UC in 2021) that it's going to be hard to pry Bowden loose from ND, and yes his importance is a central storyline in ND's recruiting surge. As far as creativity, the Men in Black theme back on a January junior day recruiting event is a good example. ND staffers dressed in suits like the main characters in the movie and surrounded the recruits' cars as they pulled up in sub-freezing weather. ... There's also the elaborate official offer "letters" and the greetings at the airport. I'll include those here via Twitter.
Chad is the one in the cowboy hat in the video.
Joey G. Philadelphia, Pa: Hi Eric, Looking at ND's returning offense, I don't see much production returning from last year's team. No returning QB threw for over 300 yards. No returning RB rushed for over 300 yards. No WR caught over 35 passes. An offensive line that was porous and only played better against weaker competition at the end of year. Breaking in new kickers. Do you think this year's squad will match the 35 points a game average from last year's team? And aside from Michael Mayer, who do you see leading the team in TDs?
Eric Hansen: Hi Joey. That's kind of the nature of college football. You lose players from one year to the next. That's why recruiting at a high level is so important. Yes, I do think ND's offense will eventually exceed 35 ppg, not by a lot, but I think it will, because ND will be better balanced offensively. Leader in TDs beyond Mayer. I'll go with Lorenzo Styles.
Jerry from Dallas: Eric, two questions: Who of recent past ND quarterbacks do you expect Buchner's first year under center to be comparable to and who do you think will be starting late in the season that won't be starting in September? Thanks.
Eric Hansen: Buchner is so different from everyone else ... I'll say no one recently. So maybe all the way back to Kevin McDougal. Maybe. ... Second question". Maybe CB Jaden Mickey, maybe Tobias Merriweather, maybe Eli Raridon in two-tight end sets.
Cederick Walker from Saginaw, Michigan — home of Notre Dame basketball great Tory Jackson: Will Bo Barnes, Jaden Mickey, Philip Riley or Chance Tuckerl get reps vs. Ohio State? How much reps do you think our RB and WR will have in practice?
Eric Hansen: Ced, the part of your question I'm clear on is of the CBs you mentioned, I expect Mickey to be in the playing rotation at OSU. I'm not sure how to answer the question about WR and RB reps, because I don't understand what you're asking me. Sorry.
Glenn from Santa Monica, Calif.: Eric, our top two (verbally committed) defense players flipping is a concern but are we not prepared? Al Washington was accustomed to these battles at Ohio State as well as Al Golden at Miami. Is this not the case?
Eric Hansen: ND is prepared, but you would hate to lose players of that caliber, nonetheless.
Bill from St Joe, Mich.: Eric, count me as optimistic regarding the offense due in large part to an improved offensive line (Two excellent tackles, and Patterson wherever he's finally slotted.
Eric Hansen: That's my thinking as well.
Jay from Granger, Ind.: Looks like we are starting to go for quantity over quality again as recruiting winds down. I get why it happens is when you go against the traditional powers. Questions for you: How do we change it? I'm predicting a 5-10 final class ranking when all said and done.
Eric Hansen: If ND can hold onto Keeley and Peyton Bowen, I'd be shocked if ND doesn't finish top 5.
Eric Hansen: OK, that's going to do it for today. I've got to run to another commitment. Thanks for all the great questions. We'll be back to do it all again next Wednesday at noon ET.