Notre Dame men's basketball signs all three 2023 commits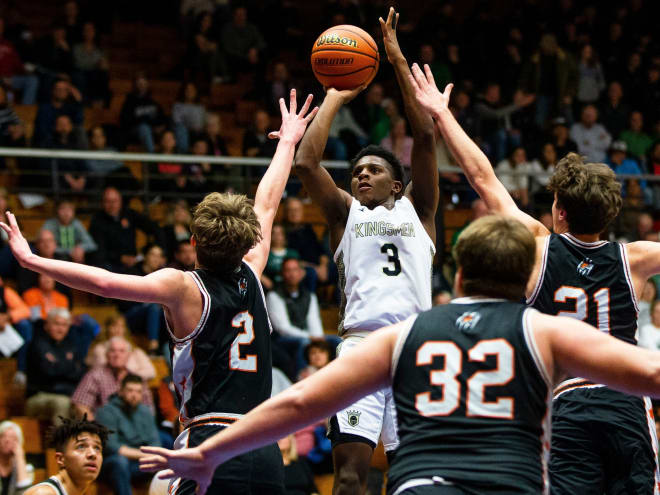 The 2023 recruiting class for Notre Dame men's basketball didn't start to come together until the summer.
As the Irish started to learn their fates with early targets like five-star power forwards Xavier Booker and T.J. Power, who eventually committed to Michigan State and Duke, respectively, head coach Mike Brey and his coaching staff needed to pivot.
That's when Notre Dame went all-in on guards. Three-star point guard Markus Burton from local Penn High School in Mishawaka, Ind., joined the class first with a verbal commitment in late July. Then the Irish looked west to add September commitments from three-star shooting guards Brady Dunlap of Los Angeles Harvard-Westlake and Parker Friedrichsen on Bixby (Okla.) High.
SUBSCRIBE TO INSIDE ND SPORTS TO STAY IN THE KNOW ON NOTRE DAME ATHLETICS
JOIN THE CONVERSATION ON THE INSIDER LOUNGE MESSAGE BOARD
All three signed letters-of-intent Wednesday with Notre Dame on the first day of the early signing period for the 2023 class.
"You give a lot of credit to your staff on that," Brey said Wednesday afternoon. "You start to zero in, let's say, on a T.J. Power and Xavier Booker. But all of a sudden, that starts going another direction.
"Where I may not be as plugged in to those other guys, those (coaches) are. You make a quick turn, and they kind of turned me loose on it. You're able to move.
"We've had a lot of recovery recruiting at times, where you chase a horse and you maybe don't get him. But you've come back and you've been able to come back around. Maybe this was a real good example, even though all those kids can really play for us and were on our radar. It was just a matter of me being able to concentrate on them probably from mid-July on. Boom, here we go."
The 5-foot-10, 170-pound Burton led Penn in scoring as a junior by setting the single-season program record with 734 points. He averaged 27.2 points, 6.3 rebounds, 5.6 assists and 3.6 steals per game for the 24-3 Kingsmen.
Burton's play at the Charlie Hughes Invitational in Indianapolis in late June helped convince Brey to extend a scholarship offer to him. His Penn team went 3-1 during the event including wins over recent state championships Cathedral and Carmel. Burton scored 35 points against a Cathedral team led by Booker, Rivals' top-ranked prospect in the 2023 class.
"I first saw him against Cathedral in Indianapolis, and he crushed it," Brey said. "He was great. He did a little bit of everything, and he led. There (associate head coach) Anthony (Solomon) was with me, and I go, 'Let's offer him right now.' Anthony goes, 'Nope. No. No. Let's go watch him in Kansas City first.' Then I offered him at halftime of the first game at Kansas City."
The recent track record of local guards in college basketball made Brey more comfortable on pushing for another nearby recruit. Mishawaka Marian's Demetrius Jackson and South Bend Riley's Blake Wesley had successful careers at Notre Dame. Marian's Devin Cannady and Jaden Ivey, who finished his high school career at LaPorte La Lumiere, starred at Princeton and Purdue, respectively.
"I just didn't want to pass on a local guard," Brey said. "There's been so many guards. I told our guys, 'Hey, if it's close, we're taking him.' ... He's going to be really good."
Rivals ranks Burton as the No. 28 point guard and No. 126 overall in the 2023 class.
Notre Dame offered both Dunlap and Friedrichsen in August, and it didn't take long to get them to join Burton. Dunlap announced his commitment on Sept. 22 after making an official visit the previous weekend. He chose the Irish over Colorado, Nebraska, Providence, Rice and San Diego State. Friedrichsen announced his commitment four days later. He made an official visit to Notre Dame a month earlier, which influenced him to pick the Irish over Nebraska and Davidson and cancel planned visits to Northwestern and Rice.
The 6-foot-4, 165-pound Friedrichsen averaged 27.8 points, 5.0 rebounds, 4.0 assists and 3.3 steals as a junior at Bixby. He was verbally committed to Oklahoma State for nearly two months from March to May before reopening his recruitment. Rivals ranks Friedrichsen as the No. 34 shooting guard and No. 127 overall in the class.
The 6-foot-7, 205-pound Dunlap moved all over the country growing up as the son of a college basketball assistant coach. His father, Jeff Dunlap, has coached at NC State, Alabama, Georgia, Western Michigan and more schools. Brady Dunlap averaged 16 points, 5.0 rebounds and 3.0 assists as a junior at Los Angeles Harvard-Westlake.
Brey said he likes how well Friedrichsen and Dunlap can shoot from range. Friedrichsen shot 46% from the field and 34% from 3 as a junior. Dunlap's shooting percentages weren't readily available.
"We're losing some guys who can really stretch the floor and shoot it," Brey said. "But they have the ability to shoot. They really know how to play.
"One's a coach's son in Brady. He has good size. He has good athletic ability. He's coming off an ankle injury, which is why he was a bit hidden, and we were able to get in there. He was offered early by Kansas. And then when he didn't play and the ankle was bothering him, they faded.
"Parker, I know he can shoot it. I've been really impressed with his passing and seeing the floor. But they're both basketball IQ guys. They're both guys that need to get stronger and older, which we've seen that thing before here. But certainly because they can shoot it and they know how to play, and what we're losing, we need them to be ready as freshmen."
Notre Dame's roster next season should look significantly different without guards Dane Goodwin, Cormac Ryan, Trey Wertz and Marcus Hammond and forward Nate Laszewski, all of whom are graduate students.
The Irish could expand the roster by adding a graduate transfer like it did the last two offseason with forward Paul Atkinson Jr. from Stanford and Hammond from Niagara.
"We can still add a guy like that," Brey said. "I don't know if we would add a high school kid. You never know. Kids get out of their letters and things happen. I almost feel with how young we could end up being with the three coming and what we're losing, do we go back and find an old guy in the portal to keep us a little older? Or two. Or maybe two. We do have the scholarships."
As of Wednesday evening, Notre Dame's 2023 class was ranked No. 35 in the country by Rivals and fifth among ACC schools behind Duke (No. 1), North Carolina (12), Pittsburgh (25) and Louisville (28).
Notre Dame finished with the No. 20-ranked class in 2022 with five-star guard JJ Starling and four-star forwards Ven-Allen Lubin and Dom Campbell. Starling and Lubin will start the 2022-23 season in the rotation and Campbell could eventually too.
The Irish open the season at home against Radford on Thursday in Purcell Pavilion (8 p.m. EST on ACC Network). Radford lost at Marquette, 79-69, in its season opener Monday.
PG Markus Burton
Brey's statement on Markus Burton: "Thrilled to have another local product. Markus plays with a chip on his shoulder and he's a real winner. He's so dynamic with the ball and real quick."
SG Parker Friedrichsen
Brey's statement on Parker Friedrichsen: "Got to be one of the best shooters in the 2023 class, and a sharp passer as well. He fits the mold of those combo guards we've had through the years that have been so valuable."
Commitment story on Parker Friedrichsen
SG Brady Dunlap
Brey's statement on Brady Dunlap: "Son of a coach and a great feel for the game. He's a big time shooter from a great high school program."
Commitment story on Brady Dunlap