James: Why the time was right for Mike Brey's Notre Dame run to end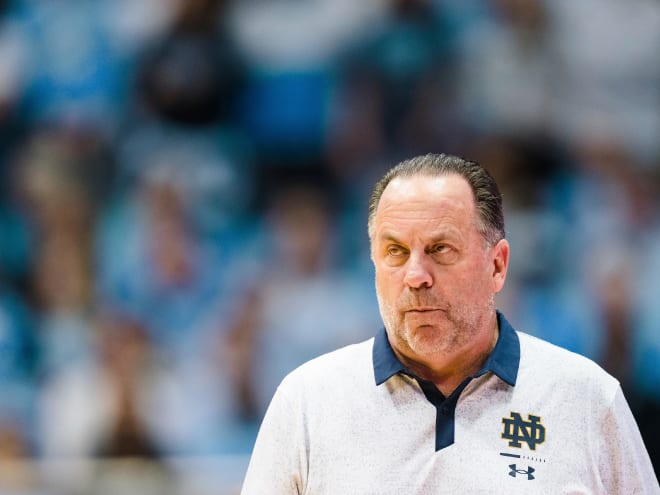 Mike Brey sounded like he was out of answers Tuesday night.
After an 84-71 loss to six-win Florida State, in which the Notre Dame men's basketball trailed by 24 points in both halves on its home court, the Irish head coach of 23 seasons admitted he didn't see coming what transpired in Purcell Pavilion earlier that night.
"I defer to my guys," Brey said. "We have a lot of guys that have played — I told them in there, I really misread you. I thought from practice we'd be really digging in and hungry and a little more fight to us."
Brey may as well have been speaking about the entire 2022-23 season for the 9-10 Irish. Three-and-a-half months earlier, Brey and his players were openly manifesting an anticipated deeper run in the NCAA Tournament following last season's second-round appearance out of the First Four.
Boy, does that sound silly now.
"Is this too fragile to fix?" a local reporter asked Brey after the Florida State loss.
"Let's talk Thursday," Brey said.
Maybe Brey knew then that Thursday would bring the official university announcement that he would be stepping down as head coach at season's end. Or maybe it was a coincidence. Regardless, Thursday's released statements from Brey, athletic director Jack Swarbrick and university president the Rev. John I. Jenkins seemed inevitable even if they had chosen to keep the decision private until after the season.
"Mike and I have talked often in recent years about a future transition in the program's leadership and during our most recent conversation we reached the mutual conclusion that the end of this season represented the right time," Swarbrick's statement read in part.
SUBSCRIBE TO INSIDE ND SPORTS TO STAY IN THE KNOW ON NOTRE DAME ATHLETICS
JOIN THE CONVERSATION ON THE INSIDER LOUNGE MESSAGE BOARD
Brey, who is employed on a contract extended in 2018 through the 2024-25 season, did enough last season with a second-place ACC finish and a pair of buzzworthy NCAA Tournament victories to warrant another go with the Irish this season. But the quality of play reverted to a product too familiar around here, with a team on pace to miss the tournament for the fourth time in the last five seasons it was held.
There will be time later to celebrate all Brey accomplished in 23 seasons at Notre Dame: 13 NCAA Tournament appearances, three trips to the Sweet 16, two trips to the Elite Eight, three Big East Coach of the Year honors, one national Coach of the Year honor from The Associated Press. But nostalgia wasn't winning games in South Bend.
What felt two months ago like an intriguing story about a team led by six graduate students, who are older than dozens of NBA players, turned into a wearying story about a team led by veterans who aren't playing professional basketball yet for obvious reasons.
As a collective, this team has too few encouraging qualities and far too many troubling ones. Through Wednesday, the Irish ranked among the worst 10 Division I teams in rebounds per game (30.68), free throw attempts per game (12.7), steals per game (4.6), fastbreak points per game (4.47) and bench points per game (11.47).
While Notre Dame's players share a lot of responsibility for being so deficient in a lot of those categories, it's impossible to ignore how poor roster construction sent the Irish down this path of failure.
When Notre Dame couldn't find a post replacement for 6-foot-9 forward Paul Atkinson Jr. following last season, Notre Dame's best players suffered for it. Irish forward Nate Laszewski, one of the team's best 3-point shooters, has been asked to play in the paint and lead the Irish in rebounding.
Dane Goodwin, a versatile scoring threat, looks worn down by the physical style he's been asked to play as a de facto 4 in ND's lineup. Cormac Ryan, who showed he could score in bunches at the end of last season — if not consistently — has been asked to become more of a defensive tone-setter for a unit that often displays indifference. It's a bit harder to be an offensive sparkplug with that responsibility.
Laszewski's 3-point shooting has fallen from 46% last season to 38% this season. Both Goodwin and Ryan have dropped around 4% from their shooting on both field goals and 3-pointers.
Prior to the season, Brey referred to Laszewski, Goodwin and Ryan as his Big Three. At least he got the number right.
Maybe it's too simple to believe a reliable interior presence would have completely turned around this team's fortunes. An experienced player from the transfer portal would have been ideal. Maybe freshman Ven-Allen Lubin could have been pushed into that role ahead of schedule. We'll never know for sure.
But the reason why it was time for Brey's 23-season run at Notre Dame to end doesn't fall on these players or even this season necessarily. It's the fact that the 2022-23 problems so clearly point back to Brey's biggest and recurring flaws. He hasn't recruited consistently well enough at a school that's admittedly difficult to achieve recruiting excellence, and he hasn't used a deep enough rotation to develop players on the fringe.
Those two issues form a bit of an ouroboros. The lack of recruiting creates a shorter bench, and a shorter bench makes it harder to recruit players who know they may be chronically stuck on the bench.
Maybe it's understandable. Twenty-three seasons of losing recruits to Big East, ACC and Big Ten foes shopping in the same aisles must wear on a coach. A 24th wouldn't have benefited anyone.
In the last six months alone, Notre Dame lost recruiting pursuits of five-star power forward Xavier Booker, a 2023 recruit from Indianapolis Cathedral, and four-star center James Brown, a 2024 recruit from Chicago St. Rita. Two top 30 prospects in their respective classes within driving distance of Notre Dame opted to commit to Michigan State (Booker) and North Carolina (Brown).
The whole reason Notre Dame had room for six graduate students on this year's roster was the complete whiff on recruiting in the three classes from 2019-2021 outside of guard Blake Wesley. The unexpected rise of Wesley as the program's first one-and-done player this past offseason left Notre Dame with only three players from those three classes on the current roster: juniors Matt Zona and Tony Sanders, and sophomore JR Konieczny. Zona is responsible for all six points scored by that trio this season.
Brey credited the results in the 2022 recruiting class as a bit of momentum booster heading into last season. But the freshman trio of guard JJ Starling and forwards Dom Campbell and Lubin, all of whom were ranked by Rivals among the top 120 prospects in the class, hasn't been able to elevate its older teammates.
Starling, a five-star recruit and McDonald's All-American, hasn't been as transcendent with a floundering team around him as Wesley was last season. Lubin's low-post scoring lacks polish, and Campbell's conditioning was a bigger preseason topic than his expected impact.
They still represent a group worth building a future around if they're interested in staying after this season, which certainly isn't guaranteed with NBA and transfer-portal exits ramps available. Swarbrick's decision to make Brey's future clear so soon should allow Notre Dame to line up a replacement sooner and give the next coaching staff as much time as possible to sort through next year's roster options.
Given that Notre Dame basketball operates in the shadow of the football program and the next head coach will inherit a roster with massive holes, a proven coach ready to win right away doesn't have to be the starting point for Brey's replacement. If one exists with a vision that aligns with Notre Dame's reality, then that's a bonus.
The qualities required in Notre Dame's next head coach must be evident in recruiting and come from an appreciation of what makes Notre Dame different. The rest of the staff can specialize in talent evaluation and player development, because those are crucial in a Notre Dame program that needs mature players to compete against ACC programs with young talent.
But the head coach should have a gravitational pull as a recruiter and be able explain what the program and the university can do for a basketball player.
Be prepared for rejection, be resolute in moving forward and always have another answer ready.