CB DJ Brown Chooses Notre Dame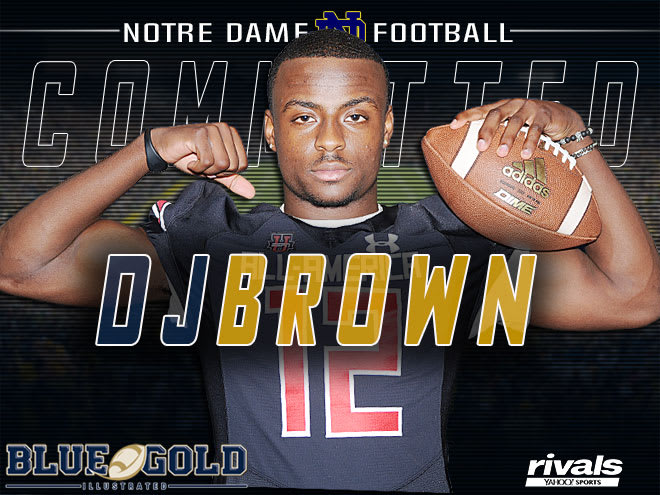 After a late push from Notre Dame, Washington (D.C.) St. John's cornerback DJ Brown has announced his intentions to be part of the Irish program on National Signing Day.
The 6-foot-1, 180-pounder picked Notre Dame over Northwestern and California. Brown also landed offers from Clemson, Ohio State, Nebraska, Vanderbilt and Missouri, among others, during the process.
Brown, who landed an Irish offer on Nov. 20, originally was going to visit South Bend in early December for Notre Dame's Echoes banquet, but canceled the trip after it appeared the cornerback position was going to be full. At the time, Brown was still committed to Virginia.
But, the Irish staff showed late interest and there were no hard feelings from Brown, and the three-star took an official Jan. 28-30, which immediately followed a trip to Northwestern. On Jan. 30, Brown announced his de-commitment from Virginia and narrowed his list down to Notre Dame, California and Northwestern.
"Definitely the culture around Notre Dame," Brown told Rivals analyst Adam Friedman about what stood out while he was visited Notre Dame. "It's a real close atmosphere … I went to a work out and you could just tell they all support each other and want the best of each out. Also, the coaching staff is all good dudes. You can tell they care for the student-athletes."
One connection that played in Notre Dame's favor is Brown's former teammate and current Irish freshman defensive end Kofi Wardlow, who flipped from Maryland on National Signing Day last year.
"He says he loves it," Brown said of Wardlow to Friedman. "He loves the people he's met, love the team, loves the culture around. He has only good things to say about it."
Brown also mentioned he built a good relationship in a short time with new safeties coach Terry Joseph. Cornerbacks coach Todd Lyght also pushed hard for the Under Armour All-American.
Rivals ranks Brown as the No. 67 cornerback in the class.