2023 SG Parker Friedrichsen granted NLI release from Notre Dame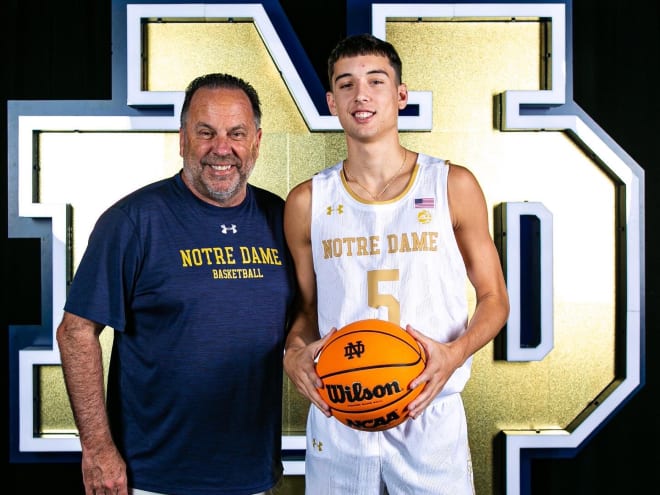 The Notre Dame men's basketball program has lost another member of its 2023 recruiting class. At least for now.
On Saturday, three-star recruit Parker Friedrichsen confirmed to Inside ND Sports that he was released from his National Letter of Intent. The 6-foot-4, 165-pound shooting guard verbally committed to Notre Dame on Sept. 27 and inked with the Irish on National Signing Day, Nov. 9.
Notre Dame approved Friedrichsen's release request nine days after head coach Mike Brey announced that he would step away from the program following the 2022-23 season. It also comes just days after Brey advised Notre Dame's 2023 recruits to reopen their recruitment and re-evaluate their options in light of his departure.
"I told all of them, 'I would recommend that if I were your father. You need to,'" Brey said. "And yet they all went to keep this option open. I told them I would stay in touch with them on the coaching search to try and help them. ....
"Parker actually said, 'Coach, can I talk to you, as like an independent resource?' I said, 'I'm here for you, man. If you decide not to come to Notre Dame and you're down to two or three schools and you want some feedback, I got you.'"
Friedrichsen is the second member of Notre Dame's three-player recruiting class to back off of his signature. On Tuesday, three-star shooting guard Brady Dunlap requested the release from his NLI. Mishawaka (Ind.) Penn High three-star point guard Markus Burton is the only remaining Notre Dame class member.
A senior at Bixby (Okla.) High, Friedrichsen was previously committed to Oklahoma State from March 14 to May 11. However, he reopened his recruitment to eventually focus on Nebraska, Davidson, Notre Dame, Northwestern and Rice. The Irish became the pick after visits to Nebraska, Davidson and Notre Dame. He never followed through with his plans to visit Northwestern and Rice after he zeroed in on the Irish.
Rivals ranks Friedrichsen as the No. 132 overall player and No. 34 shooting guard in the 2023 class. As a junior, he averaged 27.8 points, 5.0 rebounds and 4.0 assists in 23 games. He shot 46% from the field and 34% from 3-point range. In 10 games as a senior, he has guided the Bixby Spartans to an 8-2 overall record and a 5-2 mark in district play.