{{ timeAgo('2023-01-24 18:40:46 -0600') }}
basketball
Edit
Three-star SG Brady Dunlap asks Notre Dame for NLI release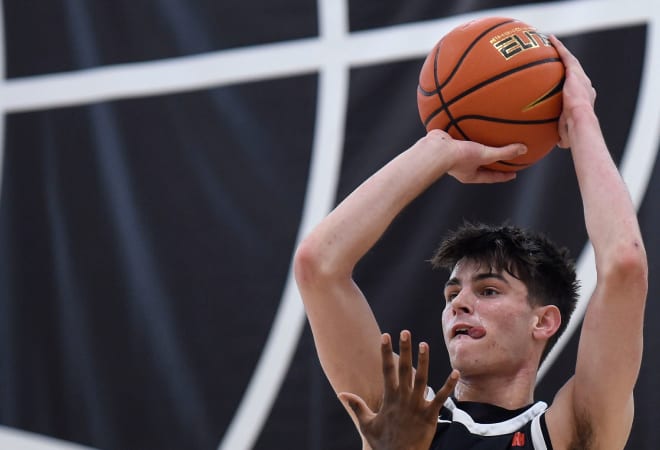 In the days since Mike Brey announced Thursday he would be stepping down as Notre Dame's men's basketball coach, Brey made time to speak to all three of the program's 2023 class signees and their parents.
His message to them? Give us a chance.
"They're disappointed, but there's kind of the understanding of the business," Brey told reporters Saturday. "I told them I'm here for them to help them as a resource. But my No. 1 theme with the parents was just don't knee jerk. Just finish your high school season.
"Let us get in the process of hiring a new coach and you have to meet with him. You have to meet with the new guy, and I think they'll do that."
Three-star shooting guard Brady Dunlap may still end up meeting Notre Dame's next head coach, but he doesn't intend to do so while still signed with the Irish. Dunlap told Inside ND Sports on Tuesday night that he requested his release from his National Letter of Intent with Notre Dame.
"Due to the announcement of Coach Brey's retirement, I have requested my release from Notre Dame and will open my recruitment," Dunlap wrote in a statement shared with Inside ND Sports. "I want to wish Coach Brey well and thank Coach Antoni Wyche for all of his efforts in recruiting me."
SUBSCRIBE TO INSIDE ND SPORTS TO STAY IN THE KNOW ON NOTRE DAME ATHLETICS
JOIN THE CONVERSATION ON THE INSIDER LOUNGE MESSAGE BOARD
Wyche is in his second season as an assistant coach under Brey at Notre Dame and played a major role in guiding Dunlap, a 6-foot-7, 205-pound senior at Los Angeles Harvard-Westlake, to choose Notre Dame over the likes of Colorado, Nebraska, Providence, Rice and San Diego State. The Irish offered Dunlap in August, then he verbally committed in late September and signed during November's early signing period.
Rivals ranks Dunlap as the No. 40 shooting guard in the 2023 class.
"Was really looking forward to playing for (Brey) and Notre Dame," Dunlap told Inside ND Sports in a text message.
Once Notre Dame receives Dunlap's formal NLI release request, Notre Dame has 30 days to decide if it will choose to honor the request. Once released, Dunlap can be contacted by other schools for recruiting purposes, which is banned while under the signed agreement.
Dunlap told Inside ND Sports he's currently focused on his senior season and doesn't have a timeline for trying to sort out what's next in his recruitment. Harvard-Westlake is 23-1 and could be playing into early March with a state championship run.
Whether Dunlap makes a new commitment decision prior to Notre Dame naming a new head coach remains to be seen. His father, Jeff Dunlap, should have experience with the process as former assistant basketball coach at several schools including NC State, Alabama and Georgia.
Notre Dame signed two other recruits in the 2023 class in November: three-star point guard Markus Burton from nearby Mishawaka (Ind.) Penn and three-star shooting guard Parker Friedrichsen from Bixby (Okla.) High.
Rivals ranks Burton as the No. 28 point guard and No. 131 overall in the 2023 class and Friedrichsen as the No. 34 shooting guard and No. 132 overall.