Why This Trio's Performance Is Crucial For Notre Dame Women's Basketball
Last week, BlueandGold.com wrote about former Notre Dame women's basketball star Arike Ogunbowale winning WNBA All-Star Game MVP and what that meant for Irish recruiting.
The answer? A lot. But perhaps we got a little ahead of ourselves.
Ogunbowale didn't go from McDonald's All-American at Milwaukee Divine Savior Holy Angels High School to WNBA superstar overnight. There were four critical years in a blue and gold uniform, 2,389 points, four conference championships, two Final Fours and one National Championship between Milwaukee and the WNBA.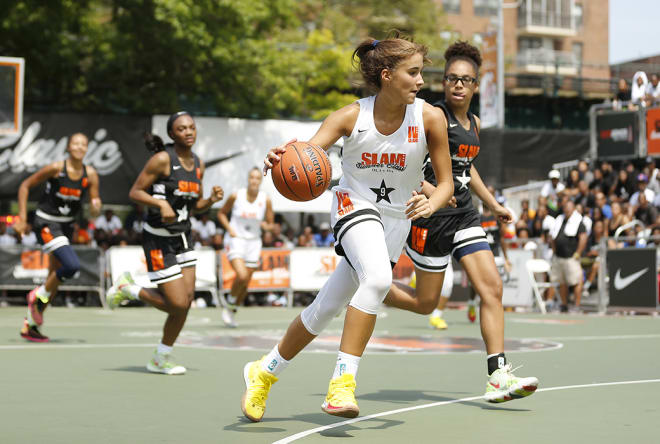 Three highly-touted Notre Dame players who took three different paths to retaining four years of eligibility could be the next crop of players to have as profound an impact on the image of Irish women's basketball as Ogunbowale has.
Five-star point guard Olivia Miles enrolled early in January and has already played six games in a Notre Dame jersey. Five-star forward Natalija Marshall sat out the entire 2020-21 season rehabbing from ACL surgery. Five-star forward Sonia Citron took the typical route and showed up in South Bend over the summer as a true freshman year.
Two freshmen, one sophomore who might as well be a freshman, one common goal: be as productive as possible in their first full season at Notre Dame. Not just for themselves, but so they can restore the standard of what it means to play at Purcell Pavilion.
"What they do early in their careers is a direct reflection of what we're doing here and what I'm building here," Notre Dame head coach Niele Ivey said. "At Notre Dame, we're big on getting players to the next level, number one, but also developing players to compete at the highest college level against one of the toughest schedules in the country.
"I'm hoping (recruits) see the immediate impact that class is going to have. I think it's exciting for recruits to see that you might not have to wait all the way until your junior or senior year to make an impact. If you put in the work, you can make an impact right away."
Miles averaged 9.3 points and 3.5 assists in 22.7 minutes per game in the half dozen she appeared in last spring. Impact: made. Citron is preparing to represent Team USA in the U19 World Cup in Hungary starting Aug. 7. She's one of 12 players on the roster. How's that for representing the Fighting Irish?
Miles is almost certainly set to start at point guard for the Irish. Citron could start anywhere from shooting guard to power forward. Not only is Ivey that confident in her skill set, but she's comfortable in her court presence too. Ivey said the 6-1 Citron has made a seamless transition from Scarsdale (N.Y.) The Ursuline School to Notre Dame from what she has witnessed during summer practices.
"She's an incredible athlete," Ivey said. "She has an incredible IQ and work ethic. I've been really impressed with her transition. She picks everything up. She works really, really hard. She's so skilled. It's been awesome to see her pick up the defense and offense. It doesn't even seem like she's a freshman. She's doing really, really well."
If Marshall has a standout season returning from her rehab, then that'll show prospective Notre Dame players that it's possible to endure a debilitating injury as a senior in high school, sit out a season and come back with a vengeance at Notre Dame.
What sophomore forward Maddy Westbeld (Notre Dame's scoring leader last season), Stanford graduate transfer Maya Dodson and junior forward Sam Brunelle do on both ends of the floor this season will likely make or break Notre Dame's season. The Irish had problems in the post a year ago that plagued them en route to their 10-10 finish.
Marshall, of course, can be lumped in with that trio. At 6-5, she's the tallest player on Notre Dame's roster. She can also obviously be lumped in the freshman trio too. Those six players — the freshmen in particular — can do a whole lot for the future of Notre Dame women's basketball.
"There is so much opportunity for this team," Ivey said. "I have some upperclassmen who have experience and will contribute, but I have some freshmen with some great talent who are also going to contribute. This team is an open canvas, and I'm excited to see who emerges as we continue to grow together in practice."