Niele Ivey Explains How Notre Dame Gained 'Impactful' Recruiting Tool
Niele Ivey spent an entire week this month on a recruiting expedition. On the second night after Notre Dame's second-year coach returned to South Bend, she gained another valuable recruiting nugget.
All she has to say next time she's on the road is look at Arike Ogunbowale.
The three-time Gatorade Wisconsin Player of the Year had all kinds of options out of high school. She considered UCLA, Louisville, Ohio State and her home-state team Wisconsin. She chose Notre Dame over that quartet, and the rest is history.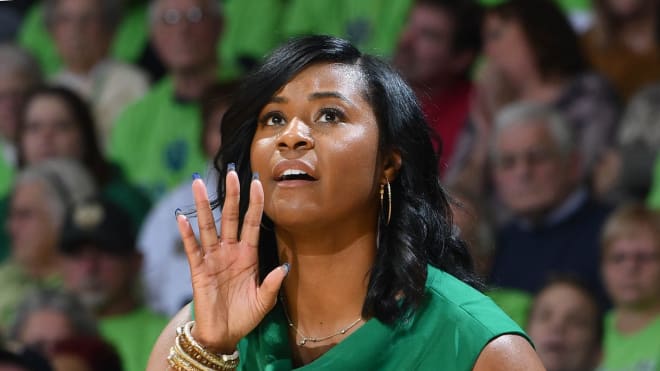 Most people know Ogunbowale hit the game-winning, buzzer-beating shot in the 2018 national championship game. But if that's too old of news for class of 2022 recruits who were not yet in high school when Ogunbowale drilled that shot, then Ivey can tell them to look at what Ogunbowale is up to now.
That takes us to Wednesday night, a day after Ivey returned from recruiting. She watched the WNBA All-Star Game with her current Irish players. What'd they witness? None other than Ogunbowale scoring 26 points in 26 minutes to lead the WNBA All Stars to a 93-85 victory over Team USA.
Yeah, that Team USA.
The one with Brianna Stewart, A'ja Wilson, Brittney Griner, Sue Bird and Notre Dame's own Jewell Loyd and Skylar Diggins-Smith. The same Team USA Ogunbowale narrowly missed out on but will probably not be denied by in an Olympic year going forward for as long as she plays.
So how's that for a recruiting tool — being able to say Notre Dame has two Olympians, and a player who could have easily been the third was the MVP in an upset victory over them?
"It's extremely impactful in terms of showing our recruits this is what we produce," Ivey told BlueandGold.com. "It's a great selling piece to show as coaches what we've done and how we've developed these Olympians and All-Stars."
This isn't to say Ogunbowale wouldn't have reached WNBA All-Star status had she chosen UCLA, Louisville or any of her other top choices. She has enough innate talent and is enough of a hard worker to have climbed to that height no matter where she played college hoops.
But would she have been a national champion? Would she have been not just a WNBA All-Star, but the WNBA All-Star Game MVP? Spending four seasons at a program known for pumping out pro players like Notre Dame has definitely helped.
Ivey goes after all kinds of recruits like Ogunbowale who can choose to play collegiately just about anywhere. Her pitch to highly sought-after prospects is simple: they can have success in school and then continue that well into their professional careers. Ogunbowale is the latest — and one of the most profound — examples of that.
"I'm hoping recruits see Notre Dame for the tradition and success we've had and that we can get players to the next level and develop elite, high-level players as we did with Arike," Ivey said.
As for the elephant in the room, Ivey said the allure of Notre Dame has not changed despite a 23-28 record in the last two seasons. She does not feel Notre Dame is too far removed from being elite for there to be long-term concern that the Irish's glory years are completely in the rearview mirror.
The mentality, though, might have to be altered just a tad in the short term.
No longer is Notre Dame the hunted. Not for the time being, anyway. That moniker doesn't come with two seasons in a row without a postseason appearance. It certainly came with the string of nine-straight 30-plus win seasons that came before them.
Ivey has set out to recruit players who have the skill of Ogunbowale but the desire and drive to take Notre Dame back to what it was last decade. Ogunbowale arrived in South Bend when the Irish were fresh off back-to-back losses in the national title game. Everybody knew Notre Dame was close to winning the whole thing.
Now the Irish are fresh off back-to-back seasons without a winning record. While Ivey might be able to still land big-time recruits, she also knows those players must come with a determination and mindset that's a little different than that of those who have come before them.
"We're going to have a chip on our shoulder and want to play with an edge," Ivey said. "I just want to bring out the best in this group and bring that swag and confidence back to this program. It's time to take care of business again."
Notre Dame hasn't had to play with a chip on its shoulder for quite some time. But maybe that's not a terrible thing. Ogunbowale, after all, just played with one. She was the best player on the court in a game she could have — and some say should have — been suited up for in Team USA threads.
Ivey can now tell Notre Dame recruits they can channel that same type of energy and follow in her footsteps. That's not a bad position to be in.