Updated 2024 Rivals250 rankings welcomes Notre Dame CB commit Leonard Moore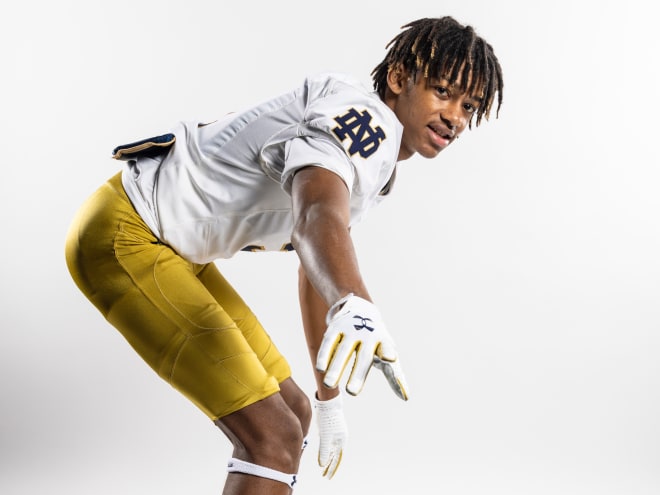 Rivals has agreed with Mike Mickens' evaluation of Leonard Moore.
When the Notre Dame cornerbacks coach accepted the 6-foot-2, 170-pound three-star recruit's commitment Feb. 4, Rivals ranked Moore as the No. 34 overall cornerback and No. 6 cornerback in Texas. On Tuesday, Moore received one of the most notable rankings bumps in the updated 2024 Rivals rankings.
Moore has moved up to the No. 152 overall player, No. 19 cornerback and No. 27 player in Texas. The Round Rock (Texas) High junior's rankings increase comes after a season in which he had the same number of interceptions (three) as receptions allowed in 11 games. He also had nine pass breakups, 31 tackles (20 solo) and two caused fumbles. That season garnered him all-district honors.
The latest 2024 Notre Dame commit, Moore, is one of 59 players to make their debut, or in some cases, a return to the updated Rivals250.
The new Rivals250 includes five Notre Dame commits: quarterback CJ Carr, wide receiver Cam Williams, offensive lineman Peter Jones, running back Aneyas Williams and Moore. Three of them are included in the top 100: Carr, Cam Williams and Jones.
Inside ND Sports shares the latest rankings update on each Irish commit below. Updated position and state rankings will be released later this week.
Pro-style quarterback CJ Carr
The 6-3, 180-pound Carr was the first player to miss the five-star status cut.
Carr is now considered the No. 18 overall player, No. 4 pro-style quarterback and No. 1 player in Michigan, The Saline (Mich.) High junior maintained his positional and state ranking despite sliding down five spots in the overall rankings. He still trails five-stars Dylan Raiola, Julian Sayin and Jadyn Davis as the class's top passer.
Carr concluded his junior campaign by completing 222 of 326 (68.1%) passes for 2,685 yards, 26 touchdowns and five interceptions. He also added 221 rushing yards and seven scores on 70 carries.
Wide receiver Cam Williams
Besides Moore, Cam Williams made the biggest leap in the overall rankings of Notre Dame's 2024 commits.
The 6-2, 180-pound Williams climbed up 60 spots from the No. 102 overall player to No. 42 in the class. The Glen Ellyn (Ill.) Glenbard South product also rose to the No. 7 wide receiver and No. 2 player in Illinois.
In 10 games as a junior, Williams had 47 receptions for 1,022 yards and 13 touchdowns.
Offensive guard Peter Jones
Malvern (Pa.) Prep's Jones stayed inside the Rivals100.
Notre Dame's lone offensive line commit in 2024 went up nine slots from No. 99 to No. 90. The 6-5, 290-pound Jones is now recognized as the No. 3 offensive guard and No. 3 player in Pennsylvania.
Jones helped the Malvern Prep Friars rushers rack up 1,608 yards and 18 touchdowns on 281 carries last season.
All-purpose back Aneyas Williams 
Another outstanding high school season did not warrant a spurt up the rankings for Aneyas Williams. However, he is still in good company.
The 5-10, 195-pound Williams slid down just two spots from No. 106 to 108 overall. He is still considered the No. 1 all-purpose back and No. 3 player in Missouri.
In 2022 at Hannibal (Mo.) High, Williams rushed for 1,362 yards and 27 touchdowns and caught 33 passes for 424 yards and seven touchdowns. His junior season was cut short by a broken collarbone.
Outside the top 250
The following Notre Dame commits did not make the Rivals250.
Tight end Jack Larsen
After he crashed the Rivals250 rankings during the September update at No. 187 overall, Jack Larsen fell out of the top 250 this time.
The 6-3, 225-pound Larsen caught 37 passes for 686 yards and 10 touchdowns in 12 games for Charlotte (N.C.) Catholic last season.
Defensive tackle Owen Wafle
Rivals left the 6-3, 270-pound Owen Wafle out of the top 250 for the second consecutive update.
The Princeton (N.J.) Hun School defensive tackle had 64 tackles (43 solo), 24 tackles for loss, 10 sacks, seven quarterback hurries, three caused fumbles and a fumble recovery in nine games last season.
Cornerback Karson Hobbs 
Three-star cornerback Karson Hobbs hasn't earned consideration to be ranked within the top 250 just yet.
However, after a junior season in which he had 29 tackles (22 solo), 11 pass breakups, one interception and one forced fumble, the Cincinnati Archbishop Moeller product is expected to see his 5.5 Rivals rating get a bump later this week.