Under The Lights: Previewing Big Games For Notre Dame Commits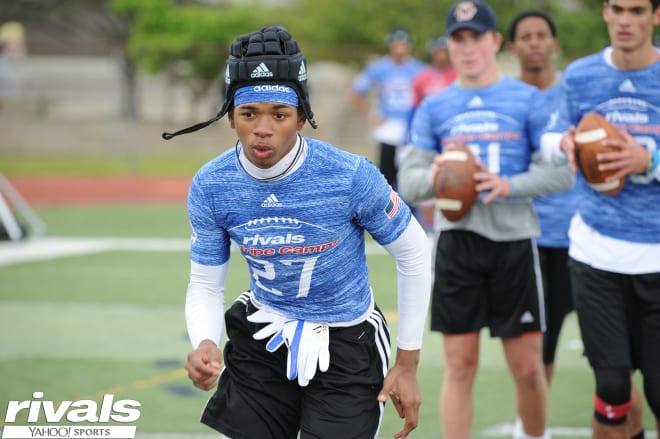 Blue & Gold Illustrated On The Road
This week, I'll be in Athens, Ga. to check out a big class of 2021 wide receiver target for the Fighting Irish.
Last Friday, I got to see Pickerington Central (Ohio) 2021 wideout Lorenzo Styles, who I was very impressed with, and now I'll get to compare Styles' skill set to another Rivals100 Notre Dame target in four-star playmaker Deion Colzie.
Athens (Ga.) Academy (1-0), the home of Colzie, is one of the best programs in small private high school ball in Georgia, and their game this Friday against Tocca (Ga.) Stephens County (1-1) should be a good one.
Colzie camped at Notre Dame in June and left South Bend with an offer from the Fighting Irish. The 6-foot-4, 180-pounder grew up a fan of the Irish, and Notre Dame is a huge contender in his recruitment. Florida, Georgia, Duke, and Alabama are also involved for Colzie as well.
Rivals ranks Colzie as the No. 95 overall recruit, No. 9 recruit in Georgia, and No. 6 athlete in the country.
Highlighting Three Notre Dame Commits 
1. CB Clarence Lewis, Middletown (N.J.) Mater Dei
Lewis is looking for a big start to his senior campaign. Ranked as a three-star prospect, the 6-foot, 180-pounder has the chance to improve his ranking stock with big performances this fall. His first game of the season is this Saturday as they host a team in Brick (N.J.) Township who went deep into the Central Group 4 playoffs last season, but Mater Dei should roll in this one. Lewis' team is a very strong one in New Jersey.
2. TE Michael Mayer, Alexandria (Ky.) Covington Catholic
Mayer is off to a dominant senior season. Covington Catholic hasn't allowed a single point yet, but this week should provide a tougher test. Lexington (Ky.) Catholic is off to a 2-0 start to the season, and this Friday may be the first time this season that Mayer catches a pass that doesn't result in touchdown. Because at this point in the season, every reception for the nation's No. 3 tight end has gone for a touchdown.
3. CB Landen Bartleson, Danville (Ky.) Boyle County
Let's stick in the state of Kentucky, where Bartleson is having a big start to his senior season as well. He has just seven carries in two games but has totaled 167 yards and five touchdowns, and defensively, Bartleson has recorded five tackles (one TFL). Bartleson's team has cruised to two easy victories but face a local rival Danville (Ky.) High (1-1) this Friday.
Full Schedule For Notre Dame Commits
OL Tosh Baker, Phoenix (Ariz.) Pinnacle (2-0) – vs. Scottsdale (Ariz.) Horizon (2-0), Sept. 6
CB Landen Bartleson, Danville (Ky.) Boyle County (2-0) – at Danville (Ky.) High (1-1), Sept. 6
TE Kevin Bauman, Red Bank (N.J.) Catholic (0-0) –vs. Rumson (N.J.) Fair Haven (0-0), Sept. 6
DE Jordan Botelho, Honolulu (Hawaii) St. Louis (3-0) – vs. Honolulu (Hawaii) Kamahameha Kapalama (1-2), Sept. 6
WR Jay Brunelle, Shrewsbury (Mass.) St. Johns – Season begins Sept. 13
OL Michael Carmody, Mars (Penn.) High (1-1) – vs. Greensburg (Pa.) Salem (1-1), Sept. 6
WR Jordan Johnson, St. Louis (Mo.) De Smet (1-0) – vs. Columbia (Mo.) Rock Bridge (0-1), Sept. 6
DL Aidan Keanaaina, Brighton (Colo.) Mullen (1-0) – at Colorado Springs (Colo.) Doherty (0-1), Sept. 5
CB Clarence Lewis, Middletown (N.J.) Mater Dei (0-0) – vs. Brick (N.J.) Township (0-0), Sept. 7
TE Michael Mayer, Alexandria (Ky.) Covington Catholic (2-0) – vs. Lexington (Ky.) Catholic (2-0), Sept. 6
DL Rylie Mills, Lake Forest (Ill.) High (1-0) – at Wheaton (Ill.) North (1-0), Sept. 6

CB Caleb Offord, Southaven (Miss.) High (0-2) – Bye week
LS Alex Peitsch, Washington (DC) St. John's College (2-0) – at Philadelphia (Pa.) St. Joseph's Prep (0-0), Sept. 6
QB Drew Pyne, New Canaan (Ct.) – Season begins Sept. 13
RB Chris Tyree, Chester (Va.) Thomas Dale (1-0) – at Chesterfield (Va.) Bird (0-0), Sept. 6
WR Xavier Watts, Omaha (Neb.) Burke (1-0) – at Omaha (Neb.) Millard West (1-0), Sept. 6
2021 Commits
TE Cane Berrong, Hartwell (Ga.) Hart County (2-0) – vs. Commerce (Ga.) High (2-0), Sept. 6
QB Tyler Buchner, La Jolla (Calif.) Bishops (2-0) – vs. Chula Vista (Calif.) Mater Dei Catholic (1-1), Sept. 7
OL Greg Crippen, Bradenton (Fla.) IMG Academy (1-0) – vs. Miami (Fla.) Northwestern (2-0), Sept. 6
OL Blake Fisher, Avon (Ind.) High (2-0) – at Fishers (Ind.) Hamilton Southeastern (1-1), Sept. 6
DL Gabriel Rubio, St. Peters (Mo.) Lutheran (1-0) – vs. Columbia (Mo.) Father Tolton (0-1), Sept. 6