TySon Williams shifts focus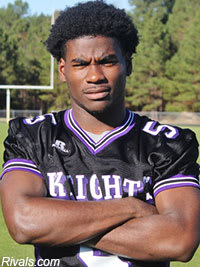 Now the Irish appear to be virtually out with the three-star running back, who's focused more on programs closer to home as North Carolina, South Carolina and Georgia have vaulted into the lead for the 5-foot-11, 202-pound athlete. Williams expects to make a decision before his senior season, which kicks off in late August.
Williams, who debated attending the Irish Invasion last month but never made the Midwest trip, has no other visits scheduled. He had hoped to see Georgia again this week said he won't be making that trip.
"Change of mind change. Change of spirit," Williams said. "I just want to be closer to home."
Williams said in the last month he's begun to focus on two key criteria in his recruitment, with proximity to Sumter, S.C., and early playing time. Those elements would seem to favor the Tar Heels and Gamecocks, with South Carolina holding the familiarity edge.
Williams has visited Chapel Hill just one, for North Carolina's "Freak Show" camp while he's seen Columbia three or four times. Georgia has hosted Williams twice, although he said it's been a while since he last saw the Bulldogs up close.
As for Notre Dame, distance may have been a deal breaker for one of the program's top running back targets.
"Just the brand at Notre Dame appealed to me," Williams said. "I had a good relationship with coach (Tony) Alford. I just liked the interest there that they showed me. They really wanted me to be a part of their program. It's just the distance. If it was a little closer it would have been a better fit."
Williams outlined his three main contenders.
North Carolina: "I have a good relationship with the coaches and it's not that far away from home. They just told me I'd be a good back alongside Elijah Hood and could bring another element. I went up there and we exchanged numbers. I assume things are going pretty good with him because I think he's going to play a big role for them as a true freshman. Physically, mentally, they say he's ready. It shows they're not afraid to play young guys."
South Carolina: "It's just a top-notch program and you're able to compete for a national championship. Also, the backfield is going to be really slim. There's a good chance that I could come in with the other running back they have committed (A.J. Turner) and go in and play. I'm a really good fit. They like to run the ball and I can see myself playing in their offense."
Georgia: "That's sort of a home team and they run a good pro-style offense. I can still go in there and compete. But with the other schools you want to go where you can go get a spot where you fit in right away, where you cam make plays right away."
As much as Williams wants to play early, he said a straight path to playing time won't be the only factor in his decision.
"It's not mandatory," he said. "If I find a fit on the field my freshman year, that's what I'm gonna do. I don't have a problem sitting behind somebody and learning. But I'd like to have a role."