State of the Notre Dame football program and the growth of Marcus Freeman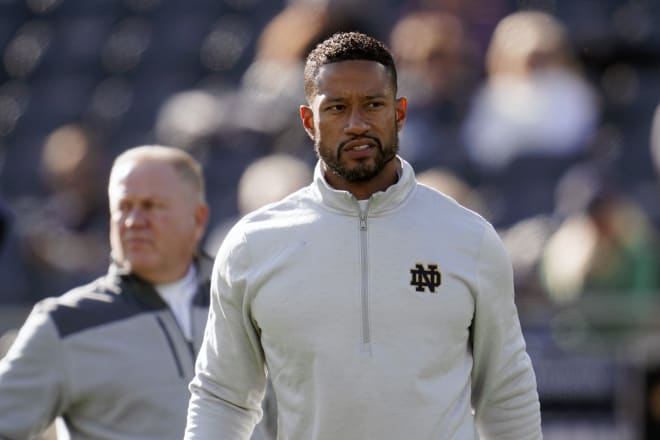 Editor's Note: This is the first story in our four-part Big Picture Series that will focus on various aspects of the Notre Dame athletic program from the vantage point of Irish athletic director Jack Swarbrick.
Part I
State of the football program and the growth of first-year head coach Marcus Freeman
Part II
College sports' emergence from pandemic abatement to pressure to join an arms race
Part III
ND's evolution into a national baseball power and its commitment to its sustainability
Part IV
ND's place in the NIL space and navigating a rapidly evolving college sports model
-----------------------------------------------------------------------------------
The last time Notre Dame athletic director Jack Swarbrick and the man he hired to rebuild Notre Dame football 12 ½ years ago spoke directly to one another was the Monday after Thanksgiving, when Brian Kelly called to say he was leaving.
The former Notre Dame head football coach and all-time wins leader in program history eventually concocted a narrative to tell the college football world why. Swarbrick has left the new LSU coach's rhetoric alone, letting others judge the authenticity of Kelly's premise that Notre Dame's commitment to physical program upgrades was somehow suddenly lagging.
Swarbrick's own notion of what constitutes the final pieces that separate the Notre Dame football program from its next national championship, six and half months into Kelly successor Marcus Freeman's regime, is consistent with his late-Kelly Era response.
"Marcus wouldn't talk to me again if I didn't say, 'Recruiting, recruiting, recruiting.'" Swarbrick told Inside ND Sports.
In an admittedly incomplete — yet hardly insignificant — sample size, Freeman has had Notre Dame intermittently perched atop the Rivals 2023 team recruiting rankings, with five of the 12 verbally committed players also holding scholarship offers from Kelly's LSU Tigers.
A 13th commitment and a leapfrog back to No. 1 is expected Thursday night, when four-star running back Jayden Limar announces his college decision.
Freeman already has two players committed in the 2024 cycle, and none of the 14 combined in the two classes is rated lower than a four-star prospect.
Meanwhile, among the stunning amount of star power committed to taking official visits to Notre Dame in June is four-star linebacker Jaiden Ausberry, the nation's No. 39 prospect regardless of position. He attends high school at University Laboratory School, actually located on the LSU campus and just under a mile from Tiger Stadium.
"I think we're a little better at starting with a broader net of who are the people who can most help us from a performance perspective," Swarbrick said of Freeman's approach versus Kelly's. "And now let's evaluate whether they can fit at Notre Dame. 'Let's first figure out who can help us win a national championship.'"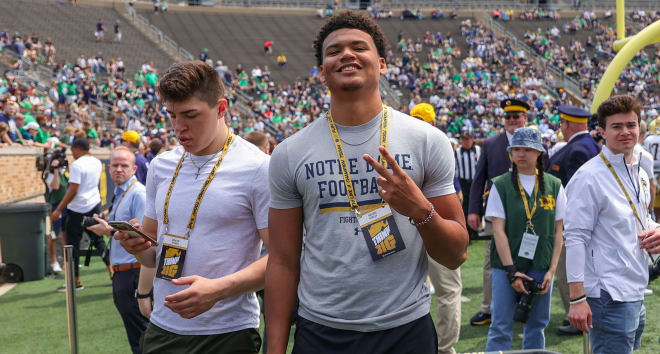 But there's a lot more to figure out in the new recruiting dynamics, including being competitive in the NIL space — an area we'll explore in great detail in Part IV of this series — and managing a transfer portal process that isn't going to favor Notre Dame.
Incoming grad transfers are no problem, but freshmen and sophomores are hardly automatic. And juniors and seniors without a degree are almost untouchable for the Irish, with Northwestern safety transfer Brandon Joseph an anomaly that may never be repeated.
In fact, Joseph told Inside ND Sports back in January that if he jumps into the NFL Draft pool after the 2022 season as an early entry, it would likely be easier/faster to get his undergraduate degree at Northwestern than Notre Dame because of the number of denied transferable credits.
Arizona State wide receiver transfer Ricky Pearsall may have ended up landing at Florida in the end anyway. But after both ND and Pearsall — like Joseph, a senior-to-be — expressed initial mutual interest, the on-field match wasn't replicated in admissions.
"There are two pieces to that," Swarbrick said of ND's portal predicament in general terms and not in response to a specific player. "It gets a little complicated. There's a process in bringing in a transfer — and it's not unique to Notre Dame — where part of that is which credits transfer and which don't.
"It's true everywhere. Well, how many credits transfer impacts whether you're satisfying the NCAA's progress-toward-degree rules. You're going into your senior year and a number of your credits don't transfer. Then all of a sudden, you're up against that problem.
"So yeah, it's not an absolute rule. Transferring in is more challenging the further along that you are in your education somewhere else. It has to do with evaluation of majors and transfer of credits and things that should be important to a university are important to our colleges (at Notre Dame)."
What ND can address to widen its portal appeal is expediting admissions decisions, especially when a potential transfer is trying to get enrolled in time for spring-semester classes at his new school.
"We're all somewhat new to it," Swarbrick said. "And we're asking the colleges to evaluate more people on a transfer basis. Listen, just as we can be better on the field, we can be better at a process like this. But it's important to understand how much the landscape has changed.
"Part of my responsibility is to help the deans understand the changes and, 'OK, here's why we're bringing you more transfers to evaluate. Here are the number of student-athletes who transferred out of Notre Dame. And here's why it's important for us to be able to replace them.'"
Freeman's preference is to use the portal judiciously anyway and do most of his building through high school recruiting. And from Swarbrick's perspective, the Irish have strength in numbers in that regard.
"Marcus has assembled a great staff," he said. "And I loved reading the other day when he talked about – it's not about assembling a staff of great salespeople. It's about having a staff of great listeners.
"And he was so intentional when he hired people about the role they play in recruiting. So it starts with that staff. And I think Marcus has been incredibly effective in ensuring that the value proposition for Notre Dame is articulated succinctly, compellingly and that everybody is saying the same thing."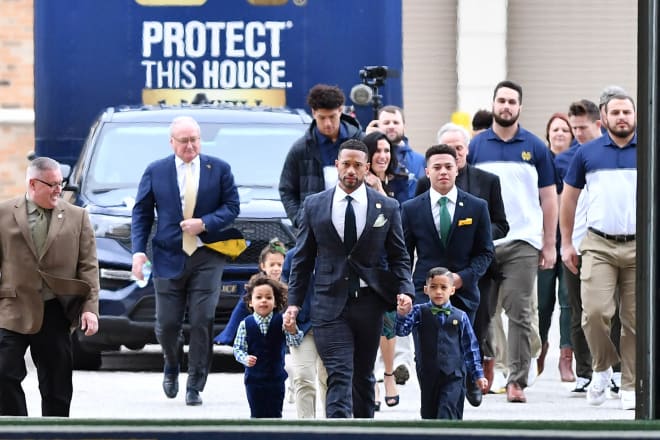 The unknown regarding Freeman, admittedly, is how he'll coach — with his first real test with a full staff coming on the road under the bright lights Sept. 3 at his alma mater Ohio State.
It's not so much about how he'll lead. The 36-year-old Ohio native landed the job when Kelly parachuted out in large part of how he exudes that quality.
But how does he organize? Where can he make the greatest impact on game days and in meetings? How will he react/recover from his first really public Xs-and-Os gaffe? And when the time comes, can he evolve?
"His most impressive growth is the accumulation of knowledge," Swarbrick said. "Every time you do the first X or Y, you learn from it. So, it's just he's a very confident guy, but I've seen the confidence even grow as he makes more of those decisions and articulates them to others in the program.
"So the growth there, especially in managing the overall program, is just really, really a great communicator, great at talking about his priorities and what he wants focused on. And he's just gotten better and better at that."
Former LSU national championship coach Ed Orgeron, during a weeklong visit with his sons to Notre Dame in April, said the best advice he could give Freeman about his own first-year head coaching experience was to not try to do too much himself.
Orgeron's first head coaching opportunity came at Ole Miss in 2005. The Rebels went 3-8 that season and 10-25 overall and 3-21 in the SEC in three years before he was fired.
"Marcus and I do talk about that challenge and, importantly, we talk about how we're staffed to support him," Swarbrick said. "Where are some of the places we can shift some of that workload? Because we have him surrounded by people who can assist him.
"But he's very efficient with his time. When he goes somewhere for a certain purpose, he is always looking at how to leverage that into other things that he can do. He is really efficient."
In a couple of months, Swarbrick will mark his 14th anniversary as atheltic director at Notre Dame. And when it's his time to end his run, the 68-year-old knows his football coaching hires will be at the center of his legacy.
Kelly to replace Charlie Weis. Elevating Freeman from one year as ND's defensive coordinator to follow Kelly.
The hope is Freeman becomes one of those with zero head coaching experience who is able to smoothly transcend it at a college football blueblood institution in recent years — Ohio State's Ryan Day, new USC coach Lincoln Riley when he was promoted at Oklahoma, former Alabama assistant Kirby Smart taking over at his alma mater, Georgia, and less recently Dabo Swinney elevated to interim and then eventually permanent head coach at Clemson.
"I am worried about that part of it," Swarbrick admitted back on Dec. 6, just after Freeman's introductory press conference. "No one knows until they do it, right? I think he's phenomenal. I have all the confidence in the world in him, but you don't know until you do it.
"He's going to have my full support. He's going to have a lot of time, and I have every confidence that he's going to do it. When you're building a candidate pool, there's a reason no one else in that pool wasn't a head coach."
When asked recently if he felt differently about hiring a first-year head coach than he did on Dec. 6, Swarbrick paused initially.
"No, no," he said. "I have enormous confidence in THIS first-time head coach. But I also recognize that there's a learning curve, and we will work our way through that. I mean, Marcus will master it quickly, but it's still there.
"He's comfortable with being him. He's a guy who's never afraid to reveal what he doesn't know. That's his strength."