SIGNED: ROV Shayne Simon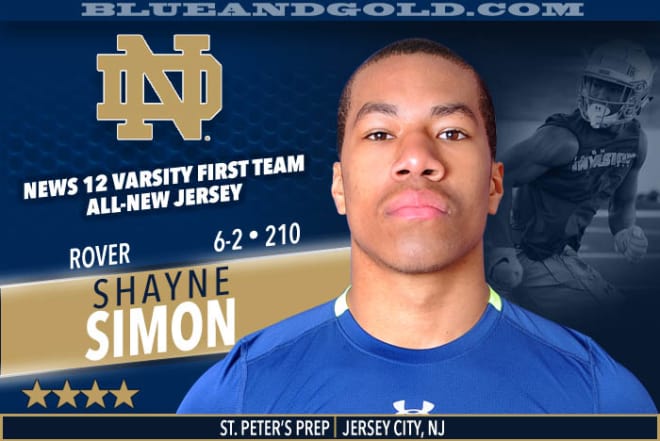 Jersey City (N.J.) St. Peter's Prep rover Shayne Simon has submitted his National Letter of Intent to Notre Dame on Wednesday.
RANKINGS
Rivals: 4-star (No. 4 prospect in New Jersey, and No. 12 outside linebacker and No. 159 overall player nationally)
BGI Grade: 4.0-star
Upside Grade: 5.0-star
Simon is part of a four-man linebacker haul that has three Rivals250 players at the position. That list includes Matthew "Bo" Bauer and Jack Lamb.
MEASURABLES
Simon checked in at 6-3 and 210 pounds at the Nike Football The Opening Regional on April 30, 2017. At the event, he posted an impressive 4.07 in the pro shuttle and a 34-inch vertical jump. His pro shuttle was the second best of any player in attendance and the best among linebackers.
His performance at the event earned him an invitation to the Nike Football The Opening Finals in Beaverton, Ore.
STATISTICS
SENIOR SEASON: Totaled 55 tackles, 15 stops for loss, three sacks and five interceptions. Also led the team in catches (53), receiving yards (848) and receiving touchdowns (six).
JUNIOR SEASON: Recorded 55 total stops, nine tackles for loss, four sacks, four interceptions and 13 passes broken up. Also caught 47 passes for 591 yards and three scores.
SOPHOMORE SEASON: Notched 28 tackles, two stops for loss, one sack, two interceptions and six passes broken up.
HONORS
SENIOR SEASON (2017)
U.S. Army All-American
First-team All-New Jersey Linebacker (News 12 Varsity)
First-team All-New Jersey Utility (NJ.com)
2018 Felix "Doc" Blanchard Award (U.S. Army All-American Bowl, awarded for leadership on and off the field)
JUNIOR SEASON
First-team All-Non Public Football Team Linebacker (NJ.com)
RECRUITMENT
POWER FIVE OFFERS: Notre Dame, Boston College, Duke, Maryland, Michigan, Nebraska, North Carolina, North Carolina State, Northwestern, Ohio State, Penn State, Rutgers, Stanford, Syracuse, UCLA, Vanderbilt, Virginia, West Virginia and Wisconsin.
After a tough battle, Notre Dame ultimately fended off Michigan, Ohio State and Penn State to land the versatile Simon, who will play rover in defensive coordinator Mike Elko's system. Notre Dame targeted Simon last February and pushed hard for the talented playmaker. It certainly didn't hurt that the Irish had current high school and future teammates at Notre Dame — Jayson Ademilola and Justin Ademilola — there to help recruit Simon.
The Rivals250 prospect made trips to Notre Dame in April and for Irish Invasion over the summer before his commitment. He returned to South Bend earlier this month for the team's Echoes Awards banquet.
NOTABLE
• Hauls from the same high school as Irish starting quarterback Brandon Wimbush.
• Was a four-year starter in basketball for St. Peter's.
• Carried a 4.0 GPA this past spring.
2018 PROJECTION
Simon is the ideal fit for Notre Dame's rover position. With Drue Tranquill returning to the position next season, Simon will likely serve as an understudy along with current freshman Jeremiah Owusu-Koramoah. A year as a redshirt would certainly help Simon, but his athleticism and playmaking ability might make it hard for him to stay on the sidelines.
BGI ANALYSIS
"On a team loaded with talented defensive players, Simon emerged as the top playmaker for St. Peter's Prep. He dominated as an outside linebacker and as a wide receiver. In fact, in St. Peter's comeback win over Paramus Catholic it was Simon's play as a wide receiver that was as impactful as anything he did on defense. That is one of the things that makes him such a top prospect — he's just an athletic football player.
"Simon was highly disruptive as a senior, racking up 14 tackles for loss while also picking off five passes. He is a true two-way standout on defense. He's an excellent run defender, using his length and strength to destroy blocks on the outside, and his speed to attack downhill and make plays behind the line. He is a rangy athlete and a sound tackler, which makes him a perfect fit for the rover position.
"Ideally, Notre Dame needs its rover to be just as good against the pass as he is against the run. Drue Tranquill was an excellent player for Notre Dame in 2017, but he wasn't a top-level pass defender in the slot. Simon has that ability, and once he fills out his frame and adds strength he'll have a chance to become a true impact player as a run defender, a pass rusher and in coverage." — BGI football analyst Bryan Driskell