SIGNED: DT Jayson Ademilola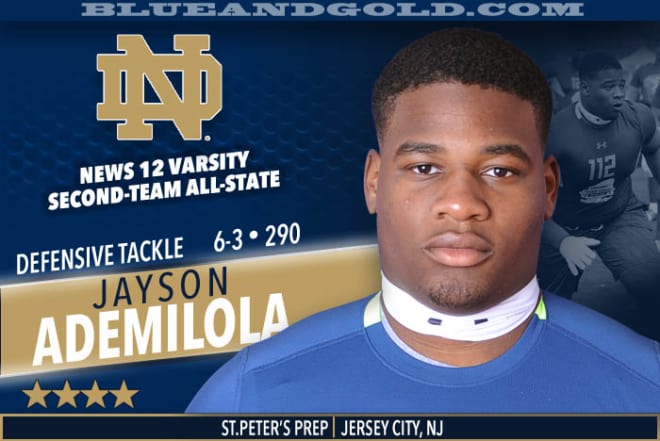 Jersey City (N.J.) St. Peter's Prep defensive tackle Jayson Ademilola submitted his National Letter of Intent to Notre Dame on Wednesday.
Ademilola joins his twin brother Justin Ademilola and rover Shayne Simon as St. Peter's Prep defenders to sign with Notre Dame in the 2018 class.
RANKINGS
Rivals: 4-star (No. 5 recruit in New Jersey, and No. 13 defensive tackle and No. 219 overall player nationally)
BGI Grade: 4.0-star
Upside Grade: 4.5-star
Ademilola jumped into the Rivals250 in the most recent update thanks to a strong summer and outstanding senior season. He is one of six Notre Dame defensive commits/signees to make the most recent Rivals250.
Ademilola is the seventh signee at defensive tackle to be ranked in the Rivals250 since Brian Kelly arrived at Notre Dame.
MEASURABLES
Ademilola checked in at 6-3 and 290 pounds at the Nike Football The Opening Regional in New Jersey on April 30, 2017. He did not test at the event, but his performance during drills earned him an invitation to the Nike Football The Opening Finals in Beaverton, Ore.
At the finals his week-long performance earned him a berth into the Final 5 Lineman Challenge.
STATISTICS
SENIOR SEASON: Compiled 56 tackles, 16 tackles for loss and eight sacks, including two in the state semifinal win over Paramus Catholic.
JUNIOR SEASON: Notched 86 tackles, 22.5 tackles for loss and 10.5 sacks.
Led defense that played a key role in St. Peter's Prep playing in the state title game in each of the last two seasons.
HONORS
SENIOR SEASON (2017)
First-Team All-New Jersey Defensive Tackle (News 12 Varsity)
First-Team All-New Jersey Defensive Tackle (NJ.com)
U.S. Army All-American
JUNIOR SEASON (2016)
Named top junior in the state of New Jersey (NJ.com)
All-USA New Jersey (USA Today)
First-Team All-Non Public Football Team (NJ.com)
Second-Team All-New Jersey Defensive Tackle (NJ.com)
RECRUITMENT
POWER FIVE OFFERS: Notre Dame, Alabama, Clemson, Ohio State, Auburn, Michigan, Georgia, Penn State, Miami, Nebraska, Boston College, Iowa, Maryland, Rutgers, Pittsburgh, Michigan State, Virginia, Vanderbilt and Syracuse.
Michigan was considered the early leader for Ademilola, but Notre Dame made a hard push behind then defensive line coach Keith Gilmore. After camping at Notre Dame, Ademilola and his twin brother committed to the Irish.
Programs like Ohio State, Clemson and Alabama continued coming after Ademilola, but he and his brother remained firm in their pledge to the Irish. Defensive line coach Mike Elston and defensive coordinator Mike Elko made sure Ademilola knew he was a top priority despite being a longtime commit, which helped the Irish hold on.
NOTABLE
· Born Dec. 16, 1998 (Jayson was the second twin born)
· His older brother Marcus is a junior wide receiver at Bucknell University. He led the Bison with 32 catches this past season
· His younger sister Mya set New Jersey state records for an eighth grader in the 4x100 relay and long jump
2018 PROJECTION
Notre Dame played two true freshmen inside in 2017, and there will be a need for more help next season. Ademilola is a disruptive interior player, which is exactly what Notre Dame needs more of from its defense. His size and natural skills, combined with the need for help at the position, should give him a chance to earn early playing time.
BGI ANALYSIS
"Notre Dame needs playmakers up the middle in Elko's defense, and that's exactly what Ademilola is. Over the last two seasons, he has registered 37.5 tackles for loss and 19.5 sacks. During this past summer, he was one of the standouts at The Opening Finals, showing in the camp what he has shown on the football field the last two years ... he is a playmaker with outstanding tools.
"Ademilola is a well-schooled player that shows good technique and strong hand play. In the run game he plays with good pad level, he can leverage blockers and he does an excellent job using his hands to get off blocks. Being able to make plays on the ball is a rare trait for interior defensive linemen — and he has those traits, which helps him make as many plays as he does.
"His quickness and athleticism combines with those traits to make him an effective pass rusher, and if he puts in the work at the next level he'll bring a much-needed pass rushing boost to the Notre Dame interior. Ademilola would rank much higher if he played with a more consistent motor, he doesn't always dominate as much as he should. If he can play with greater consistency at Notre Dame he could be an impact player, and be one from the moment he arrives in South Bend." — BGI Football Analyst Bryan Driskell