Report: Utah's Andy Ludwig won't be Notre Dame's next offensive coordinator
Notre Dame's efforts to hire Utah offensive coordinator Andy Ludwig have failed to cross the goal line.
Multiple reports Monday night indicated Ludwig, who the Irish were trying to hire for the same position at Notre Dame, would be staying at Utah. ESPN's Pete Thamel reported sources citing Ludwig's buyout as "an obstacle in discussions with Notre Dame."
The Salt Lake Tribune reported Ludwig's buyout on a rolling three-year contract is roughly $2.8 million.
The reports paint Notre Dame poorly in its search to replace Tommy Rees, who was officially announced as Alabama's offensive coordinator earlier Monday.
Ludwig, 58, emerged as the focus of Notre Dame's search while on campus to interview for the position Friday and Saturday. The visit included what became a public appearance at a Notre Dame hockey game Friday night alongside head coach Marcus Freeman and tight ends coach Gerad Parker.
SUBSCRIBE TO INSIDE ND SPORTS TO STAY IN THE KNOW ON NOTRE DAME ATHLETICS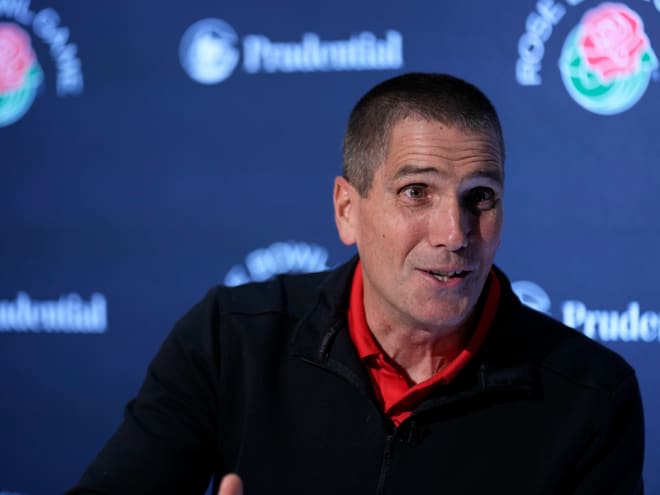 JOIN THE CONVERSATION ON THE INSIDER LOUNGE MESSAGE BOARD
Ludwig, who is four seasons into his third stint as a coach at Utah, seemed to check a lot of boxes for Notre Dame's needs. In his current position as Utah's offensive coordinator and quarterbacks coach, the Utes scored 30-plus points 34 times in 47 games and totaled 450-plus yards of offense 24 times. Utah won 10 games and the Pac-12 Championship in each of the past two seasons.
This past season, Ludwig directed an offense with personnel and philosophical similarities to Notre Dame's offense but with better results. What consensus All-America tight end Michael Mayer was to Notre Dame's offense, tight end Dalton Kincaid was to Utah's. Like Mayer, Kincaid led Utah in receptions (70), receiving yards (890) and receiving touchdowns (8).
Utah, steered by quarterback Cameron Rising, finished the season with a team passing efficiency rating of 148.74, which ranked No. 29 in the FBS and three spots ahead of Notre Dame. But Utah's strength was its running game. The Utes averaged 217.6 rushing yards per game, the 11th-best average among FBS teams. Notre Dame's rushing offense finished No. 35 with 189.1 rushing yards per game. Utah was more prolific than Notre Dame in total offense by 70.7 yards per game and in scoring offense by 6.8 points per game. The Utes beat USC twice last year by scoring 90 points and totaling 1,095 yards.
Where Notre Dame's search turns next isn't immediately clear. Before Ludwig was interviewed for the position, Notre Dame brought Kansas State offensive coordinator Collin Klein, 33, onto campus Wednesday and Thursday to interview for the job. By Friday morning, multiple reports indicated Klein would be staying at his alma mater Kansas State.
Freeman appears to be a bit hamstrung in his search for an offensive coordinator if Ludwig's buyout was a concern. The Irish are also in need of an offensive line coach after Harry Hiestand announced his retirement Sunday. The thought was Ludwig may have wanted to bring Utah offensive line coach Jim Harding with him. That would have required another buyout payment.