Trojans To Start Freshman Quarterback Kedon Slovis Versus Irish
Throughout the more than 90-year history of the Notre Dame-USC rivalry, the Trojans have won in South Bend only 14 times, with the last victory coming eight years ago in 2011.
According to Vegas oddsmakers, it is likely that this weekend's matchup between the two historic programs should extend this trend for another two years. As of yesterday, the Irish were 11.5-point favorites over the Trojans.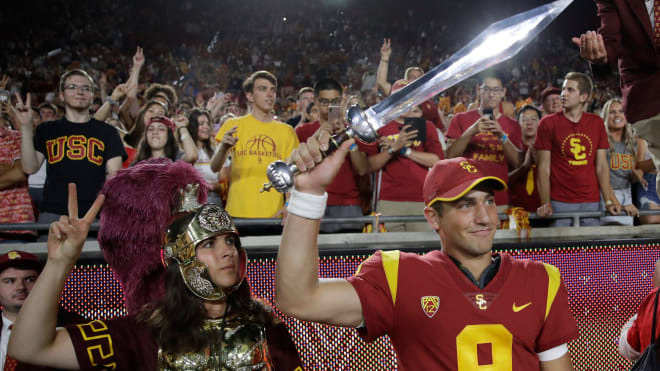 Outside forces, namely the weather, could also be in Notre Dame's favor. Currently, Weather.com predicts that it will be around 46 degrees Fahrenheit come game time.
The frigid temperatures are something the Trojan players are already starting to prepare for mentally.
Michael Pittman Jr. was asked what advice he gave to younger players vs. Notre Dame: "I told them to embrace the suck," he said. "It's going to be cold. But it'll be fun when we're running up the score."

— Ryan Kartje (@Ryan_Kartje) October 9, 2019
At the same time, the team is happy it likely won't have to deal with too much inclement weather.
"You always practice wet ball drills and things like that," USC head coach Clay Helton said. "It looks like the storm is coming in on Friday. It's going to go from a great 72 degrees [in Southern California] to about 48.
"But it will be good. It's fall, it's supposed to be chilly."
True Freshman Quarterback Gets the Nod
While USC is preparing for the cold, Notre Dame must also be ready for true freshman quarterback Kedon Slovis. Irish head coach Brian Kelly mentioned on Monday that this is who they expected to see, but Helton confirmed on Tuesday that Slovis will be the starter.
"Kedon is medically cleared," he said. "He will start in this game. We're glad to have him back."

Slovis has been out since early in the Trojans' game against Utah in week four when he suffered a concussion.

Even though Slovis isn't as experienced as the backup, redshirt junior Matt Fink, he does add a skill set that makes the USC offense much more deadly and dynamic. His biggest strength is his accuracy. In the four games Slovis has played, he has completed 77.9 percent of his 77 pass attempts.
This type of accuracy is very important in the Trojan's newly installed "Air Raid" offense, which has been productive with Slovis (732 yards and five touchdowns through the air) under center.
While he hasn't seen live reps recently, Helton said they were able to get Slovis work last week.
"Even though he wasn't cleared for contact, he began throwing, he began working with the receivers last week, during the bye week," Helton said. "It helps to garner those reps."
Yesterday, Slovis participated in a fully padded practice and his play left Helton optimistic.
"He does not look out of form to me," Helton said. "He looks really good. And we will continue through the week. He came out today and, I thought, was very deceive with his decision making.
"He looked very good. Hopefully, that continues and he carries it to South Bend."
One of the biggest weaknesses to Slovis' game so far is that he's somewhat turnover prone.
He has played in roughly three full games if you combine him coming in off the bench during the first quarter against Stanford (for injured quarterback JT Daniels) and exiting during the first quarter against Utah.
Yet he's already thrown four interceptions and, at times on the road, one mistake has turned into several more.
Difference In Turnover Margin Is Extreme
The most glaring statistical advantage Notre Dame should have over USC is in turnover margin. The Irish are currently second in country in this category, taking away the ball from their opponents two times per game more often than they cough it up.
As for the Trojans, their turnover margin is a minus -1.40, which has them tied for 122nd in the country.
This gives Notre Dame a plus -3.4 turnover advantage against USC heading into this game. It's also worth noting that in each of the Trojans' two losses this year, they've turned the ball over three times, including at BYU, Slovis' first start on the road.
"Our two losses right now really are self-inflicted with the turnover," Helton said. "So you're in an overtime game [against BYU] that you have three interceptions, and it's probably not supposed to be an overtime game and you still had yourself there."
USC also fumbled the ball three times against BYU — including one by Slovis — but the Trojans were able to recover all of them.
Offensive coordinator Graham Harrell said he thinks that Slovis will do better in his next road start in South Bend.
"I'm always confident in Kedon," Harrell said. "I like him. I think he's a heck of a player. I don't think the moment was too big for him at BYU. I just think that he threw a pick early and kind of got in his own head.
"As I said, I don't think it was the moment or that atmosphere or anything like that."
At Washington two weeks ago, the Trojans' only other road game of the season, Fink also threw three interceptions.
Going into the matchup with Notre Dame, USC knows it needs to protect the football to have a chance to win.
"I addressed it at the opening team meeting, this is as good of a turnover margin team as we'll face all year," Helton said. "I think they do a great job of trying to strip the ball out, punch the ball out, creating opportunities for their offense with turnovers.
"If we can come out and have a zero-turnover day, we'll not only be in the game but watch out."