Notre Dame's Top 25 Most Important Players, No. 25: K Jonathan Doerer
Throughout July, BlueandGold.com will feature a countdown of the 25 most pivotal figures counted on to help lead Notre Dame back to the College Football Playoff in 2021.
This is not necessarily about who is the best player or the top pro prospect. It's more along the lines of individuals that need to either emerge, remain a centerpiece or significantly elevate their production to help Irish reach that goal.
Much is based on talent and impact, but a premium is also placed on these questions: 1) If you subtracted this individual from the roster, how much of a setback would it be? 2) If this less proven player emerges and makes an impact, how much does that raise the ceiling (or lower it, if a breakout does not happen as expected)?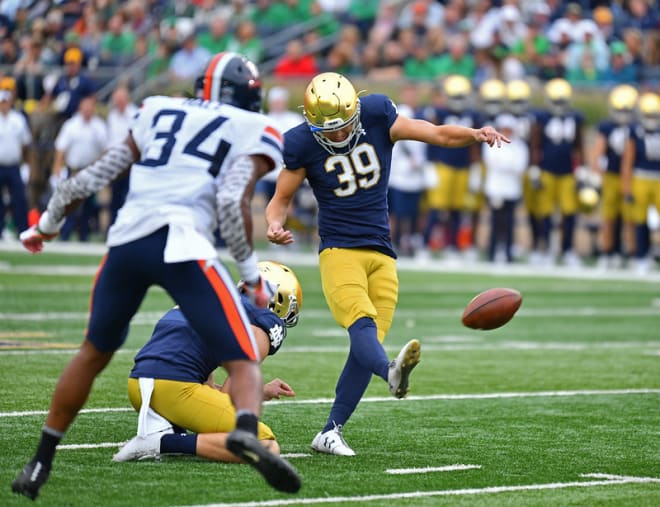 The players and their rankings were determined by vote from five BlueandGold.com staff members.
First in the countdown is graduate student kicker Jonathan Doerer, who collected 13 points in our poll. He and senior wide receiver Joe Wilkins Jr. each had 13, but Doerer wins the tiebreaker because he appeared on more ballots. (That's the first tiebreaker. If both are on the same number of ballots, the tiebreaker goes to the player with the highest individual ranking).
Why Doerer Is Ranked No. 25
Kickers with range are a commodity in college football. In two years as Notre Dame's primary field goal kicker, Doerer has shown he possesses it. He has drilled three attempts from at least 50 yards in his career. His 2019 season was a strong one — he made 85 percent of his kicks and missed zero extra points.
There is evidence he can be a weapon, but his 2020 season was a departure from that status. He made just 15 of 23 field goal attempts (65.2 percent), missed three kicks from inside 40 yards and was just 4 of 9 in the final five games.
Doerer used the COVID-19 blanket waiver to return for a "super" senior year. He remains in a position to make an impact, but the 2020 struggles shift how his importance is framed. He is less of a no-doubt reliable weapon heading into the season and instead a player Notre Dame needs to find his old form.

Doerer's Status Entering The Season
The primary kicking duties are Doerer's to lose in his final season. Notre Dame does, though, have his successor on campus. The Irish flipped freshman kicker Joshua Bryan from Colorado in the 2021 recruiting cycle and gave him a scholarship. He was the No. 1-ranked kicker nationally, according to Chris Sailer Kicking.
Doerer's return using the free year of eligibility means Bryan can wait a year before presumably taking over. Bryan committed to Notre Dame after Doerer initially stated his intent to return for a fifth season, meaning the Irish haven't planned to push him into action right away.
But continued inconsistency from Doerer may give Notre Dame no choice but to turn elsewhere, whether that's Bryan or junior walk-on Harrison Leonard.
What Would Be Considered A Successful Individual Season?
If Doerer posts a stat line at all similar to his 2019 season, Notre Dame's kicking game becomes a strength once again. That would be a success and should be the expectation. He has done it before.
Notre Dame special teams coach Brian Polian thinks Doerer's ups and downs last season are a result of technique problems he believes are fixed.
"Personally, I think there were some mechanical issues, something that he couldn't quite get comfortable with," Polian said. "Instead of stepping up there and swinging at the ball, he's going to try and ease it through the uprights," Polian said. "It's frustrating to him and it's frustrating to me that I couldn't help him more at the end of the year."
Doerer's kickoff numbers dropped in 2020 as well. He ranked 80th out of 100 qualified kickers in touchback rate, at 27.14 percent. That's a dip of more than 18 percent from 2019. Notre Dame ranked 18th in opponent kick return average last year, at 18.14 yards, so the decrease didn't ultimately hurt the Irish's kickoff coverage units. If the return average stays low, a lower touchback rate is survivable.

Behind The Ranking
The top 25 was determined in the same manner as the Associated Press top 25. Five BlueandGold.com staff members submitted their ballots, and each position on the ballot was given a point value. The top ranking was worth 25 points, No. 2 was worth 24, No. 3 worth 23 and so on down until No. 25, which was worth one point. The players with the 25 highest point totals made the list.
Individual rankings
Patrick Engel: Not ranked
Tyler Horka: 25
Mike Singer: Not ranked
Todd Burlage: 14
Steve Downey: Not ranked
Burlage on his ranking: "Doerer's struggles were evident, especially late last season. Fortunately — and sometimes, unfortunately — none of Notre Dame's final five games in 2020 were decided by fewer than 14 points, so Doerer's miscues were less consequential. But with three games in 2021 (Wisconsin, USC, North Carolina) that Las Vegas believes will be settled by three points or fewer, Doerer's work could become the difference between an Irish win and a loss."