Notre Dame's Ian Book Has Come 'Leaps And Bounds'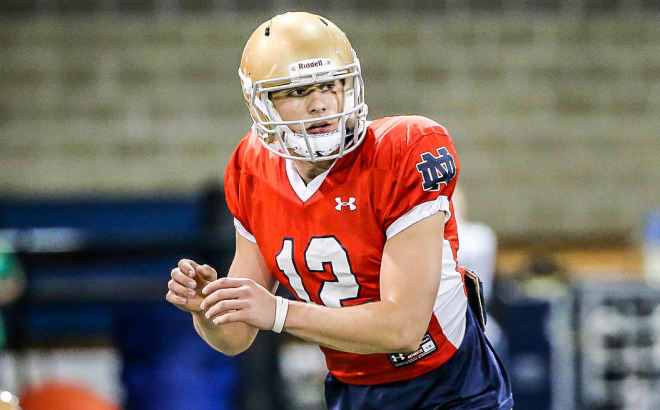 The focus is not on Ian Book this spring.
The Notre Dame sophomore quarterback is firmly in the shadow of first-year starter Brandon Wimbush in the rotation. But as the Irish prep Wimbush for the season opener against Temple, Book is being asked to do more as the primary backup.
"He's come leaps and bounds in just overall football knowledge and understanding how the game works and running the offense," quarterbacks coach Tom Rees said of Book. "The next step for him is going out there and retaining everything we teach and being able to execute day in and day out."
The 6-0, 205-pound Book redshirted last season, one of five scholarship quarterbacks on the Notre Dame roster behind DeShone Kizer, Malik Zaire, Wimbush and Montgomery VanGorder.
With Kizer (NFL) and Zaire (transfer) gone, Book has been elevated to the No. 2 role this spring behind Wimbush, a big jump up in snaps and expectations.
"We've gone situational football, we're moving the ball and Ian's moving the offense," Rees said. "He's executed extremely well, and then there's times where he needs to start processing things and retaining all the information. I'm very pleased with the steps he's taken here."
If all goes according to plan for the Irish, Book will not see a meaningful snap this coming season. Wimbush is expected to lead a turnaround from last year's 4-8 finish, and that is likely most easily accomplished with Book on the bench.
But things sometimes do not follow a script. Kizer was thrust into duty as a sophomore in 2015 when Zaire broke his foot in the second game of the season, and the same level of preparation is now expected of Book.
Rees described Book's strengths through nine spring practices.
"He has a great feel in the pocket and he does a good job anticipating throws and being able to anticipate body movement by defenders," Rees said. "He anticipates where a defender's going to throw a ball on time. He's been very accurate, especially when we're throwing seven-on-seven.
"When he has his feet set he rarely misses, he puts the ball where you need it."
With six practices remaining this month — including the April 22 Blue-Gold Game — Rees said he's looking for his quarterbacks to grow this offseason during player-only workouts.
While not as big as Kizer or athletic as Wimbush, Book has traits that Rees and the Irish can work with.
"Physically he can make all the throws, he's athletic enough to get outside and do some things for us. It's all there," Rees said of Book, who threw for 3,049 yards as a senior at El Dorado Hills (Calif.) Oak Ridge High. "He has really never taken reps here, really, so now it's, 'You've got four plays, let's go run them and let's go execute the offense.'
"He's just growing into himself a little bit right now, but he's done a really, really good job of retaining and starting to grow that knowledge base. Now it's just putting it all together where you get consistency day in and day out is probably the next step for him."
Book was recruited by former offensive coordinator and quarterbacks coach Mike Sanford, who left to become the head coach at Western Kentucky in the offseason.
The former three-star recruit came to campus expecting to redshirt — "I don't think Ian Book is here thinking he will start," head coach Brian Kelly said prior to last year's spring game — but that did not affect Book's preparation entering his freshman season.
"I just have the 'anything can happen' mentality where you got to be ready for whatever," Book said last spring. "… A lot of stuff can obviously happen."