Notre Dame Roster & New Number Updates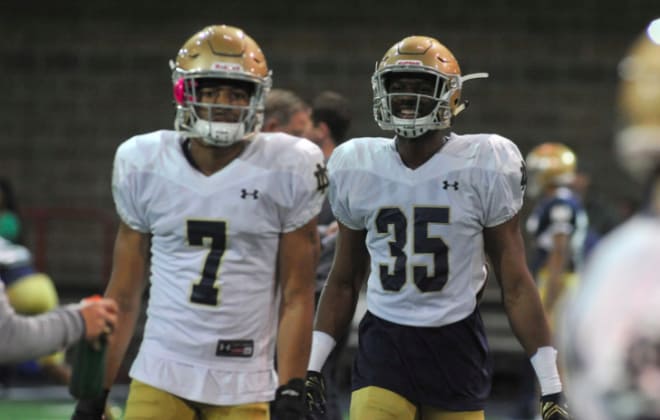 Don't miss out on any of our exclusive football, basketball and recruiting coverage. Click here to get your 30-day free trial!
A total of 113 football players — 84 on scholarship and 29 walk-ons — are projected to partake in the team's opening practice that is scheduled to be at the Culver Academies on Tuesday, August 1.
The roster was provided by Notre Dame Media Relations for out 2017 Football Preview that has been mailed, and includes several number changes, the new freshman jersey numbers, plus numerous newcomers, including freshman walk-ons.
Number Changes/Issued Jerseys
• Sophomore cornerback Donte Vaughn is No. 8 after donning No. 35 last season.
• Senior nose tackle Daniel Cage is No. 90 after wearing No. 75 his first three seasons.
• Graduate transfer receiver Freddy Canteen, from the University of Michigan, will wear No. 11. Because he graduated as a junior, Canteen actually will have two years of eligibility remaining.
• Former Naval Academy starting safety and current sophomore Alohi Gilman is No. 12 — the number of tackles he made, a career high, in the 28-27 victory by the Midshipmen last year versus Notre Dame. He had worn No. 1 at Navy. He is projected to sit out this year because of NCAA undergraduate transfer rules.
• Graduate transfer receiver Cameron Smith, from Arizona State University, will wear No. 16. Unlike Canteen, 2017 is his final season of eligibility.
There is a possibility that a few more numbers could change this August, but it has not been made official yet.
Freshman Numbers
QB Avery Davis — 13
RB C.J. Holmes — 15
WR Jafar Armstrong — 25
WR Michael Young — 87
TE Cole Kmet — 84
TE Brock Wright — 89
OL Aaron Banks — 69
OL Robert Hainsey — 72
OL Josh Lugg — 75
OL Dillan Gibbons — 76
DT Kurt Hinish — 41
DE Kofi Wardlow — 47
DE Jonathan MacCollister — 92
DT Darnell Ewell — 94
DE Myron Tagovailoa-Amosa — 95
LB David Adams — 35
LB Drew White — 40
ROV Jeremiah Owusu-Koramoah — 30
S Jordan Genmark Heath — 13
S Isaiah Robertson — 17
K/P Jonathan Doerer — 39
The seven freshman walk-ons include:
S Patrick Pelini (10), son of current Youngstown State and former Nebraska head coach Bo Pelini.
QB J.D. Carney (14), son of 1984-86 Irish kicker John Carney.
DB John Mahoney (15), a Class 4A All-State pick in Iowa
DB Cameron Ekanayake, whose mother is a Notre Dame graduate that works in the school's investment office.
CB Brandon Garcia (39), from Seton Catholic Prep in Casa Grande, Ariz.
TE Jack Henige (49), one of 20 scholar-athletes in any sport honored on the Chicago Tribune's Scholar-Athlete team in the Chicago area. He attended Bishop Fenwick and scored a 33 on his ACT.
OL Colin Grunhard (61), son of 1986-89 Notre Dame guard Tim Grunhard, who wore the same number for 11 years with the Kansas City Chiefs.
Same Numbers For Scholarship Players
There are 23 numbers that are shared by offensive/defensive players on the roster, but in most cases it involves a walk-on. For example, senior walk-on receiver Keenan Centlivre is No. 9 — same as sophomore drop end Daelin Hayes — after wearing No. 87 last year.
However, there are five cases where scholarship players share the same number:
4 — QB Montgomery Van Gorder and LB Te'von Coney. This means that when VanGorder is the holder on kicks, Coney can't be on the same special teams unit.
7 — QB Brandon Wimbush and CB Nick Watkins.
12 — QB Ian Book and S Alohi Gilman.
13 — QB Avery Davis and Rover Jordan Genmark Heath.
53 — C Sam Mustipher and DE Khalid Kareem.