Notre Dame Recruits Receiving Their 'Official' Scholarship Offers
On Aug. 1 of a prospect's senior year, they can start receiving "official" scholarship offers from schools.
These offers are not binding, but they do take the scholarship from "verbal" to "written."
Not all recruits will post on social media that they've received official offers, but for the ones who do, it is an official indicator that a school is serious about them.
The Notre Dame coaching staff sent out its official offers on Sunday.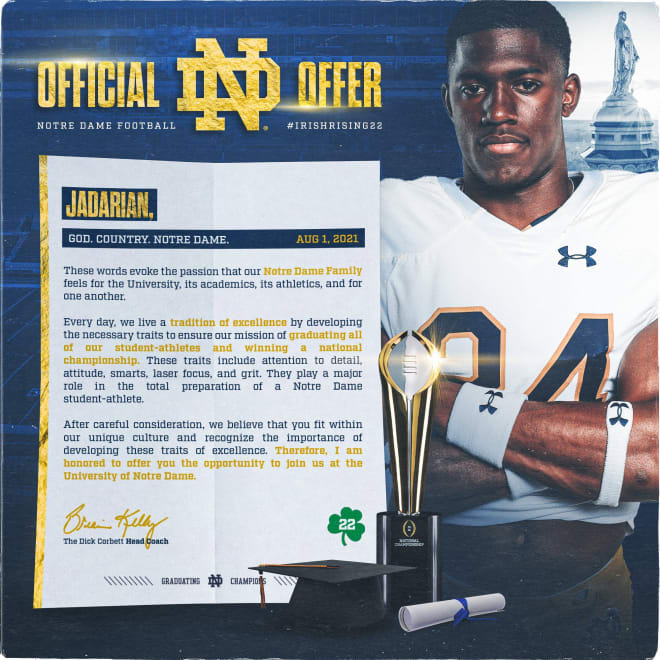 Here is what the letters read:
"[Insert recruit's name here],
"God. Country. Notre Dame.
"These words evoke the passion that our Notre Dame family feels for the University, its academics, its athletics, and for one another.
"Every day, we live a tradition of excellence by developing the necessary traits to ensure our mission of graduating all of our student-athletes and winning a national championship. These traits include attention to detail, attitude, smarts, laser focus and grit. They play a major role in the total preparation of a Notre Dame student-athlete.
"After careful consideration, we believe that you fit within our unique culture and recognize the importance of developing these traits of excellence. Therefore, I am honored to offer you the opportunity to join us at the University of Notre Dame."
[signed] Brian Kelly
The Dick Corbett Head Coach
Notre Dame Football Recruits Share Official Scholarship Offers On Social Media