{{ timeAgo('2023-01-25 19:40:13 -0600') }}
football
Edit
Notre Dame picks up walk-on transfer edge player in Cole Aubrey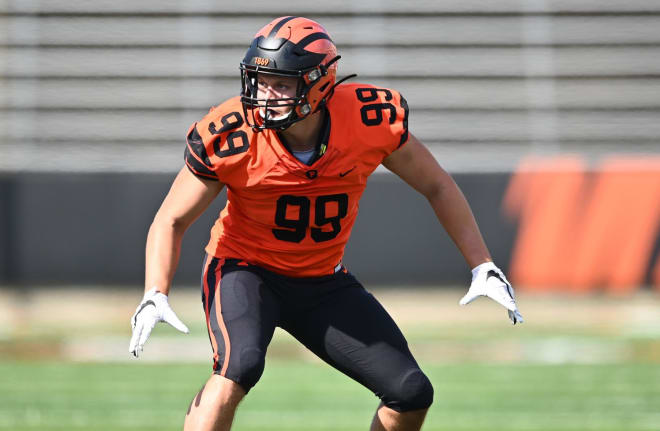 Five offseasons ago, Notre Dame kicked the tires on an ultra-productive-but-undersized edge prospect who ultimately had too much of a late-bloomer vibe to coax a football scholarship offer from the Irish.
This summer, Cole Aubrey will finally find his way to Notre Dame anyway.
After a record-setting senior season at national prep powerhouse Bellflower (Calif.) St. John Bosco and three productive seasons and a lost one due to the COVID-19 pandemic at Princeton University, the now 6-foot-2, 235-pound outside linebacker/defensive end announced via Twitter Wednesday night that he's transferring to ND for his final season of college eligibility..
As a preferred walk-on. Still without a scholarship but hardly lacking ambition.
Aubrey projects as a depth piece on the 2023 Irish defensive line, but more practically could be impactful on special teams, as a sure tackler with a quick burst and impressive closing speed.
Aubrey played in all 10 games for Princeton (8-2) last season, amassing 18 tackles, including four tackles for loss with two sacks. He had 19 tackles with six sacks in 2021, and 18 tackles and two sacks as a freshman in 2019.
The entire Ivy League punted the 2020 season due to the pandemic.
As a senior in 2018, at the nation's No. 1 high school football program, Aubrey set school records for sacks in a season (17.5) and a career (32) in one of the premier high school football conferences in the country — the Trinity League. He was his class valedictorian the following spring.
His size (6-2, 225) mitigated his offer sheet, but Rivals still ranked him as a three-star prospect coming out of high school, and longtime analyst Tom Lemming of the Prep Football Report gave him a three-star-plus rating.
Air Force, Army, Navy, Boston College and San Jose State comprised his FBS offers. He had a grandfather and an uncle who played football at USC.
At Notre Dame, the Laguna Niguel, Calif., product will eventually join a transfer portal contingent that includes four position players already on campus, attending classes and going through winter conditioning.
That group is led by quarterback Sam Hartman (Wake Forest), and also includes wide receiver Kaleb Smith (Virginia Tech), safety/nickel Thomas Harper (Oklahoma State) and defensive end Javontae Jean-Baptiste (Ohio State).
South Florida transfer kicker Spencer Shrader and Penn punter Ben Krimm, the latter a walk-on, are June enrollees, like Aubrey.