Notre Dame In-Home Visit Sealed The Deal With Jarrett Patterson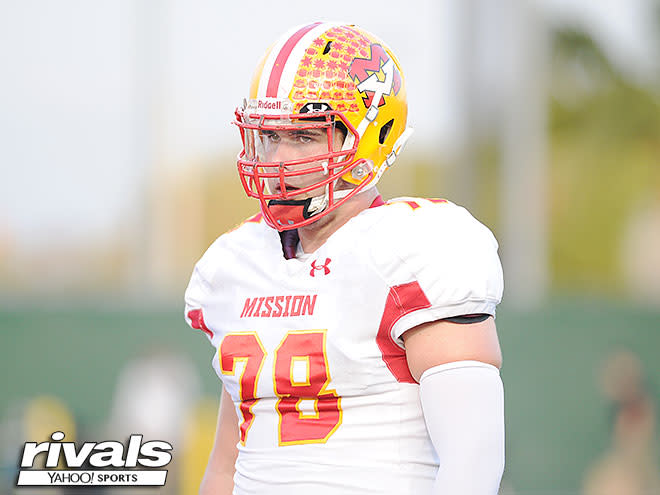 Jarrett Patterson was admittedly leaning toward UCLA in the waning days of his recruitment, but the Notre Dame coaching staff headed to California the Friday night before signing day in an attempt to change that.
Notre Dame sent head coach Brian Kelly, offensive line coach Jeff Quinn, offensive coordinator Chip Long and special teams coach Brian Polian to sit down with Patterson and try to sway him toward South Bend.
It worked.
Patterson said when the Irish coaches left his living room, he had made a decision.
"After the in-home visit with the Notre Dame staff," Patterson said. "That's when I knew it was the right place."
During the in-home visit, Patterson spent a good bit of time talking with Quinn about his scheme and coaching style.
"It's been pretty good," Patterson said of his relationship with Quinn. "He came over and we watched film together and he showed me different drills and different players he's coached."
Learning about Quinn's history as a coach, Patterson said, was a big part of what impressed him so much about Notre Dame.
"He's a very seasoned coach," Patterson explained. "He's been doing this for many years, he knows what he's doing and he knows the Notre Dame program."
The in-home visit was a follow up to Patterson's official visit to South Bend on Jan. 19, which put Notre Dame in a great position with the California talent in the first place.
Patterson said he hit it off with the Irish players just as well as he did with the coaches.
"I really felt connected with the guys on the team, and not just the offensive linemen," Patterson said. "For me, that's what did it."
When it came down to decision time for Patterson, he looked back on the feeling he got on Notre Dame's campus, and it was a done deal.
"Notre Dame just really excited me," Patterson said. "After I visited, I just felt really excited and I knew there was something special."