Notre Dame Hall-Of-Fame LB Bob Crable To Be Honored At Temple Game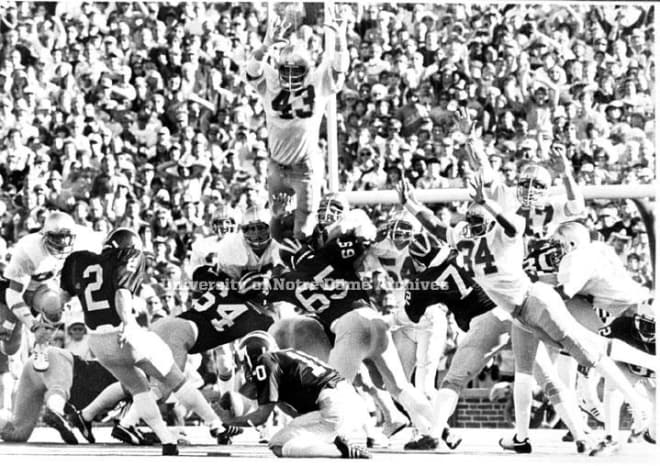 Don't miss out on any of our exclusive football, basketball and recruiting coverage. Click here to get your 60-day free trial!
This spring Bob Crable became one of 10 players and three coaches inducted into the National Football Foundation's College Football Hall of Fame Class of 2017.
The 1978-81 Notre Dame linebacker is the 46th former Notre Dame player to join the College Football Hall of Fame, and the most recent since wide receiver Thom Gatewood in 2015. The Fighting Irish have the most players (46) and coaches (six) in the Hall.
One of 16 consensus two-time All-Americans in school history, Crable will be honored with the entire 2017 class Dec. 5, 2017, at the 60th NFF Annual Awards Dinner at the New York Hilton Midtown in New York City.
He also will be feted during the Notre Dame-Temple game this Saturday at Notre Dame Stadium.
Among the players joining him in the Hall this year are quarterbacks Peyton Manning (1994-97, Tennessee) and Matt Leinart (2003-05, USC), running back Marshall Faulk (1991-93, San Diego State), receiver Kirk Gibson (1975-78, Michigan State) and defensive back Brian Urlacher (1996-99, New Mexico). The coaches include Clemson's Danny Ford and Florida/South Carolina's Steve Spurrier.
Here is a story we did on Crable in 2015:
In Notre Dame's football history, it seems unfathomable it has only one linebacker drafted by the NFL in the first round.
Many luminaries were taken in the second the past 50 years — Jim Lynch (1967), Greg Collins (1975), Bob Golic (1979), Demetrius DuBose (1993), Courtney Watson (2004), Manti Te'o (2013) and Jaylon Smith (2016) — but all-time Fighting Irish tackles leader, two-time consensus All-American and two-time captain Bob Crable, who was the No. 23 overall pick of the 1982 NFL Draft, is the lone first rounder.
Smith certainly would have been the second in 2016 but for a severe knee injury. Like Smith, had the Cincinnati Archbishop Moeller product Crable been afforded the choice to be a top pick after his junior season in 1980, he admits it would have been difficult to resist.
"I may have been gone," Crable said. "Ever since I was a kid, the only thing I ever wanted to do was play football. There were a lot of schools that recruited me that talked about redshirting and playing five years, and for me that was a turn-off. With the academic structure they provided at Notre Dame, that was very attractive to me to get out in four years."
Nicknamed the "Moeller Mauler" for his unbridled ferocity and bone-rattling hits, Crable spearheaded one of the most dominant defensive units in school history during head coach Dan Devine's final season in 1980. Against a vaunted schedule, the Irish set a school record that still stands by not allowing a touchdown in 23 consecutive quarters, highlighted by a 7-0 win versus two-time reigning national champion Alabama for the right to play No. 1 Georgia in the Sugar Bowl.
Notre Dame then limited the Bulldogs to 127 yards of total offense, but costly Irish turnovers at their one- and 22-yard lines led to two short Georgia touchdown marches in the 17-10 victory.
"Growing up, I had a terrible, terrible temper when it came to losing," Crable said. "I hated to lose so badly. My dad, God bless him, used to belt me because I needed to find a way to behave a little bit when things didn't go exactly the way I wanted them to. As time went on, I was taught to channel it, and the football field was a great place to do that."
Crable did not know defeat at Moeller his last three seasons with three straight state titles. When his high school coach, Gerry Faust, succeeded Devine in Crable's senior year (1981), the Irish experienced their first losing season (5-6) in 18 years, although Crable was a consensus All-American again on a defense that allowed only 14.5 points per game.
He also married his high school sweetheart and wife of 37 years, Lisa, prior to his senior year, and balanced his life better than ever.
"I didn't get into as much trouble as I did prior to that — and my GPA (grade-point average) was the highest it had ever been," Crable noted.
The No. 23 overall pick in 1982, Crable had a six-year career with the New York Jets cut short by torn ACLs in both his knees, the first in his third year and the second in his seventh in 1988, both in non-contact drills. Crable was at his peak with 26 starts in 1986-87 before the second tear.
The first injury prompted him to begin a sports apparel business in 1985 that made him a hefty profit by the time he sold it in 1989.
"You start thinking and say, 'Look, you better start getting ready for something after football,'" Crable said. "You look back on your Notre Dame education and you really feel blessed. You're in a position where you've got contacts within the game, within the Notre Dame community … you realize how blessed you are to attend a place like Notre Dame."
Then in 1990, a life-changing moment occurred when older cousin Jack, a role model in his life, saw his wife pass away from cancer.
"When I was in the business world, I had the same intensity and the same drive in everything that drove me to be successful in football," Crable recalled. "I guess I had an epiphany one night where I had to ask myself a question: 'If I die right at this moment, do I think I'm going to heaven?'
"And even learning so many years about God's mercy, I didn't believe I was, because I was focused on a lot of other things than my spiritual life. I had to make those changes in my life, and part of that revolved around going back and getting a degree to teach religion."
From 1992-2007, Crable taught religion/theology at Moeller while also coaching football. Some questioned how such a feared hitter could make that type of life change.
"If you heard some of the things my buddies said to me — they weren't very religious," Crable said with a laugh, recalling the reaction people had about him teaching about the works of St. Augustine or The Council of Trent. "Those people who knew me back when they played, there were more than a couple of chuckles out of it."
When a coaching spot opened at Notre Dame under head coach Bob Davie (1997-2001), Crable's former position coach for the Irish, George Kelly, wanted him to apply.
"I went home and talked to my wife about it," Crable recalled. "She said, 'You can do that. If you get it, I'll call you every night. Other than satisfying your own ego, why would you do this?' I didn't have an answer, and when I looked at it from a family standpoint and not knowing what the future would bring, she was dead on."
The father of four (two sons and two daughters) had just seen his daughter start high school, and there was stability with both families in the area.
"If I was a single guy, I wouldn't have even thought about not going," Crable said. "She has been a source of good direction for me. We've had our ups and downs, but she's been the love of my life and the person who has been able to lead me by the hand sometimes, and kick me in the rump when I needed it."
Over the past decade, Crable has been the president of his own investment group in real estate and obtained a real estate license to augment the investment side. Older son Brian played offensive tackle at Butler before graduating, while youngest son Matthew is currently a 6-4, 220-pound junior quarterback at Grand Valley State, where Brian Kelly's coaching bones were made.
With three granddaughters, Crable, who will turn 58 on Sept. 22, finds joy similar to his playing days in both college and the pros.
"The game has changed a little from the standpoint of there's a lot more 'look at me,' and a lot less 'look at us,'" Crable said.
On the field, the opposing offenses always had to look out for Crable.
Unbreakable Record
Contrary to a popular belief, records aren't always meant to be broken. From Wilt Chamberlain's 100-point output in a 1962 NBA game to Joe DiMaggio's 56-game hitting streak in 1941, some standards become untouchable.
At Notre Dame, Bob Crable's 521 career tackles (not including two bowl games) from 1978-81 is one of them.
Particularly amazing is he recorded only 13 stops as a freshman while apprenticing behind senior Bob Golic, whose 479 tackles standard from 1975-78 he broke. Crable then amassed 187 stops as a sophomore 154 his junior year in 1980, and 167 as a senior. Those single season totals rank Nos. 1, 2 and 4 in Fighting Irish annals.
The 2012 Heisman Trophy runner-up, Manti Te'o, started roughly 15 more games than Crable, yet his 437 tackles (including bowl games) are still 84 short of the record.
"The game has changed because they pass the ball so much now," Crable said. "The way the game is today, the only one who might be able to break it is a strong safety — and that's an awful lot of tackles for a strong safety to make."