Notre Dame Football's Top 25 Most Important Players, No. 22: Braden Lenzy
Throughout July, BlueandGold.com will feature a countdown of the 25 most pivotal figures counted on to help lead Notre Dame back to the College Football Playoff in 2021.
This is not necessarily about who is the best player or the top pro prospect. It's more along the lines of individuals that need to either emerge, remain a centerpiece or significantly elevate their production to help Irish reach that goal.
Much is based on talent and impact, but a premium is also placed on these questions: 1) If you subtracted this individual from the roster, how much of a setback would it be? 2) If this less proven player emerges and makes an impact, how much does that raise the ceiling (or lower it, if a breakout does not happen as expected)?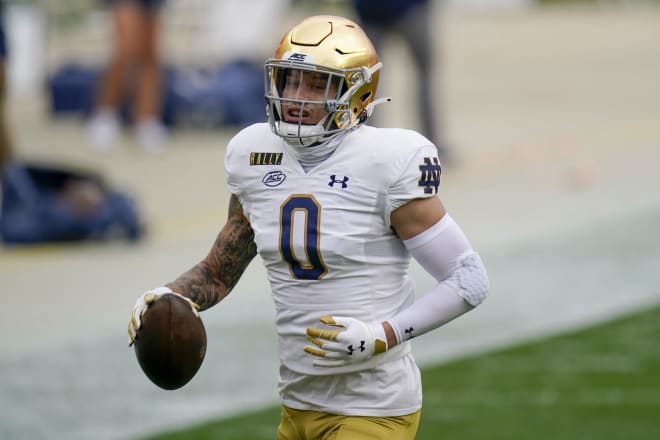 The players and their rankings were determined by vote from five BlueandGold.com staff members.
Next in the countdown is senior wide receiver Braden Lenzy, who collected 27 points in our poll.
Why Lenzy Is Ranked No. 22
Notre Dame has a slew of seniors who could revitalize the Irish's passing attack. Lenzy, with his track speed and big-play ability, might be the most intriguing of them all.
Lenzy averaged 18.9 yards per touch as a sophomore. More of those touches came on the ground (13) than through the air (11), but he averaged 23.1 yards per catch and 15.4 yards per rush. He had two receiving and rushing touchdowns apiece.
Lenzy is a proven playmaker. Good things happen when he gets his hands on the ball. The question for Notre Dame is just how much will he get it? That will depend on Lenzy staying healthy and separating from opposing defenders enough to utilize his speed, both of which were concerns a season ago.
Notre Dame head coach Brian Kelly, though, said during spring practices that Lenzy dedicated himself to the weight room this offseason. If his body is ready to cooperate and he dials in mentally, then Lenzy could be the player he was two years ago — and then some.

Lenzy's Status Entering The Season
Lenzy played in six games last season and caught seven passes for 63 yards and a touchdown. A nagging hamstring injury hindered his chances of being the go-to speedster Notre Dame quarterback Ian Book desperately needed in his final season in South Bend.
Lenzy is in line to be that for Wisconsin graduate transfer Jack Coan or whoever else is slinging passes for the Irish this fall. The 5-11, 181-pound Lenzy will likely start over fellow senior Lawrence Keys III at the field receiver position when Notre Dame takes the field in Tallahassee to play Florida State on Sept. 5.
There are a lot of moving parts in the Notre Dame wide receiver room. Many of the wideouts could play multiple of the receiver positions, if not all of them. Lenzy could certainly play two — field and slot. It appears senior Avery Davis has the latter locked up, pushing Lenzy to the former.
The bottom line for Lenzy is that if he stays unaffected by ailments, there will be room for him to see regular playing time.
What Would Be A Successful Individual Season? 
Playing time in every game.
Lenzy has yet to appear in every game of any season since he arrived in South Bend in 2018. He didn't play in any games as a true freshman. He played in nine as a sophomore, and that number dwindled to six because of injuries as a junior.
Consistency is key for wide receivers. The more routes they run, the more looks they get. Lenzy produced 454 yards from scrimmage as a sophomore. The goal for him should be to exceed that as a senior, but the only way he'll do that is to be a constant option for the Notre Dame offense game in and game out.
Behind The Ranking
The top 25 was determined in the same manner as the Associated Press top 25. Five BlueandGold.com staff members submitted their ballots, and each position on the ballot was given a point value. The top ranking was worth 25 points, No. 2 was worth 24, No. 3 worth 23 and so on down until No. 25, which was worth one point. The players with the 25 highest point totals made the list.
Individual rankings:
Patrick Engel: 20
Tyler Horka: 20
Mike Singer: 15
Todd Burlage: Not ranked
Steve Downey: 21
Prior Top 25 Rankings