{{ timeAgo('2022-07-14 16:54:01 -0500') }}
baseball
Edit
New coach Shawn Stiffler outlines Notre Dame baseball's program blueprint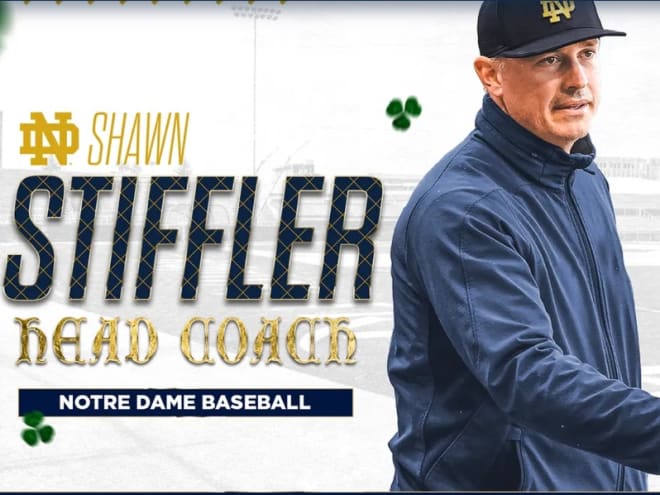 Shawn Stiffler made his message clear.
"This program belongs to the players," said Stiffler, Notre Dame's new head baseball coach. "It does not belong to me — it belongs to the players currently and the players that came before me. I will never be the centerpiece of this program.
Stiffler, 43, was the centerpiece Thursday as athletic director Jack Swarbrick introduced him as the 22nd coach in Notre Dame baseball program history. The former VCU head coach's hiring became official Tuesday. He replaced former head coach Link Jarrett, who departed for his alma mater, Florida State, following the 2022 season.
The Irish finished last season 41-17 while making it to the College World Series for the third time in program history. Making the Irish a mainstay in Omaha, Neb., each June is Stiffler's main priority.
SUBSCRIBE TO INSIDE ND SPORTS TO STAY IN THE KNOW ON NOTRE DAME ATHLETICS
JOIN THE CONVERSATION ON THE INSIDER LOUNGE MESSAGE BOARD
"It was only a matter of time till the pieces started fitting together," he said. "This place is an Omaha-type program. I think coach Jarrett probably took the job because of those reasons, and that's why I'm here as well — is to continue to build on that and see those goals through."
Before joining the Irish, Stiffler led VCU to a 340-198 overall record and three NCAA Tournament appearances in 10 seasons as head coach. He saw four players earn All-American honors, five Freshman All-Americans, 20 ABCA All-Region honorees and 48 All-Atlantic-10 selections.
Stiffler said the focus in Notre Dame's program will be development on and off the diamond to replicate that success. He also emphasized using the service aspect of Notre Dame to establish the program's culture. On the field, he outlined three strategic objectives.
His No. 1 goal is maintaining strengths in pitching and defense. Last season, the Irish finished No. 10 in team ERA (3.91) and No. 14 in fielding percentage (98.0%) in the NCAA; both marks also ranked atop the ACC. Before Jarrett's arrival, Notre Dame was No. 154 and 203 in those respective categories.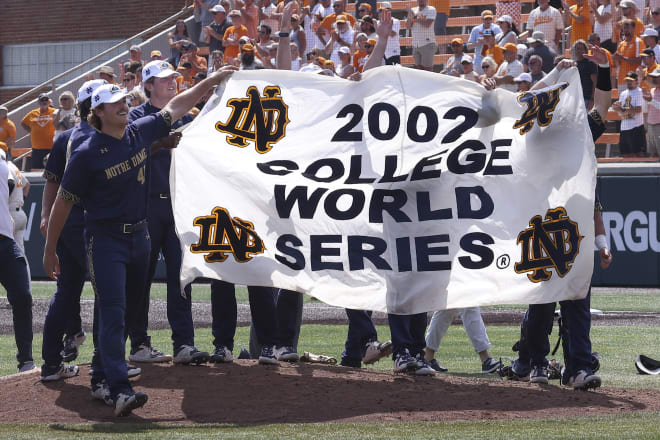 "Over the last three years, in my evaluation of the program, (pitching and defense) was the biggest jump that the program has made," he said. "Elite defenders and arms. (Notre Dame) was able to control the side of the ball that it had control over. … We will not concede on strikes and catching the baseball."
Offensively, Stiffler envisions a versatile lineup with length.
"I want people, when they come to watch us play, to know where the top and bottom of our lineup is," he said. 'We're searching for balance and looking for guys who can control their bat."
Lastly, he said the coaching staff will be relationship-based educators.
"Everybody in the program will be a lifetime learning, including myself," he said. "One thing that will never happen is I will never be the smartest guy in the room. I will surround myself with support staff and players that will push each other, stretch each other and continue to learn to find the best way to help us win baseball games.
"I'm very aware of where this program has been over the last three years. I'm very aware of walking into a challenge like that. I'm very aware of what this university means and how prestigious it is. The tradition and history. Maybe some would call it a challenge. I don't see it that way. I see attending the greatest university in the country."