{{ timeAgo('2023-03-09 05:28:14 -0600') }}
football
Edit
Kaleb Smith now chasing destiny at Notre Dame with a piece of his past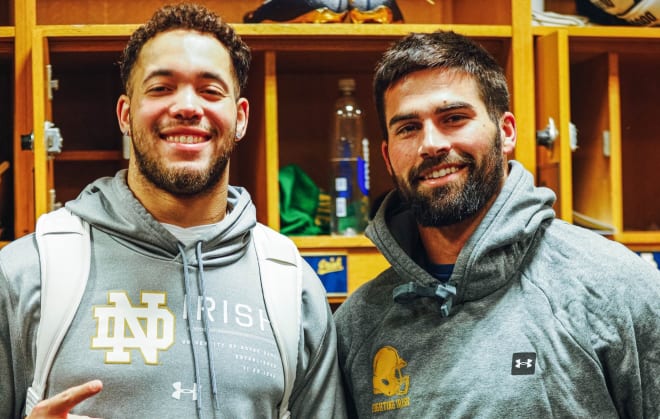 SOUTH BEND, Ind. — Kaleb Smith has a picture in his phone that his mom rummaged up and sent him the other day, reminding the Notre Dame sixth-year senior wide receiver what his dreams looked like back in 2017.
There, on a gameday recruiting visit to Wake Forest, he stood side-by-side with quarterback Sam Hartman, the player he planned to room with his freshman season in 2018 with the Demon Deacons, and eventually shock the world with.
The magic they envisioned wasn't universally shared.
Hartman was a three-star quarterback with three scholarship offers, Smith a three-star safety with seven, with a desire to play wide receiver in college. Notre Dame had zero interest in either one of them.
Back then.
Smith eventually decommitted from Wake and signed with Virginia Tech, which had an unexpected 11th-hour scholarship numbers crunch and asked him to walk on instead to start with. He later had a Hokies position coach tell him he should transfer to a lower level of football.
Hartman's adversity climbing the ladder at Wake Forest is well-documented, including a health scare last August. But both players were determined to conquer whatever was in their path, and they never lost touch with each other along the way.
Independently, the transfer portal led each of them to Notre Dame this winter. And on the day that winter workouts got underway in mid-January, they decided to head over to Notre Dame's indoor football facility — the Irish Athletics Center — to break in their cleats ...
By throwing the passes from one to the other that never got to happen at Wake Forest.
"I got a little bit of goosebumps," Smith said Wednesday night in his first interview with the Notre Dame media.
"Ultimately, I wouldn't take back my decision that I made to decommit from Wake and go to Virginia Tech. I grew a lot. I met my fiancée there. (But I was) kind of like, 'Man, this is what I could have had.' At the same time, I feel like it came around full circle and we're right where we're supposed to be."
Hartman's record-breaking numbers at Wake (12,967 yards, 110 TDs), his poise and toughness, his pluck and leadership engenders the question of: He's the best QB to play for ND since … ? And none of the popular multiple-choice answers comes from the 12-year Brian Kelly Era, with two playoff teams and one that played for the BCS National Championship..
New Irish QBs coach Gino Guidugli on Wednesday was adamant Hartman must first prove he's better than 2022 three-game starter and junior Tyler Buchner when spring practice gets underway on March 22.
Smith, meanwhile, needs to show he's the best Kaleb Smith on the roster, though the freshman version doesn't enroll until June. The two have yet to even meet, in fact.
"Way before that he committed (to ND), I was getting tagged (on social media) and everything, when I was still at Virginia Tech," Smith, the elder and larger, said of posts intended for Smith, the incoming freshman.
"I was like 'wow,' there's a whole 'nother Kaleb Smith who's a receiver. That's crazy.
"And then now I'm trying to figure out how's it going to be with the back of the jerseys? And then I figured out Notre Dame doesn't have (names) on the back of the jerseys, most of the time. I think we're going to be all right.
"I think he already goes by 'KK'. So, I'm coming in as Kaleb and he's coming in as KK. We're all going to be good."
Kaleb Smith I had 37 catches for 674 yards and three TDs last season for a Virginia Tech offense under first-year head coach Brent Pry that was in abject rebuild mode.
A close look at Smith's Virginia Tech film shows a receiver capable of competing for a starting role at Notre Dame in the fall. The vibe the 6-foot-2, 222-pounder has been giving off since arriving leads one to believe it's not out of the realm of possibilities he might be the best wide receiver on an Irish receiver depth chart, seemingly teeming with young talent and certainly offering more options than a year ago.
"You've got to learn that playbook quick," Smith said. "And you've got to be able to evolve. My dad's always told me you thrive when you're uncomfortable. And when you're comfortable, you can kind of slip through the cracks.
"But when things have to turn on and you have to be able to adapt to your surroundings, that's when you really find out the man you are. So, I've been taking it day by day, and it's been a very smooth transition for me. Luckily, a lot of the terminology is the same that I've experienced in my time in college. So. it's been smooth."
Smooth enough that Smith got a chance to ride on the Zamboni between periods at a recent Notre Dame hockey game. Smooth enough that he and Hartman continue to find time to work on their chemistry,
"The biggest thing I would say is just his leadership abilities, to be at the helm of the offense and the team and be put in that spotlight," Smith said of what he sees every day in the 6-1, 209-pound Hartman that the Notre Dame fan base will soon get to experience.
"His story is very remarkable. And he has one of the most accurate deep balls that I've caught in my times. (And) I've caught passes from Hendon Hooker. So, that says a lot coming for me, just the way Sam plays ball."
Hooker, a one-time Virginia Tech quarterback, was deep in the Heisman Trophy conversation last year at Tennessee until he suffered a late-season injury.
Smith, mind you, was perfectly happy with transferring to Notre Dame when he thought Buchner, sophomore Steve Angeli and early enrollee Kenny Minchey were going to be his top options to get him the ball.
His transfer-portal finalists came down to Notre Dame and UCLA.
New offensive coordinator Gerad Parker, ND's tight ends coach at the time, in December flew to Virginia for a visit with Smith and his fiancée (the wedding date is next February), followed by a visit from Irish receivers coach Chansi Stuckey.
"Then they got me here on a visit," Smith said. "I'm not going to lie. It snowed every day I was here. But I mean, I came from Virginia Tech, where snow and cold is not something that was scaring me away.
"But coming up here and just seeing all the tradition, being in the stadium — it's just like it hit me. And I committed on the spot. So then ever since I committed and got here, it's just been a blessing, an amazing journey."
Another familiar face has joined him on the journey, former Virginia Tech offensive line coach Joe Rudolph, who was officially announced as retired Harry Hiestand's replacement at Notre Dame earlier this week.
"Coach Rudolph is my guy," Smith said. "I actually was talking to him the other day. He's the guy that I had the most respect (for) walking around the Virginia Tech facilities, because he was probably the nicest person you would talk to unless you're on the football field.
"When you're on the football field, he's the real deal and he commanded respect, from the offensive linemen, that I've never seen before. I mean, as an outsider looking into their room, I'm like, 'Man, he's being pretty tough on them,' but I mean they loved him to death. So, obviously, that speaks to the man and the coach he is."
More than ever, Smith is convinced Notre Dame will reveal the man he is.
"It's so special, enough where they don't have to sell it," he said. "I stepped foot on campus here. And then I knew."
And now with Hartman, it feels like destiny.
But destiny Smith will need to work harder than he ever has, get better than he ever was, dream bigger than he ever did when he was the kid in the snapshot at a Wake Forest game in 2017.
"It's scary taking that next step," Smith said. "I'm leaving somewhere that I've been for five years. I'm a captain (there). Obviously, I'm a well-established name there. And then seeing somebody that I (once) had a future with earlier commit here? OK, now it's meant to be."