{{ timeAgo('2023-01-15 20:28:58 -0600') }}
football
Edit
Greathouse leads a new wave of Irish WRs ready to make an early impression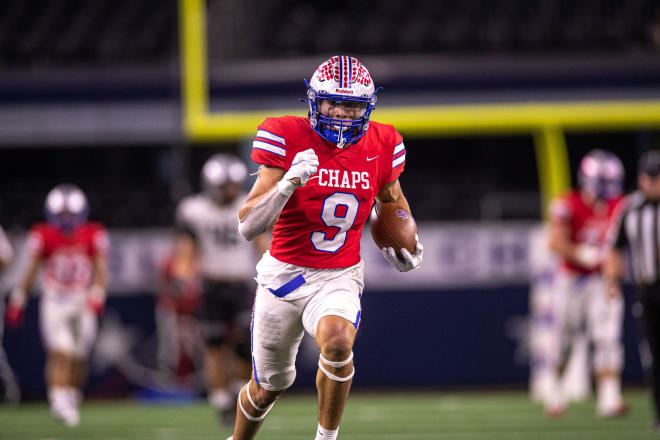 Notre Dame incoming freshman wide receiver Jaden Greathouse's prowess as a standout middle school shot-putter was very much of an unintentional success.
While those on the outside marveled at his strength, power and technique — and his versatility, with the 400-meter run his specialty — Greathouse had an ulterior motive.
"I really just did the shot put to get out of running the 400 during practice," he told Inside ND Sports. "They had us running a lot during practice, and I wasn't down with it. But I turned out to be pretty good at it. I got, like, second place in the district, so it worked out."
The irony of that snippet of Greathouse's athletic history is that nothing the 6-foot-1, 210-pound Austin, Texas, product is seemingly accidental when it comes to his football future.
He constantly pores over film of NFL stars and college standouts, for instance, with similar skill sets to help him be more precise in his route-running. He talks to his parents — both former college athletes — about the step up in competition and the brighter lights and bigger stages that await him.
Even his decision to enroll early at Notre Dame was well-calculated, with spring-semester classes at ND starting for him and 11 of his classmates, as well as four of the six transfer-portal pickups, on Tuesday. The other 12 incoming freshmen, transfer punter Ben Krimm and transfer kicker Spencer Shrader arrive in June.
"We know what the (Notre Dame) offense has looked like, and the coaches have talked to me since I started being recruited about what it could look like in the future with me a part of it," said the former four-star prospect from Texas perennial power Westlake High. "I definitely think that they want to start airing the ball out.
"That's what the coaches have been telling me, is that they want to be throwing the ball all over the field. And I think once our recruiting class starts making an impact, we'll definitely be able to start doing that.
"So, why not start that process as soon as possible? I'm excited. I trust the coaches, for sure. They definitely know what they're doing, and I can't wait to get it rolling."
Two other members of what is arguably the strongest Irish wide receiver recruiting class of the Rivals Era (2002-present) are also rolling early too, with their first classes being soon followed by their first taste of director of football performance Matt Balis' winter workouts.
Unarguably, it's the first ND receiver class with three top 150 overall prospects in it since Rivals expanded beyond a national top 100 in the 2006 recruiting cycle. Greathouse is No. 85, with Rico Flores Jr. No. 137 and Braylon James No. 149.
A pair of receivers named Kaleb Smith — one a grad transfer from Virginia Tech, the other a June-arriving freshman — round out the class assembled by first-year wide receivers coach Chansi Stuckey.
"Outstanding. Outstanding. One of the best in the country," offered longtime recruiting analyst Tom Lemming of the Prep Football Report. "Notre Dame desperately needed quality wide receivers, and Stuckey came through.
"When you look at the position groups that were holding (the Irish) back in the big games, where they didn't match up, wide receivers was one of them. They're not Ohio State yet, which is the standard, but they're moving toward that. And this class will help. It's pretty impressive."
Collectively, it'll be the first time since Rivals went from a top 100 to a top 250 in 2006 that Notre Dame has as many as six top 150 prospects at the wide receiver position on the roster at the same time.
And Irish verbal commit Cam Williams, No. 102 in the 2024 class, is continuing the recent momentum.
The freshman trio joins rising sophomore Tobias Merriweather (No. 135 in 2022), junior-to-be Deion Colzie (No. 145 in 2021) and junior-to-be Lorenzo Styles (No. 56 in 2021) on what will be a nine-man position group this spring and a 10-man corps when the younger Kaleb Smith joins them in June.
"Of the guys coming in, Braylon James might be the best athlete of the bunch," Lemming said, "but he's not as far along as Greathouse is. Flores is also very consistent, and I'm really impressed with him.
"I know some people question Greathouse's athleticism. But he's been super-productive for one of the powerhouse programs in Texas and he's been part of state title teams. So, he's money in the bank."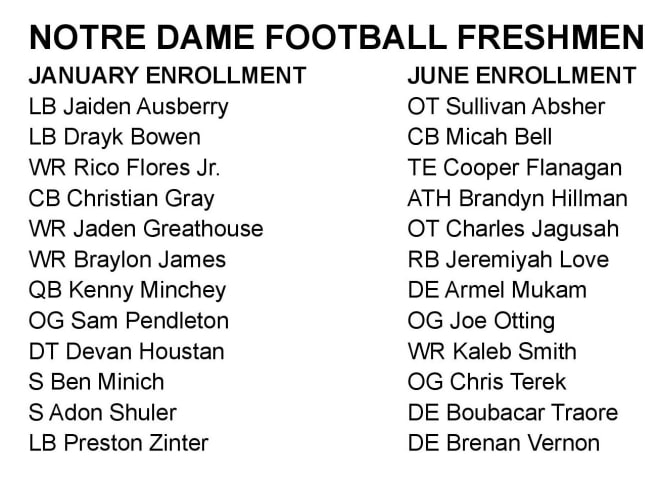 Westlake won three state titles in a row in Class 6A (2019-21) before having a 54-game win streak snapped in the state semis this past season.
"I don't really have expectations for my first few months at Notre Dame, but I do have goals," Greathouse said. "Really, just get my body in the best shape as possible to get ready for this upcoming season. College is a lot different from high school, and a lot of guys are already tuning their bodies to peak performance. So, I'm just ready to get out there and match that and surpass that."
Enrolling early figures to help with that process in Greathouse's case, even though over time in general it's been overstated when it comes to eventual redshirting and even the propensity to transfer. Also, of the nine ND true freshmen who have earned Freshman All-America honors from the Football Writers Association of America since Notre Dame took its first early enrollees in the winter of 2006, eight of those nine were June-enrolled.
Defensive end Aaron Lynch (2011) was the exception.
But with presumed QB1, Wake Forest transfer Sam Hartman, having to learn the ND offense this semester and build chemistry with so many new faces and offensive coordinator Tommy Rees tweaking the dynamics of the playbook based on some new team strengths, having as many of those pieces available for spring practice would seem to be a seismic advantage over doing the calculus in August training camp.
"I think he's a really good player," Greathouse offered of Hartman, a sixth-year veteran. "He's somebody who I'm excited is going to be on the team this coming season. I think he has a really great story. I think he's a really good guy, and I'm excited to see what we can do out there on the field."
But Greathouse is also juiced about QB Tyler Buchner's Gator Bowl performance, fellow mid-year enrollee/QB Kenny Minchey and 2024 quarterback commit CJ Carr.
"I probably know CJ the best right now," Greathouse said. "He's not only a great football player, but a great person. I think that's kind of a summary for all of the Notre Dame recruits. They're high-value people.
"We all had to deal with NIL and make a decision about how important that was going to be in our recruitments. That's like one of the biggest things other schools can offer you, is money, because schools like that don't have the image like Notre Dame does.
"So when you're competing against a school like Notre Dame for a player, that's really all you can do, is just try to throw money in their face. But that wasn't something that I was interested in. I think really all of us, but I'll just speak for myself, I was really just focused on going to a school that in the long run is going to make me a better person and a better football player."
While he celebrates the little things in the meantime.
"I'm glad I remembered to buy a winter coat — my first one ever — a few days before I was going to come up," Greathouse said. "And I'm really happy I don't have any math classes this semester.
"Hey, I know any day now I'm going to start to be pushed harder than I ever have been, and I want that. From the moment I stepped on campus for the first time, I kind of knew that Notre Dame was the place that I wanted to be. And that feeling is stronger than ever now."