Four-star WR Rico Flores Jr. commits to Notre Dame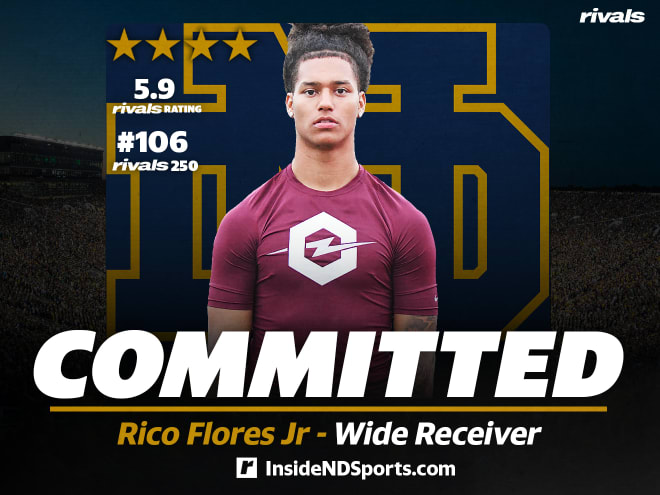 Notre Dame was supposed to be the first of three official visits for wide receiver Rico Flores Jr.
But after the four-star recruit visited Notre Dame in early June, Flores didn't make his previously scheduled trips to Georgia and Ohio State. That all but eliminated the mystery behind Flores' commitment decision Sunday.
Yet the magnitude of the moment for Flores and Notre Dame was still meaningful. Flores, who Rivals ranks as the No. 17 wide receiver and No. 106 overall in the 2023 class, announced his verbal commitment to the Irish on Sunday afternoon during a ceremony at Game-Fit Sacramento.
"It was a perfect fit for me," Flores said on his Instagram live. "I'd say for life after football and life on football. Like, it's not a four-year plan; it's a forever plan."
Notre Dame entered the 2023 recruiting cycle in desperate need of talented wide receiver recruits. The Irish signed only one recruit at the position — four-star prospect Tobias Merriweather — in the 2022 class. That wide receivers coach Chansi Stuckey with plenty of work left to do in his first year at Notre Dame.
So far, so good. The 6-foot-2, 190-pound Flores gave Notre Dame its second wide receiver commitment in the 2023 class. He joined four-star recruit Braylon James, who Rivals ranks as the No. 31 wide receiver and No. 205 overall. Both were on Notre Dame's campus for official visits during the same June 10-12 weekend.
Flores made his debut in the Rivals250 in the middle of a prolific junior season at Folsom (Calif.) High. He finished the 15-game season with 81 catches for 1,157 yards and 11 touchdowns. He caught 31 passes more than any of his teammates.
"Folsom is going to pass the ball a whole lot but Rico Flores Jr. is all about production," said Rivals national recruiting director Adam Gorney. "He caught 81 passes in his junior season and every defense knew the ball was coming his way, but they could do nothing about it.
"A lot of his catches, too, were deep balls where he used his speed to stretch the defense and cornerbacks couldn't keep up. When they could stay stride-for-stride, Flores made tough catches and showed great concentration.
"All that production came, too, in an offense with four-star tight end Walker Lyons catching his fair share of balls as well. Flores is not going to blow anyone away physically but he's a smooth route runner with speed and that's going to be a huge asset in Notre Dame's offense."
SUBSCRIBE TO INSIDE ND SPORTS TO STAY IN THE KNOW ON NOTRE DAME ATHLETICS
JOIN THE CONVERSATION ON THE INSIDER LOUNGE MESSAGE BOARD
Flores credits trainer Lem Adams from Game-Fit Sacramento for helping develop into a coveted wide receiver. It seemed only fitting for Flores to announce his commitment from his facility.
"He's going to push me to my limits and over my limits," Flores previously told Inside ND Sports. "He's going to make me question if I really like football or not. He's really in love with it. I've been pushed to the limit. He's just preparing me to be ready for whatever's coming my way."
Stuckey will gladly take over the next stage in Flores' development when he arrives at Notre Dame. The two typically spoke multiple times per week over the last few months. Stuckey, offensive coordinator Tommy Rees and director of recruiting Chad Bowden all made stops at Folsom High to see Flores earlier this year.
Notre Dame became a suitable destination for Flores, because his mother wasn't worried about her son attending college far from him. The fact that one of Flores' uncles is an Irish fan didn't hurt either.
The Irish would like to add another pair of wide receivers to the 2023 class with four-star recruits Jaden Greathouse and Ronan Hanafin remaining as top targets. Stuckey already received a verbal commitment from four-star wide receiver Cam Williams in the 2024 class Wednesday.
The commitment from Flores pushed Notre Dame's 2023 class back to No. 1 in the country with 18 pledges. Five-star defensive end Keon Keeley and three-star offensive guard Joe Otting are the only 2023 Notre Dame commits not deemed four-star recruits.
The Irish are in the middle of a hot streak with the top classes in both 2023 and 2024. Flores became the fourth commitment to either of Notre Dame's classes in the last five days. Williams started the stretch followed by 2023 four-star offensive tackle Charles Jagusah on Thursday and 2023 four-star cornerback Micah Bell on Friday.
Four-star cornerback Christian Gray could make it five Notre Dame commitments in six days when he announces his decision Monday at 5 p.m. EDT.