Film Room: Breaking Down Notre Dame's Defensive Woes
Notre Dame entered the 2016 season with playoff aspirations. Going 10-2 during the previous regular season – with last second losses to a pair of top five teams – will do that for a team.
By September 17th, Notre Dame was all but eliminated from the playoffs.
Notre Dame's disappointing 1-2 start is the result of many culprits, but its porous defense has been without question the primary factor in the team's struggles.
The Irish have allowed 32 points per game (94th), 439.3 yards of offense (102nd), 6.0 yards per play (102nd), 15.4 yards per completion (117th), 9.1 yards per pass attempt (124th) and 198.7 rushing yards per game (99th). Opposing quarterbacks have a 145.4 passer efficiency rating (103rd) against the Notre Dame defense.
The numbers in parenthesis mark Notre Dame's national ranking after three games.
In its two games against Power 5 opponents – Texas and Michigan State – Notre Dame has allowed a 47.2-percent conversion rate on third-down. Those same opponents have converted all 10 of their red zone opportunities, with nine ending in touchdowns.
Blame is focused solely on the shoulders of defensive coordinator Brian VanGorder, and there are legitimate reasons for that. His unit plays with poor fundamentals (tackling, technique, alignment), it does not play assignment sound football and its inability to limit the ground game and big plays is incredibly bad.
It all centers around Notre Dame's inability to attack and make plays on defense. The result is a poor run defense and a pass defense unable to get pressure on the quarterback.
At no point in the last three years have the struggles of the Notre Dame defense been more obvious than during its 36-28 loss to Michigan State. Not only were Notre Dame's specific struggles an issue, watching how Michigan State played defense against a potential Irish offense made its struggles harder to accept and deal with.
Below is a breakdown of Notre Dame's schematic flaws, with Michigan State serving as a counter example.
SCHEMATIC WEAKNESSES
Getting into the complexity of the defense and how that impacts the players requires too much projection for this type of discussion. Without being in the meetings and on the practice field, that discussion requires too much conjecture.
This breakdown will focus on what happens right before and right after the ball is snapped.
1. Not enough aggression: When VanGorder was hired, it was presumed he would bring a more aggressive approach, going away from former coordinator Bob Diaco's "bend but don't break" defense that helped the Irish finish the 2nd in the nation in scoring defense and in the top 25 in total defense (7th), red zone defense (7th), rushing defense (11th), pass efficiency defense (16th), sacks (22nd) and pass defense (25th).
Notre Dame's defense has been anything but aggressive. One of the major knocks on VanGorder's defense has been its inability to pressure the opposition backfield. The Irish ranked 74th and 75th in sacks during VanGorder's first two years, and 54th and 76th in tackles for loss.
A major issue has been its lack of aggression with the front seven. Notre Dame does not attack opponents with numbers or tempo with the front seven. For example, against Michigan State the Irish ran a five-man stunt or blitz on just seven of Michigan State's 78 snaps, and a six-man pressure just once.
On the few occasions Notre Dame did bring extra defenders it had a great deal of success. Michigan State had just 28 yards on those eight snaps, including a tackle for loss and an interception.
The same was also true in Notre Dame's season opening loss to Texas.
By contrast, on five occasions Michigan State attacked the Notre Dame line with a five-man pressure and seven snaps where it used a six-man pressure. This includes run stunts and pass blitzes. Those 12 five or six-man pressures were on Michigan State's first 37 defensive snaps, as I stopped counting the pressures once Notre Dame fell behind 36-7 and the Spartans got out of their base defensive game plan.
Michigan State's pressures were designed to attack both the run and pass, with five of their 12 pressures coming on first down. Just one of Notre Dame's seven pressures came on first down, and four came on third-down.
Notre Dame played just six line games on 78 snaps, while Michigan State ran seven on those 37 snaps.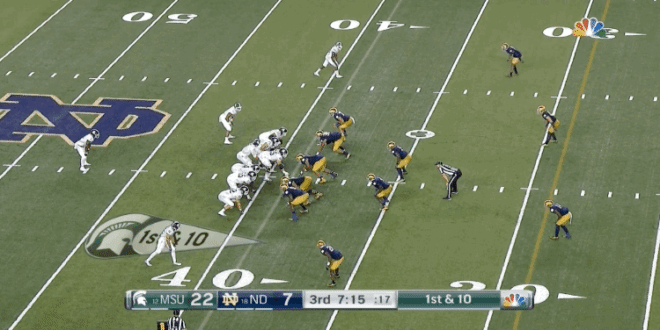 The Irish run two basic fronts, an under front and an odd front. This clip is an example of Notre Dame's odd front. Using a small number of looks with the front is not the issue. Most good defenses don't use a lot of different fronts on first and second down.
Notre Dame's issue is its lack of aggression out of those fronts. Early in the Michigan State game the Irish line got very good movement, and the Spartans had just 70 rushing yards on 22 carries in the first half. The longer the game went on, the less aggressive the line was.
That issue will be addressed further below.
2. Not using linebackers to attack the run game: This clip also shows Notre Dame's linebackers not aggressively attacking downhill. There is too much reading and not enough reacting.
They step to their gap and then try to read. The above clip is actually one of the more downhill reads they had during the game. Far too often the linebackers are shuffling in place, or using small forward steps while they make their reads.
Michigan State exposed this weakness by getting its linemen up to the second level and making it hard for the linebackers to get to the ball for stops for short or negative gains. In the clip above, the lack of push from the front seven allowed Michigan State to drive the Notre Dame front backwards.
The Irish have only given up two runs of 20 yards or longer all season, and both came against Michigan State. What the lack of aggression results in is far too many gains of four to seven yards, which put the offense in far more manageable third-down situations, resulting in the offense being able to rack up a lot of first downs.
VanGorder also makes a number of calls that have the Sam linebacker playing soft on run downs, focusing on the pass. He will also do it with the inside linebackers.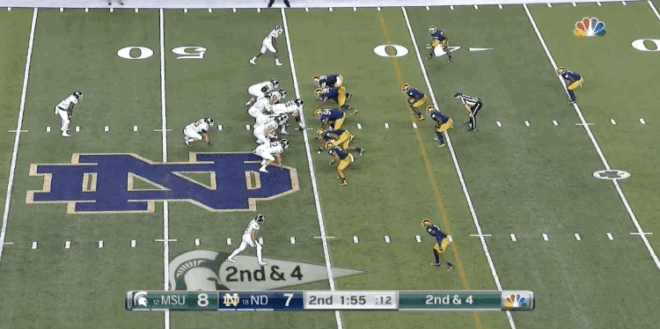 Despite facing a heavy run situation out of a heavy run formation, VanGorder makes a call that has Mike linebacker Nyles Morgan sinking at the snap. There is no pass set from the line that would otherwise make Morgan sink, so there was obviously a call for this.
The above clip also shows how easy it was for Michigan State's offensive linemen to get to the second level, which opens up wide run lanes for the Spartan backs.
If Notre Dame wants to become a more effective run defense, it must become more aggressive with how it uses its linebackers. It must allow its linebackers to play downhill and with more speed, and its line to attack more to the edge of blockers and not right down the middle, which is often the primary technique employed.
The goal needs to be to reset the line of scrimmage in its favor, pushing the blockers back and forcing backs to make quicker decisions. This slows down the backs speed towards the line – which does not happen in the above clips – and it forces the back to declare where he is going. That in turn allows the defense to rally to the football much sooner.
Being more aggressive is partly teaching players to play downhill more, which requires simplified assignments and more physical technique. Notre Dame's front seven players need to be allowed to attack and not catch.
Michigan State properly uses its front seven to attack the run game. Its defense does not sit, read and slow flow to the ball. They make quick reads and fly to the ball.
The above clip is one example of how aggressive Michigan State's linebackers play the run. As soon as the call side linebacker reads run he flies downhill, meeting the Notre Dame pulling guard at the line and forcing an early cut by the Irish back. He also attacks with the correct shoulder (outside), which forces the cut back.
Here is another example of how Michigan State's linebackers attack the run game more aggressively with its base calls.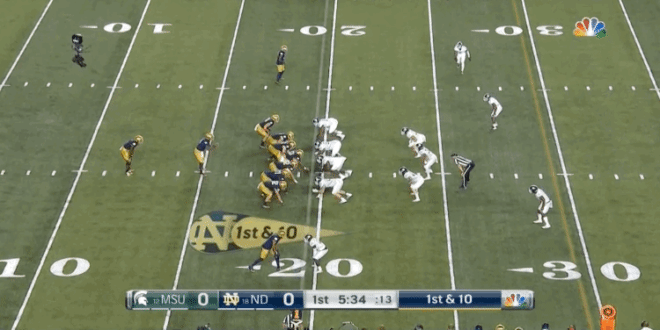 These two clips are clear examples of how aggressive the Spartan linebackers play. There are times when they read a bit more, and there is always room for that. Being too aggressive can result in big gains for the offense if it catches your defense over-playing or if it makes a gap mistake.
What it does show, however, is how effective a defense can be against a potent rushing attack when it plays aggressively and with force from its front seven. Michigan State also does a good job of inserting a seventh and sometimes eight defender into the run game.
Michigan State also does a very good job of designing and calling a number of aggressive run stunts with its linebackers. Run stunts are effective by filling up all the gaps and making it harder for the offense to get a push. Linemen can have a very difficult time getting a drive against an effective run stunt.
Here is an example of a Michigan State run stunt:
Notre Dame is in a heavy run alignment and Michigan State calls an aggressive stunt with its Sam linebacker. The blitz throws off the inside zone count, which results in the tight end not seeing and picking up the backer, and the end result is a tackle for loss against Notre Dame's top run play.
Michigan State ran several different types of run stunts against the Irish offense.
Here is another example: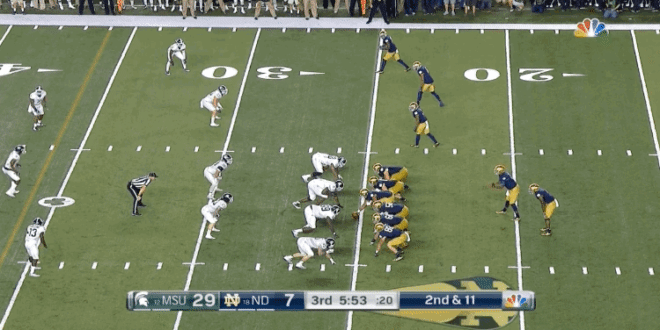 Morgan, Sam linebacker James Onwualu and Will linebacker Te'von Coney are all quality athletes that would be highly effective in this type of scheme. The size and strength of the Notre Dame defensive line would also make these types of pressures very effective.
The personnel is in place, Notre Dame simply does not use an effective scheme.
Speaking of the defensive line, how they are used also creates issues for the Irish defense.
3. Too defensive line dependent: Part of Notre Dame's first half success against the Michigan State run game was the play of its defensive line. In the first half, Notre Dame's front players racked up 13 tackles and two tackles for loss. Michigan State had just 70 yards on 22 carries during those two quarters.
Here is an example of a Notre Dame defensive lineman (sophomore DT Jerry Tillery) making an excellent individual play and blowing up a Spartan offensive lineman to rack up a tackle for loss.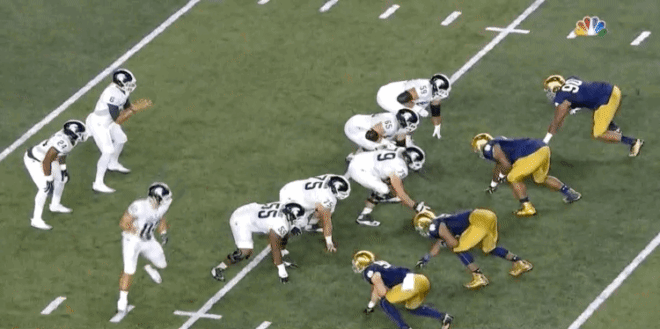 In the second half, the Irish front defenders had just four tackles and one tackle for loss. Michigan State rushed for 190 yards on 30 carries during those two quarters.
Simply put, in the early going of the 2016 season – and during stretches of the last two seasons – if the front players weren't making plays the run defense struggled mightily. The line has to make strong individual plays because the scheme does not put them in enough positions to do so.
This is not referring to whether or not they are playing well; this refers to them actually making stops and tackles for loss. A defensive line can actually play quite well and not make a lot of tackles. In the case of Notre Dame, when the defense line isn't producing it is much harder for the defense to stop the run.
The reason was discussed in point two; the linebackers are not used enough as weapons and if the defensive line isn't making the play often times the linebackers are consistently in good enough position to make stops at or behind the line.
Getting production from the defensive line is always something a defense wants and needs – any defense. Notre Dame must find a way to not be so dependent on that production, and finding a better way to use its linebackers and safeties would help with that.
It also must find ways to allow the scheme to create opportunities for the defenders to make plays using their skills, and not ask them to simply win a bunch of one-on-one battles.
Allowing the line to attack on a more consistent basis would also help ease some of the pressure they have to beat blocks and make plays on the ball. Another advantage is a more aggressive - but still sound - game plan would allow the defensive linemen to be even more productive.
4. Alignment Issues: Another issue that Notre Dame has – and this goes back to VanGorder's first season – is its tendency to get out-leveraged by opponents from a formational standpoint.
Notre Dame uses an "under" front and an "odd" front as its two primary alignments. Both looks put the Notre Dame ends in tight techniques against the offensive tackles, which makes it easy for tight ends to get easy seal blocks on the edge.
This problem is compounded by the fact the linebackers aren't allowed to scrape aggressively enough to force the runs back inside where all the help is. Michigan State abused Notre Dame with off-tackle and perimeter runs where it sealed off the edge line player and the Mike linebacker, giving it a leverage advantage.
When the pulling linemen got outside of those blocks it then gave Michigan State a numbers advantage.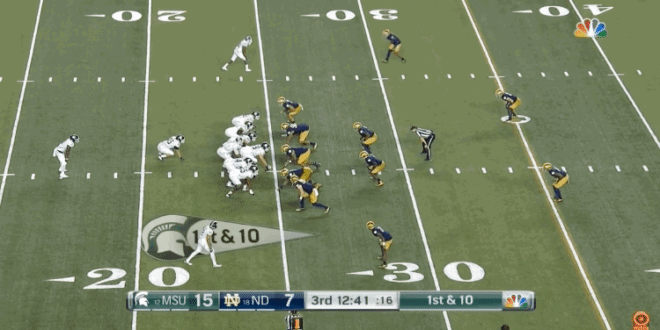 Running off tackle should not be as easy as Michigan State makes it look in this clip. Defensive end Isaac Rochell could have executed his assignment better, and he certainly needed to anchor better, but from a sheer alignment standpoint his chance for success was low before the ball was even snapped.
Using the Sam linebacker (Onwualu) to work outside this way to take care of the jet also took away the edge force defender.
This clip is also another example of how the Notre Dame linebackers are asked to read and react more than they are asked to attack once they read their initial key.
Here is another example: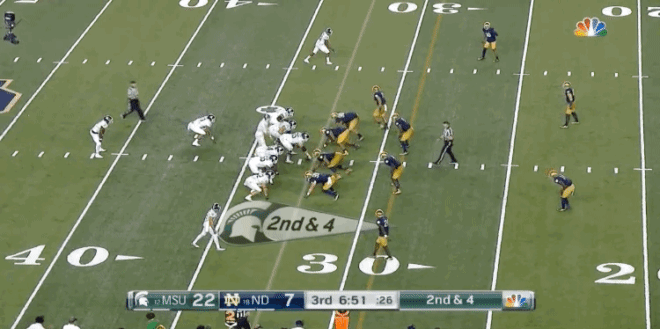 Several more examples from the Michigan State game could be used. Several from the Texas game and a number of games the last two years could also be used. This has been a consistent problem for Notre Dame.
A number of good defensive teams will use this type of "under" or "odd" alignment, but it is not the ideal look against a tight end alignment. Also, teams that use that look either allow their linebackers to scrape hard over top in order to funnel everything back inside and prevent their backers from being cut, or they bring their safeties up more aggressively.
5. Vacating the A Gaps: The A gap is the lane between the center and either guard. Playing sound defense requires the front seven to account for both of those gaps with either two linemen, two linebackers or a combination of one lineman and a backer.
Notre Dame has always had an issue with consistently protecting the A gaps, going all the way back to 2014.
This was an issue against Michigan State as well.
Notre Dame runs a twist with its defensive end and nose guard to one side, and its defensive tackle takes the B gap to the opposite site. Neither of the linebackers crash the A gap, which allows Michigan State to create a wide gap up the middle of the line. It also gives running back L.J. Scott room to hurdle Morgan once he does come up.
A running back should NEVER have the space to make this kind of move against a Mike linebacker on a straight downhill run.
Michigan State runs stunts where the linemen vacate the A gaps, and the clip was used above. I'll show it again here because it applies to this discussion as well.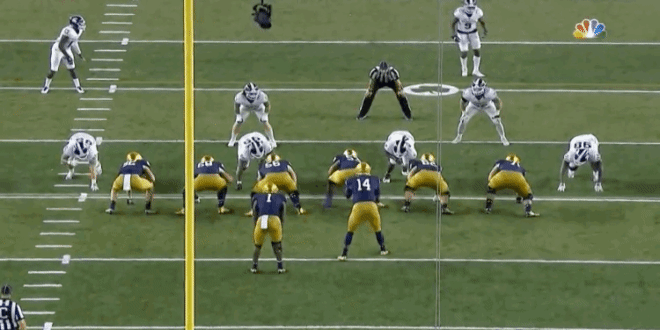 Michigan State's defensive linemen vacate the A gaps just like Notre Dame's linemen do. The difference is Michigan State brings its linebackers inside both A gaps on an aggressive stunt, something Notre Dame does not do.
This could be chalked up to an assignment mistake, and it very well may be just that. The problem for Notre Dame is this happens consistently, so either its by design or it's a mistake that continues to happen going back to the 2014 season.
Either way, it must be addressed. Ideally, when the Irish use these types of stunts with the linemen, it will also use its linebackers to attack the inside gaps.
CONCLUSION
Everything being critiqued in this article is something that Notre Dame can fix, and it can fix this season. It does not require a personnel change, a firing of any coach or wholesale scheme changes.
Notre Dame has most of the calls built into its system, it just has to use them more. The calls it doesn't have would require simple additions and alterations. It has defensive linemen capable of playing this attack style. It has backups capable of doing it when they enter the game as well.
It has the linebackers with the athleticism and physicality to play a more downhill game. It has a strong safety in Drue Tranquill rangy and physical enough to provide support behind the linebackers on the occasions they don't make the play.
Based on the last 29 games, it is unlikely that these changes are made. VanGorder seems set on playing his scheme regardless of the consistently poor outcomes. Perhaps the most recent failures might make him and the rest of the staff more open-minded about the need for change.
If they are, Notre Dame could see quick improvements with its run defense. These types of pressures and this change in philosophy would also impact the pass game, making Notre Dame a more disruptive defense.