DE Javontae Jean-Baptiste working to be an answer for Notre Dame
Javontae Jean-Baptiste likes riddles.
So much so that he was ready to throw one at reporters Friday during his first meeting with local media members covering Notre Dame.
"What three-letter word starts with gas?" asked Notre Dame's newest defensive end.
After one incorrect answer and a short pause, a few reporters chimed in with the correct answer: car.
SUBSCRIBE TO INSIDE ND SPORTS TO STAY IN THE KNOW ON NOTRE DAME ATHLETICS
JOIN THE CONVERSATION ON THE INSIDER LOUNGE MESSAGE BOARD
How exactly Jean-Baptiste, a graduate transfer from Ohio State, fits into Notre Dame's defense is a bit of a riddle too.
Is the 6-foot-5, 253-pound defender more of a vyper defensive end or more of a field defensive end? Is he more similar to Isaiah Foskey, Jordan Botelho, Justin Ademilola or Nana Osafo-Mensah?
Jean-Baptiste doesn't seem too concerned about solving that one.
"I was sold to play defensive end," Jean-Baptiste said. "It doesn't matter to me."
And, yes, he understands the difference.
"I see one's more of a stand-up and the other's more of a hand in the dirt that can stand up occasionally," he said. "I'm good with occasionally showcasing talents and skills."
Notre Dame could use help at either position with Foskey and Ademilola departing for the NFL Draft. Jean-Baptiste will have the opportunity to earn a role more expansive than any of his previous five seasons at Ohio State. Combining the past two seasons in which he played most frequently, Jean-Baptiste averaged 281.5 defensive snaps per season. That's roughly the same amount Osafo-Mensah played for the Irish last year as a backup field defensive end.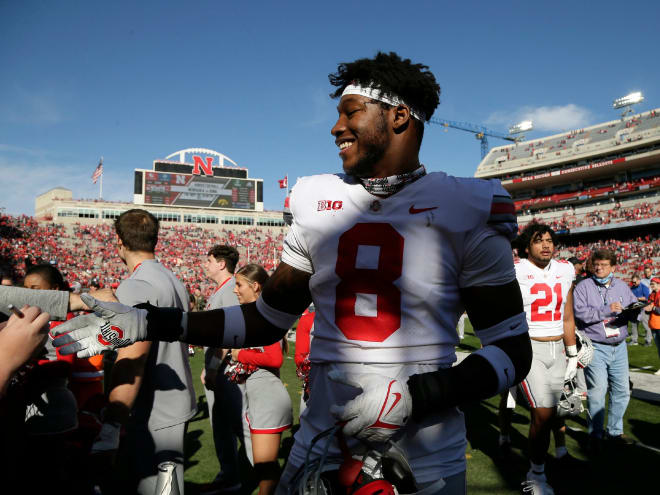 Jean-Baptiste saw his snaps nearly disappear in the final two games of Ohio State's regular season against Maryland and Michigan and in the College Football Playoff semifinal against Georgia. He played 20 defensive snaps combined in the three games in which the Buckeyes allowed 117 points. Two days after the 42-41 loss to Georgia, Jean-Baptiste entered the transfer portal.
"It could be tough, but in a situation like that, you can't make it all about yourself," Jean-Baptiste said of the final three games of the season. "Because at the end of the day, you're on a team that has one goal. You can't put yourself before the team.
"In those situations, and where stuff may have not gone my way, I made sure that I could do more for my brothers to help them while they're on the field and make sure everything goes their way. Be another set of eyes that they don't have. When they're off the field to come back and give them feedback from what I see."
Once in the transfer portal, Jean-Baptiste had to consider if his next destination would even be another college. He also gave thought to declaring for the NFL Draft. That likely wouldn't have made a lot of sense for him even though his totals of 19 tackles and four sacks last season were career highs. With 53 tackles, eight sacks and 10.5 tackles for loss in the past four seasons, Jean-Baptiste didn't have enough production to be safely projected as a draft pick.
Jean-Baptiste dove back into the recruiting process for the first time since he chose Ohio State as a senior at Oradell (N.J.) Bergen Catholic. Back then he was a 6-5, 210-pound outside linebacker who waited until signing day to announce his decision. The former four-star recruit made official visits to Boston College, Virginia Tech, Nebraska, Ohio State and Texas A&M in the final two months before National Signing Day.
Five years later, Jean-Baptiste had a different mindset.
"The first time around, you're going, you're taking all these visits, you're seeing different schools, your eyes are big," Jean-Baptiste said. "Then once you've been in it, you know how to see through everything."
What Jean-Baptiste saw at Notre Dame were Ohio State connections to defensive line graduate assistant Nick Sebastian and defensive line coach Al Washington, who were both on staff with the Buckeyes during Jean-Baptiste's career, and a fellow Ohio State graduate in Notre Dame head coach Marcus Freeman. The relationships he either established or re-established and the opportunity on the field added up to the right choice for Jean-Baptiste. He said Friday that Ole Miss and Texas were likely his second and third choices.
"I like this place, because it's a traditional place," Jean-Baptiste said. "Notre Dame, for me, was if you want to attain a goal and you want to be really focused on it, you'll come here."
The focus has already started in the weight room with director of football performance Matt Balis' winter workout program. It's the first step in Jean-Baptiste's attempt to prove he can be more than what he was at Ohio State.
"I like to use the word versatile," Jean-Baptiste said. "That's just because I can come here and help in the pass rush, but then I can come here and also help in the run game. That's what I've been working on a lot throughout my years.
"Getting a shot to be with coach Balis and helping me get stronger, it's great."
Fellow grad transfer Thomas Harper, an Oklahoma State export, is ready to see the enigmatic Jean-Baptiste in action.
"Especially seeing him out here running, he looks kind of like a big skill (position player) instead of a D-lineman," Harper said. "I'm just really excited to see him put on the pads and be able to actually pass rush."