Blake Fisher Goes In-Depth On His Notre Dame Commitment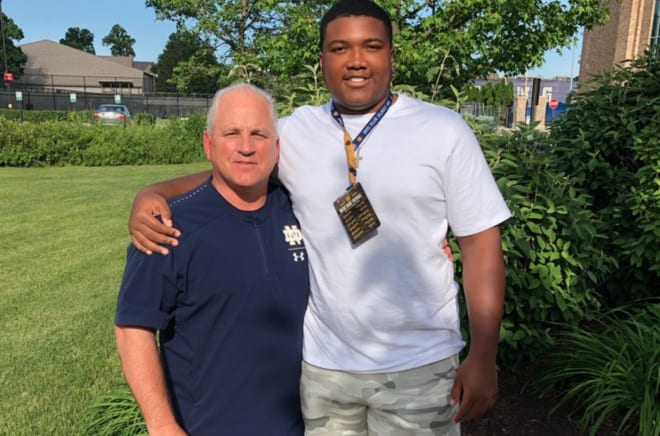 Just a couple of weeks ago, Avon (Ind.) 2021 offensive tackle Blake Fisher told Blue & Gold Illustrated that he didn't plan to make a college decision until after his junior season. And he was telling the truth.
The elite prospect committed to Notre Dame on Saturday, but it wasn't something that he planned on doing. Fisher knew that Notre Dame was his top choice at the moment, but he didn't necessarily plan on committing during his Friday to Saturday visit.
"I'm not going to lie to you; I went on campus -- me and my family -- and we had no intentions of committing," Fisher explained. "It never crossed our minds. We were sitting in the office with Coach Kelly and didn't commit in there. I actually committed on Friday but didn't [announce] until Saturday.
"But yeah, we were in the office with Coach Kelly and were talking and had a good conversation. After it, I was kind of thinking, 'Should I do it now? Should I wait?' Then I got into the office with Coach Quinn and we were talking and going over stuff. He was trying his hardest to get me.
"We were about to leave to go to the hotel, and I told him, 'I wanted to let you know that I'm staying home and coming to Notre Dame.' Everybody just went nuts; it was wild. I know my family gave me the go; they were ready. They knew it was the best decision."

Fisher has 29 other scholarship offers and visited a handful of schools. He planned to get back to Michigan and also potentially see Indiana and Purdue this summer, but he knew Notre Dame was the place for him.
"I kind of [already] knew in my heart of hearts," Fisher said about Notre Dame. "I just felt at home every time I went there. It's one of those things where when I'd leave, I wouldn't want to leave. I thought about waiting, but me waiting would've been me wanting to enjoy the recruiting process more. I'll still have that but maybe not as much.
"It was just me coming to the realization that I wanted to be a part of a family. I want to bring the best guys in to play with me. I'm 100% committed and confident in my decision. I'm going to bring in the dudes. They'll tell me who they want and I'm going to go get them."
Notre Dame has everything Fisher is looking for in a school -- proximity to home, academics, football program, playing on a national stage, and the ability to play early.
"It's close to home," Fisher explained. "It's less than three hours. Academics-wise, I'm going to come out of there with a phenomenal degree. I'll be able to do anything I want if I don't make it to the NFL, which is my ultimate goal. Football-wise, with Coach Balis and the strength and conditioning staff, I'll get developed into a great player and the player I want to be. I know we can win a national championship there. They're close and I think we can do that.
"With their schedule, you'll be on the east coast one week and the west coast the next week. It's just going to be fun.
"Coach Quinn is a father figure to me. I probably had the best relationship with him out of all the coaches. I had the best relationship with the whole Notre Dame coaching staff out of all the coaching staffs. They tried everything they could to get me. It was crazy. It's just home for me. It's not too far; family and friends can come visit. I can see myself going there and playing early too, which is another big factor."
Fisher mentioned that he is 100% committed to the Irish, and he's putting his recruiting hat on to help the Irish land other top players. He joins Bradenton (Fla.) IMG Academy center Greg Crippen on Notre Dame's 2021 OL commit list, and Fisher is looking to recruit another big time offensive line prospect.
"Landon Tengwall, I actually talked to him not too long ago," said Fisher. "That's my guy. He's probably my main priority right now. I know there are some other guys out there, but if we get Landon, I think we'll bet set."
For more on Fisher, check out BGI's Class Impact story.