2024 class TE Jack Larsen commits to Notre Dame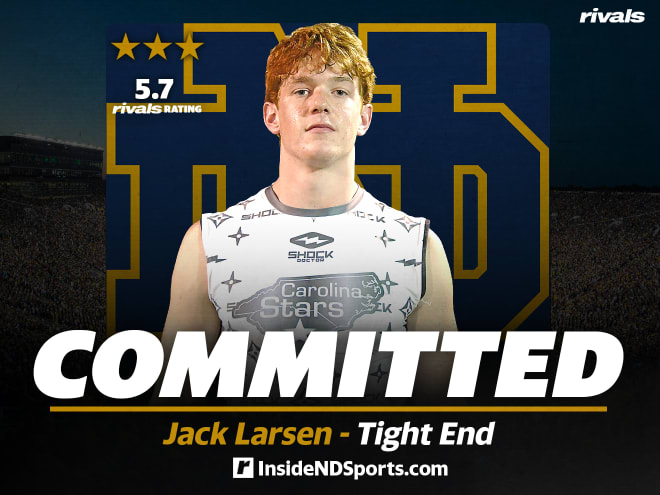 The Notre Dame commitment train is off and running as conductor CJ Carr found his newest member of the offense.
On Friday, 2024 class three-star tight end Jack Larsen announced his commitment to the Irish. The Charlotte (N.C.) Catholic High product chose Notre Dame over finalists Clemson, Michigan, North Carolina and NC State.
Larsen is Notre Dame's fourth commit in a recruiting class, which now ranks No. 1 in the 2024 Rivals Team Rankings. His announcement comes just weeks after working with ND's quarterback commit, Carr, at the Irish Invasion camp on June 5.
"He's awesome," Larsen said of Carr. "He puts it on the money. He doesn't miss very often. He's a baller."
The No. 12 tight end in the class marks Gerad Parker's first commit since joining the Irish in February. During his fourth and most recent Notre Dame visit, Larsen spoke highly of his time working with the first-year Irish tight ends coach.
"It's great," Larsen said of his relationship with Parker. "From the time he's been there, it's only grown. It's been awesome."
SUBSCRIBE TO INSIDE ND SPORTS TO STAY IN THE KNOW ON NOTRE DAME ATHLETICS
JOIN THE CONVERSATION ON THE INSIDER LOUNGE MESSAGE BOARD
Larsen connected with Parker on April 12 during a visit to watch Notre Dame in spring practice. During that trip, the 6-foot-3, 222-pound rising junior observed Parker and the tight ends in a pre-practice meeting. That day's experiences affirmed the Irish as one of five leaders in his recruitment.
His commitment continues an impressive effort by the Irish coaching staff in North Carolina.
In the 2023 class, ND landed four-star offensive linemen Sullivan Absher and Sam Pendleton. Pending his signature in December of 2023, Larsen will be the first tight end Notre Dame has signed from the Tar Heel State in the Rivals recruiting era (since 2002).
When he arrives in South Bend, Larsen will add a dynamic skillset to the Irish offense.
"Right now, he's a real good receiver but not that much of a blocker," CBS recruiting analyst Tom Lemming said. "He reminds me of the prolific Georgia tight end, Brock Bowers. He might fit Tommy Rees' offense as a slicker/quicker hybrid wide receiver-like tight end."
That's how Parker explained his role.
"When I talk to coach Parker, we talk about me being more of a receiving tight end," Larsen told Inside ND Spots before making his commitment public. "There is obviously still blocking, but he sees me doing a lot of slot stuff or playing split-out wide. (I'll have) a lot of versatility in the offense."
Notre Dame offered four tight ends in the 2024 class. Like the other three, Larsen earned his Irish offer on St. Patrick's Day. That same day, the Irish offered about 60 other 2024 class recruits for its "Pot of Gold" Day campaign. Larsen has 25 offers and has made visits to Maryland and Virginia Tech.