2022 NFL Mock Drafts: Where do Notre Dame football players stand?
Notre Dame junior safety Kyle Hamilton remains a favorite across NFL mock drafts to be picked in the first half of the first round, while some are taking notice junior defensive end Isaiah Foskey's skills as a pass rusher. Foskey is currently tied for 16th in the nation with 10 sacks.
Below is our second review of where Notre Dame Fighting Irish football players are listed in various NFL mock drafts. The updates are in reference to our first review, linked here.
We are using the following websites (all free to use):

Kyle Hamilton, Safety
Mock Drafts:
Pro Football Network: 5th pick overall - RD 1 - New York Jets (previously 11th to NYJ)
Tankathon: 5th pick overall - RD 1 - New York Jets (previously 5th to PHL)
CBSSports.com - 7th pick overall - RD 1 - NY Giants (previously 3rd pick to PHL)
DraftTek.com - 7th pick overall - RD 1- New York Giants (previously 6th to PHL)
Pro Football Focus: 8th pick overall - RD 1- Atlanta Falcons (previously 4th to JAX)
si.com/FanNation - 9th pick overall - RD 1 - Carolina Panthers (previously 3rd to NYJ)
Walterfootball.com: 12th pick overall - RD 1 - Philadelphia Eagles (previously 5th to PHL)
Big Boards:
CBSSports.com - #1 overall (no update)
Oliver Hodgkinson Pro Football Network) - #1 overall (no update)
Ian Cummings (Pro Football Network) - #2 overall (no update)
si.com/FanNation - #2 overall
DraftTek.com - #2 overall
Pro Football Focus - #3 overall
Tankathon - #5 overall
Tony Pauline (Pro Football Network) - #29 overall (no update)
Kyren Williams, RB
Mock Drafts:
DraftTek.com - 62nd pick overall - RD 2 - Miami Dolphins (previously 77th to MIA)
si.com/FanNation - 67th overall - RD 3- Houston Texas
Pro Football Network: 73rd pick overall - RD 3 - Atlanta Falcons (previously 83rd to ATL)
Tankathon - 95th pick overall - RD 3 - New England Patriots (previously 85th to HOU)
Big Boards:
DraftTek.com - 43rd overall (up six spots)
si.com/FanNation: 60th overall (up four spots)
Ian Cummings (Pro Football Network) Big Board - 66th overall
Tankathon - 68th overall
CBSSports - #85 overall
Oliver Hodgkinson Big Board (Pro Football Network) - 88th overall
Pro Football Focus - 89th overall

Jarrett Patterson, OC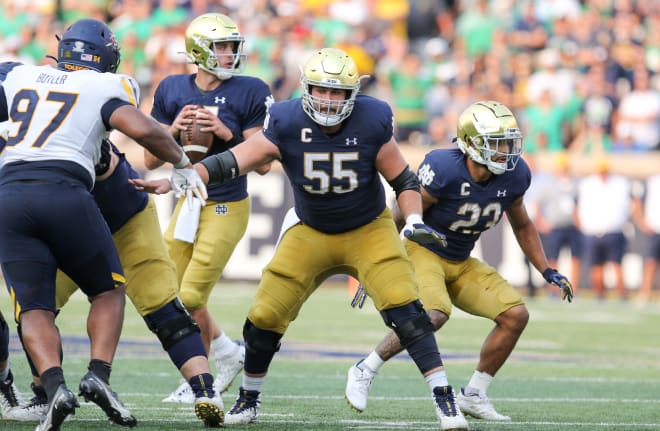 Mock Drafts:
si.com/FanNation - 71st pick overall - 3rd rond - Chicago Bears
Pro Football Network - 99th pick overall - RD 3 - Miami Dolphins (previously 86th to HOU)
DraftTek.com - 88th pick overall - RD 3 - Dallas Cowboys (previously 86th to PIT)
Tankathon.com - 89th pick overall - 3rd round - Baltimore Ravens
Big Boards:
si.com/FanNation: 89th overall (down 32 spots)
Tony Pauline (Pro Football Network) - 60th overall
Ian Cummings (Pro Football Network)- 78th overall
Oliver Hodgkinson (Pro Football Network) - 79th overall
DraftTek: 97th overall (down one)
Pro Football Focus: 99th overall
Tankathon - 100th overall
Myron Tagovailoa-Amosa, DL
Mock Drafts:
DraftTek.com - 112th overall - RD 4 - Denver Broncos (prev. 108th to DEN)
Big Boards:
DraftTek.com: 103rd overall (down one)
Tony Pauline's (Pro Football Network)- 134 overall
Oliver Hodgkinson (Pro Football Network) - 220th overall
Ian Cummings (Pro Football Network) - 288th overall
Cam Hart, DB
Big Boards:
Iam Cummings (Pro Football Network) - 71st overall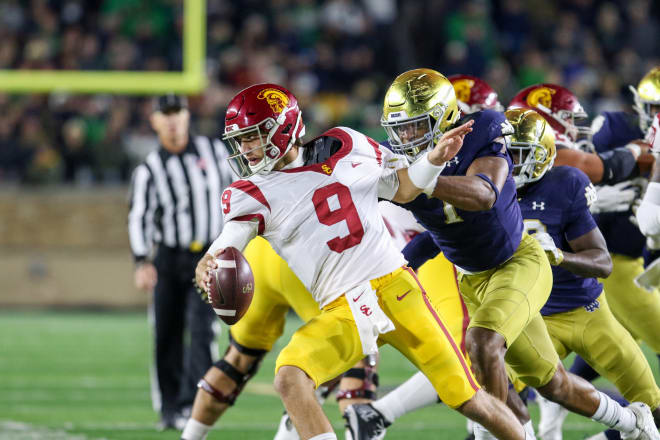 Isaiah Foskey, DE
Mock Drafts:
si.com/FanNation - 36th overall - New York Jets
Pro Football Network - 79th overall - San Francisco 49ers (previously unlisted)
Big Boards:
si.com/FanNation: #31 overall (new)
Pro Football Focus - 97th overall
Ian Cummings (Pro Football Network) - 135th overall
Cain Madden, OG
Big Boards:
Oliver Hodgkinson (Pro Football Network) - 233rd overall
Jayson Ademilola, DT
Big Boards:
DraftTek.com: 296th overall (previously 284th)