{{ timeAgo('2023-03-07 07:00:00 -0600') }}
football
Edit
Who's up next for Notre Dame? NFL Combine participants weigh in
Will the Jordan Botelho breakout season finally arrive in 2023?
Isaiah Foskey, Notre Dame's all-time sack leader after recording 11 sacks in each of the past two seasons, sounded pretty confident last week at the NFL Scouting Combine about the future for the soon-to-be senior defensive end.
Botelho has been an active player on Notre Dame's roster since he arrived from Honolulu Saint Louis as an early enrollee in 2020. He played in 11 of Notre Dame's 12 games as a freshman primarily on special teams and made his most memorable impact by returning a blocked punt for a touchdown against South Florida.
SUBSCRIBE TO INSIDE ND SPORTS TO STAY IN THE KNOW ON NOTRE DAME ATHLETICS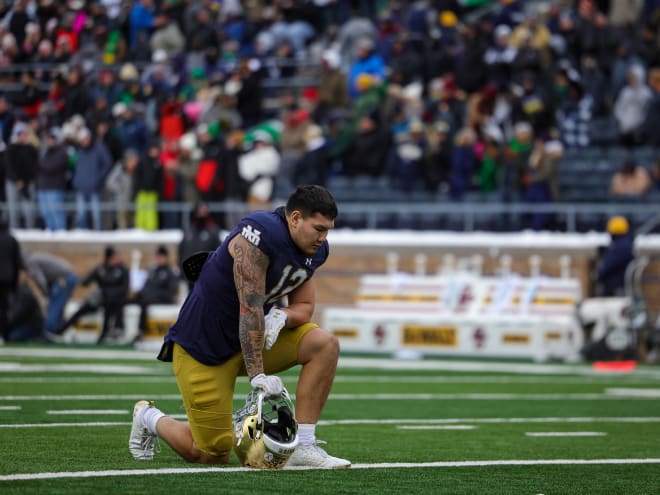 JOIN THE CONVERSATION ON THE INSIDER LOUNGE MESSAGE BOARD
The 6-foot-2, 250-pound Botelho wasn't able to crack Notre Dame's defensive line rotation with any high frequency due to Foskey and Justin Ademilola being ahead of him on the vyper defensive end depth chart. Prior to the Gator Bowl to end the 2022 season, Botelho played more than 20 defensive snaps just twice in Notre Dame career and both games came in 2021 against run-heavy Wisconsin and Navy.
Yet in limited action in 2022, Botelho managed to make an impact. He played more than 12 defensive snaps in only five games prior to the Gator Bowl, in which he played 48, and still ended the season second on the team in sacks (4.5) and third on the team tackles for loss (6.5).
"He's been ready for a big role pretty much since he stepped on campus," Foskey said last week. "Jordan Botelho's my guy. He's very versatile in pass rush, he can stop the run and he's really a menace to every single offensive line. He's really aggressive at the point of attack, and he can just dominate any tackle that he goes against."
Foskey felt that Botelho hasn't been receiving enough hype from reporters, so he helped fuel the fire with his own praise.
"I feel like it's his speed, burst, his aggressiveness," Foskey said of Botelho's best traits. "That's one thing that he hangs his hat on, you can never stop his aggressiveness. He's relentless to the ball. He always wants to get the ball. He just loves the game of football."
Each year at the NFL Combine, prospects tend to get asked about who will be the next breakout player at their school or who isn't getting enough attention. Former Notre Dame offensive lineman Jarrett Patterson pointed to the man he lined up next to last season: center Zeke Correll.
"He's going to have a huge year this year," Patterson said.
Patterson should know what Correll can handle after playing alongside him and previously starting at center for the majority of three seasons. Last season was Correll's first as the full-time starter at center. The experience is a big reason why Patterson has confidence in Correll.
"I expect him to pretty much lead those guys as a fifth-year senior," Patterson said. "I know he's going to take it super serious knowing that it's his fifth year at Notre Dame. I expect him to be locked in. I can just sense it."
Patterson opted to be much less bold when asked about who would end up in the two starting guard spots. Any number of offensive linemen, including Andrew Kristofic, Michael Carmody, Tosh Baker, Rocco Spindler, Pat Coogan, Billy Schrauth and Ashton Craig, could be vying for the roles.
"I don't know, because I'm not around, but it's definitely going to be a competitive battle," Patterson said. "Knowing the guys they have there, it's going to be a really competitive battle this spring and summer heading into fall camp."
Former Notre Dame safety Brandon Joseph didn't exactly pick a surprising name when asked about a young player ready to step up in the secondary. He named freshman All-America cornerback Benjamin Morrison, who intercepted six passes in 2022.
"He's a lockdown corner," Joseph said. "He immediately made his presence felt when he got there. Then he has the ability to go turn his head around and go grab that ball too."
In spring practice, which begins March 22, Morrison will be tasked with blanketing Notre Dame's own wide receivers. Joseph had thoughts on who would emerge at that position group, too.
"Tobias Merriweather," Joseph said. "He's going to be a super good receiver for Notre Dame."
Merriweather caught just one pass for a 41-yard touchdown against Stanford as a freshman last year. He missed the final three regular season games recovering from a concussion.