{{ timeAgo('2023-03-01 09:05:22 -0600') }}
football
Edit
What new QBs coach Gino Guidugli is bringing to Notre Dame
In the waning months of an NFL dream that Gino Guidulgi elongated by hopscotching on pro football's backroads, he helped subsidize it all by picking up work in the offseason as substitute teacher.
Turns out he was a natural.
And the skill has proven extremely transferable as he transitioned into college football coaching, with the latest milestone in his 14-year career being officially anointed Wednesday as Notre Dame's new quarterbacks coach.
"One of his greatest strengths is the ability to take complex concepts and break them down into their simplest form," offered Michigan defensive analyst Rick Minter, a former two-time defensive coordinator at Notre Dame who recruited Guidugli to Cincinnati out of high school (2001) when Minter was the Bearcats' head coach.
"But he's so much more than that. He can recruit. He's got offensive coordinator experience, so he can influence a game plan. He's moving up to a bigger stage, and I think he's ready for that. Notre Dame is getting something special."
The soon-to-be 40-year-old succeeds Tommy Rees, Notre Dame's longest tenured quarterbacks coach at Notre Dame in almost half a century — since Tom Pagna's 11-year run coaching QBs and running backs during the entirety of coaching icon Ara Parseghian's reign (1964-74).
Rees, a former Irish QB himself, spent six seasons coaching QBs at ND under Brian Kelly and current head coach Marcus Freeman, with the final three seasons doubling as offensive coordinator.
The 30-year-old joined Nick Saban's staff in the same dual roles at Alabama in early February.
Guidugli comes to Notre Dame from Wisconsin, where his stay there lasted just weeks. Following the 2022 season, he had followed head coach Luke Fickell there from Cincinnati, where Guidugli spent the past six seasons — the most recent having the role of offensive coordinator added to his QB-coaching duties.
At Wisconsin, he would have been passing game coordinator and tight ends coach, with Fickell having poached elite offensive coordinator Phil Longo from North Carolina to run the Badgers' offense.
"We are thrilled to welcome Gino to our program," Freeman said. "I have seen firsthand his talent in developing quarterbacks and teaching them how to consistently perform at an elite level in college and go on to have success in the NFL. He also brings a lot of experience in helping guide an offense to execute at a high level. He is a great addition to our staff."
Conceptually, Freeman knows what he wants Notre Dame's offense to look like in 2023 and beyond. And given that second-year running backs coach Deland McCullough and second-year wide receivers coach Chansi Stuckey share offensive staff seniority with recently promoted tight ends coach Gerad Parker to offensive coordinator, how that evolves will be completely devoid of any residue from the Brian Kelly Era.
Not that there aren't concepts worth revisiting from Kelly or Rees.
Parker invites and expects input from the entire offensive staff, including new offensive line coach Joe Rudolph. Rudolph has yet to be officially named, thanks to Notre Dame's protracted vetting process that took more than two weeks for Guidugli to pass through.
Rudolph brings nine years of offensive coordinator experience along with a long track record of developing elite offensive linemen.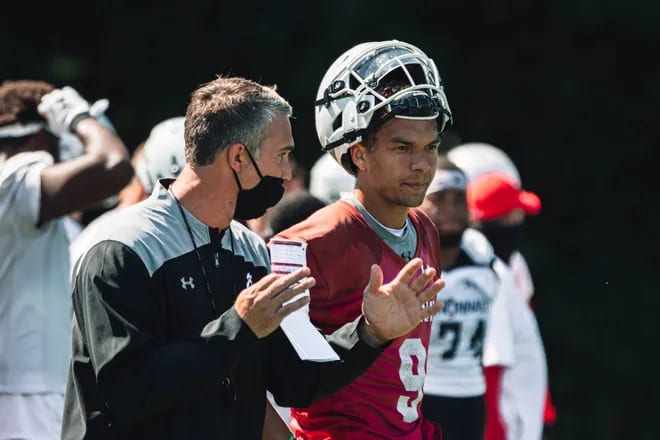 "This offense moving forward is a collaborative effort, but it certainly falls on my name first," Parker said at his Feb. 20 introductory press conference. "As coach Freeman said, we see this as our structure, and the shell looking very familiar to a lot of things within the organization. By formation. By the way we line up. By the way we get things going in and out of the huddle.
"Those things will look similar, and to adjust and grow is one of our golden standard things. We'll do that. We'll find ways to make sure it fits what we do. But also there's ways we can enhance what we're doing and take a step in our passing game or our run phase or how we operate against how highly loaded boxes in the run game and all those things will come up.
"I think the motivation moving forward will be what can our players do best? And how do we make the ball go forward and gain yards and score points? If the answer to that question is yes with any scheme we broach, then we're going to do it. If the answer collaboratively is no or it's too much, then we'll dump it."
Guidugli brings familiar concepts to what Notre Dame has been running from his coaching days and knowledge of some not used by ND from his playing days.
"He was in a very good high school football program over at Highlands High School in northern Kentucky (Fort Thomas)," Minter said. "Dale Mueller was his coach at that time. They ran a very wide-open shotgun, type of offense. In fact, Gino lived in the shotgun probably every snap of high school.
"When we signed him, that was pretty much our style of offense. He's very savvy about the passing game. So he still has that in his back pocket whether you're building an offense from scratch or looking for some new wrinkles to make it more dynamic."
He left UC as the most prolific passer in school history and remained so until he developed a two-star prospect, Desmond Ridder, into an NFL third-round draft choice with Ridder breaking Guidugli's records along the way.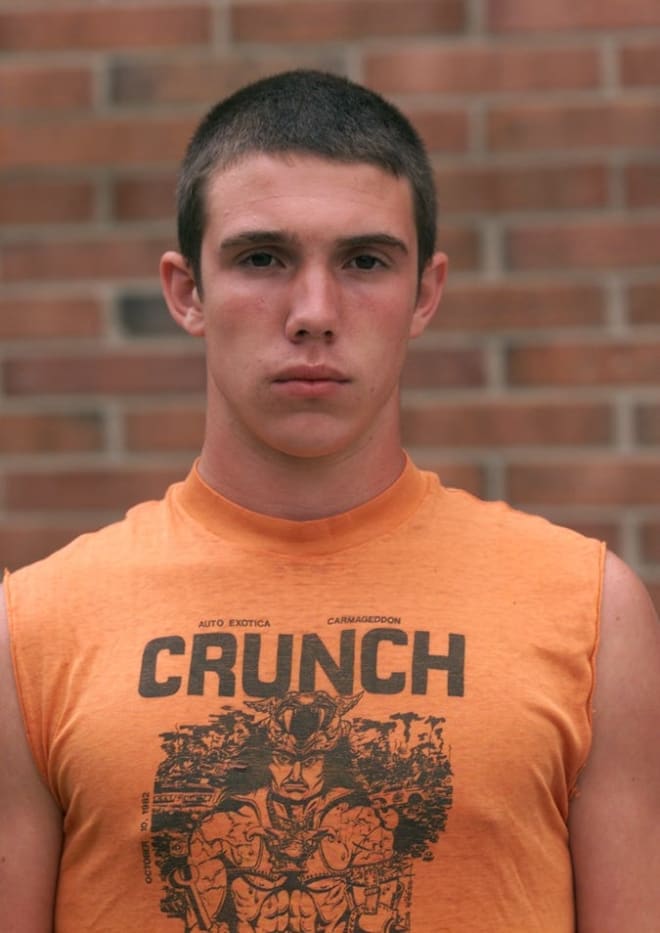 Guidugli, a four-star prospect himself, was set to sign with Hal Mumme's Kentucky team and immerse himself into the "Air Raid" offense, but Mumme was fired just ahead of national signing day in 2001 and Minter convinced him to protract his decision-making process beyond signing day.
Mississippi State, LSU, Harvard and Notre Dame were among the other schools on his offer list. But weeks after turning away Kentucky, Guidugli signed with UC.
"I don't think we got him signed until close to April 1," Minter said. "It was almost at the expiration of the national letter dates. He ended up coming, and I don't think he ever regretted it. He's a home-grown guy. His family is a rather rambunctious family and he's the oldest of four brothers."
Rambunctious as in an overabundance of broken furniture and compromised drywall growing up.
"Rambunctious, but all athletic," Minter added. "Gino might be the best quarterback, suited up, on a lot of campuses. I'm serious. As recently as a few years ago, I used to go down and visit Luke Fickell down there at Camp High Ground.
"They would be doing their preseason training. And every now and then, Gino would get out there and throw balls to the guys and everything. Let me tell you, he could still wing it."
Beginning March 22 with the first day of spring practice, Guidugli will get more than occasional glimpses at how well Wake Forest transfer Sam Hartman can wing it. And three-game starter Tyler Buchner, sophomore Steve Angeli, early enrolled freshman Kenny Minchey and junior Ron Powlus III.
CJ Carr, ND's elite QB commit in the 2024 class, will likely come down from Saline, Mich., to take in some spring practices as well.
"One of the biggest mysteries to me is how Gino never really got the chance to stick with an NFL team as a No. 3 quarterback and work his way up," Minter said. "He ends up playing the Canadian league and the Arena leagues for a long time, but I think he was a lot better than some guys who got better opportunities than he did.
"I guess it all works out. He's doing what he loves and what he's very good at now. And Notre Dame is going to benefit from that."