Weekend Visitors Preview: Jan. 20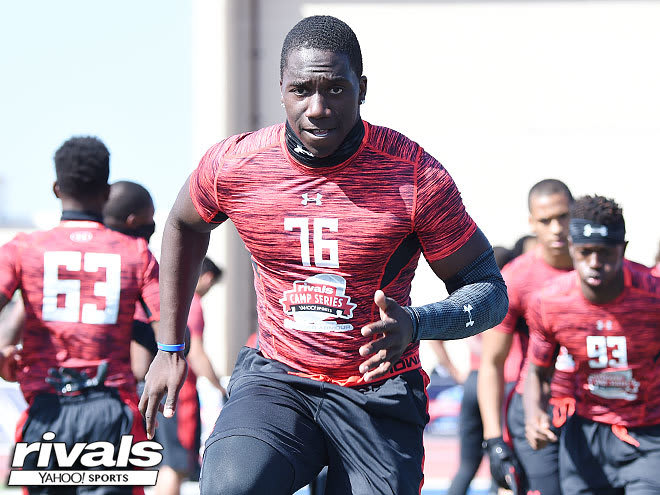 Get a FREE 30-day trial using promo code BGI30
The final push to National Signing Day is on, and Notre Dame is in hot pursuit of several prospects to finish out the 2017 class.
The first step toward a strong finish will be taken this weekend, with the Notre Dame staff hosting eight prospects. Three of them (Drew White, David Adams and Kurt Hinish) are already committed to the Irish. The other five will need some convincing.
Here's a look at all the prospects scheduled to be on campus this weekend and where things stand with Notre Dame with National Signing Day approaching.
OFFICIAL VISITORS
The Skinny: Fields was offered by Notre Dame Dec. 8, and things with the Irish have picked up quickly from there. He has Notre Dame listed in his final six, but sources have indicated to BGI that Notre Dame is near the top of that list. Both recruiting coordinator Mike Elston and defensive coordinator Mike Elko visited Fields in Oklahoma since the dead period ended. He has visited Arizona State and UCLA, and South Bend will be his final trip before announcing his decision Jan. 30.
Bryan Driskell's Take: Fields is a really impressive safety on film, with a skill set and offer list that surpasses his rankings. The Midwest City standout is rangy and a ball hawk, finishing his senior season with 11 passes broken up and three picks. He is ideally suited for the deep safety position in the Notre Dame defense, possessing the ability to play center field and to handle himself in man coverage, plus he's sound enough in the run game to come down and play the run effectively. He finished his senior season with 81 tackles. He is a fluid athlete with quick feet and extremely loose hips. He changes direction with ease and makes fast breaks on the ball.
The Skinny: Things between Notre Dame and Norwood have moved along quickly since he was offered Jan. 10. Two days after receiving the Irish offer, he backed off his pledge to Louisville, which happened to be the same day Notre Dame defensive backs coach Todd Lyght visited him. Elko stopped by Jan. 16 to see Norwood in person. Notre Dame is making a hard push for him, and the Irish certainly have to feel good about their chances. Since his decommitment, he has landed offers from Oklahoma, Tennessee and Oklahoma State, and could take an official to one of those programs during the final weekend of the contact period.
Driskell's Take: It's hard not to think of former Notre Dame starting cornerback Cole Luke when you watch Norwood's film. Like Luke, Norwood is not a burner and lacks elite speed, but he is extremely athletic. He possesses exceptional foot quickness and fluidity. Everything he does on the football field looks easy, and his ability to flip his hips and accelerate is outstanding. Norwood's instincts in coverage are good. He reads routes well and plays the ball effectively. His footwork is inconsistent and must be improved, but he can get away with it at the prep level. He is a willing tackler, but he's thin and needs to add weight and strength. Once that comes, his game will take off.
The Skinny: Yeast is the newest name in the weekend visitor list. The in-state athlete was offered by the Irish on Wednesday evening, and he quickly set up a date to make a visit to South Bend. He first committed to Kentucky in July 2015, but decommitted a year later. He then committed to Louisville in late October 2016 after taking officials to Auburn, Iowa and Louisville. The Cardinals were looking at Yeast as a defensive back, but the recent staff shake up has him open to other programs. According to his head coach Eric Moore, Yeast is looking forward to the visit and Notre Dame is a program his star athlete has been interested in.
Driskell's Take: The first time I saw Russ Yeast was at the 2015 Irish Invasion. Despite a deep group of talented defensive backs, Yeast worked himself open for catches rep after rep after rep. He has shown moments of dominance as a defensive back, wide receiver and a running back in high school. He rushed for 1,525 yards and 19 touchdowns as a senior, but when Indianapolis Cathedral shut him down in the run game (13 carries for 29 yards), he ripped off 212 receiving yards and five touchdown receptions in a 44-41 victory. Yeast has good speed, but he is not a burner. What he has is elite foot quickness, which he knows how to use as a cornerback or with the ball in his hands. He shows good instincts in coverage, but he does his best work when the ball is in his hands. He isn't the biggest guy, checking in this summer at 5-10½ and 178 pounds, but he is built well and not afraid to hit.
The Skinny: Genmark-Heath was offered by Notre Dame Jan. 11, and will arrive on campus for his official visit just nine days later. He committed to Cal Oct. 2 and has not taken any other visits, but the Jan. 8 firing of head coach Sonny Dykes has caused him to reconsider his decision. Genmark-Heath seems genuinely interested in Notre Dame, but the new regime at Cal isn't going to go down without a fight. New Bears head coach Justin Wilcox stopped by for an in-home visit on Tuesday.
Driskell's Take: With Elko in charge, Notre Dame needs to find players that fit in well at the deep safety and Rover positions. Genmark-Heath fits in well at both spots in the Irish defensive system. He is already 6-2 and 205 pounds, but his frame is such that he could easily get up to 220-plus pounds with good strength, which would be ideal for him to come down near the line of scrimmage in the Rover position. He is a smooth athlete that is light on his feet, has impressive body control and shows good leaping ability. Genmark-Heath is a smart football player and a physical run defender, which combined with his range and potential for increased speed could help him project as a deep safety as well.
The Skinny: Wardlow was offered a scholarship Jan. 18, and he set up an official visit to South Bend the same day. The three-star end committed to Maryland Dec. 17, a week after he made an official visit to College Park. He also visited Michigan State and Pittsburgh, and has a visit to Boston College set up for the weekend of Jan. 26-28. Elko traveled to Washington, D.C., last week to make a face-to-face appearance with Wardlow, and Elston stopped by Jan. 18. The visit of two Notre Dame coaches in a week says a lot about the staff's desire to flip the Terrapin commit.
Driskell's Take: Wardlow is just scratching the surface of his ability. He is a well-built defensive end at 6-3 and 230 pounds, but there is still plenty of room to add weight and strength. He has above-average arm length and strong hands, traits that should help him handle himself against the run once he develops. He is asked to read and react more than most ends, so his get off isn't always ideal. When he does stay low out of his stance, and when he is allowed to come off the line to attack, Wardlow shows the burst needed to rush off the edge. He's a fluid athlete that changes direction with relative ease, which combined with his hand strength should allow him to develop a nice repertoire of moves in the pass game. He also shows impressive closing speed.
NOTRE DAME COMMITS
The Skinny: Adams committed to Notre Dame last March and has not wavered on his pledge. While many of the Irish commits made their way to South Bend during the Echoes banquet on the weekend of Dec. 9 for their officials, Adams was unable to attend because he and Central Catholic were playing in the Class 6A state championship game Dec. 10. He was last in South Bend Sept. 17 for the Michigan State game. He was selected to play in the Under Armour All-America Game.
The Skinny: Like Adams, Hinish could not make his official Dec. 9 because of the state championship game. Adams and Hinish both committed to Notre Dame in March following a Junior Day visit. Hinish took an unofficial to Notre Dame Oct. 15 for the Stanford game. Despite heat from Penn State, he has not wavered on his commitment to Notre Dame.
The Skinny: White was unable to make his official visit during the season due to Fort Lauderdale (Fla.) St. Thomas Aquinas making a run to the Class 7A state championship. It was the third straight state crown for the Raiders. He was last in South Bend Sept. 17 for an unofficial visit during the Michigan State game.