Vanderdoes wont enroll at ND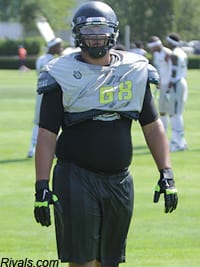 That doesn't mean the former five-star prospect will play for UCLA this fall.
On Tuesday, Vanderdoes said in a statement that he'll enroll at UCLA, which the Pac-12 University confirmed and head coach Jim Mora trumpeted on Twitter in welcoming the national prospect to the "Bruins family."
However, Vanderdoes entered uncertain territory regarding his eligibility as Notre Dame has not released him from his signed National Letter of Intent. It doesn't appear that the University will.
"Eddie Vanderdoes will not be attending the University of Notre Dame," said Notre Dame head coach Brian Kelly in a statement. "We did not release him from his national letter of intent in order to protect the integrity of that very important program, but we have worked with the Vanderdoes family so that Eddie can continue his education this fall at a school closer to his home. We understand Eddie's interest in remaining closer to his family and wish him well."

Vanderdoes committed and signed with Notre Dame on National Signing Day, becoming the final piece of Kelly's best recruiting class.
Vanderdoes experienced an apparent change of heart over the past few months, although a source told Irish Illustrated that whatever change in Vanderdoes' intentions occurred, it didn't hinge on admission to Notre Dame. Vanderdoes had been cleared to enroll at Notre Dame later this month with the rest of his class. That is significant because if Vanderdoes couldn't gain admission to Notre Dame, his signed National Letter of Intent would have been voided, granting him an automatic free release to sign with another school of his choosing.
"I would like to thank the University of Notre Dame for lifting the recruiting ban and allowing me to sign an athletic scholarship with UCLA," Vanderdoes told multiple media outlets. "Over the past four months, circumstances have changed for me and my family. For very personal reasons, I feel a strong need to remain close to home and be near those who are most important in my life.
"I am honored and humbled that Note Dame thought enough of me as a person and a football player to offer me a scholarship. They have been very gracious to recognize not only how difficult a decision this was, but also how important it was for me to be near my family at this time. I take my commitments seriously, but as circumstances changed, the most important commitment is the one made to family."
Without a release, Vanderdoes could lose a year of eligibility.
Regardless of his future, the loss of Vanderdoes costs Notre Dame a key piece in its defensive line puzzle. The U.S. Army All-American figured to back up Stephon Tuitt or Louis Nix next year, with the versatility to play either position. The Irish will still enroll Isaac Rochell and Jacob Matuska along the defensive line this month.
The Vanderdoes saga marks a bizarre recruiting story by any standard as Kelly spoke just last week about his belief Vanderdoes would arrive in South Bend this summer.
On the West Coast, Vanderdoes' off-season trainer Jon Osterhout told Irish Illustrated that he had no "inkling" of his client looking to get out of his letter of intent just days before the story broke.
Yet Osterhout's position coach in college was actually Angus McClure, who was Vanderdoes' primary recruiter from UCLA. Osterhout played for McClure for three seasons, then worked on the Sacramento State staff with the current Bruins assistant for the next four years.