Transcript of Notre Dame AD Jack Swarbrick's university-hosted live chat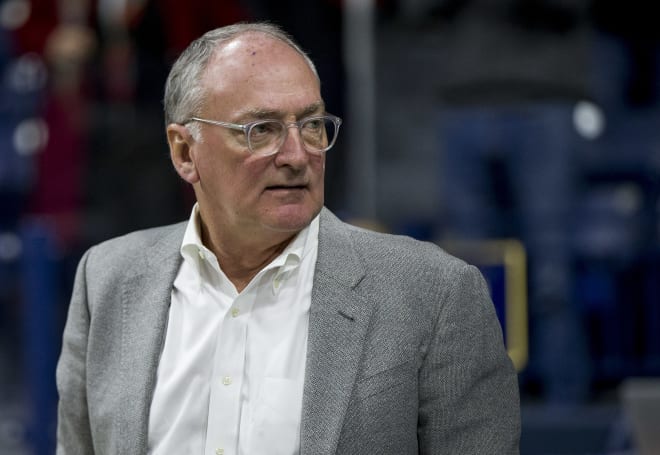 Notre Dame held a roughly 35-minute live chat with Irish athletic director Jack Swarbrick on Thursday afternoon. Questions came from Notre Dame vice president for university relations Lou Nanni, who moderated the event, and were also submitted from viewers. Here is the transcript. Some of the questions were modified for length.
Q: There's been a lot of noise about the offensive coordinator search. Can you say a little bit about your takeaways about new coordinator, Gerad Parker, and how do you feel about the future of the program, and particularly the offense?
JS: "First of all, let me say I certainly understand sort of the passion that surrounded perceptions of the process. That's what drives Notre Dame athletics. It never bothers me. I embrace that. The hardest job an athletic director can have is to try to generate passion for a program. So, we love that.
"I thought (head coach) Marcus (Freeman) did a great job in his comments at the press conference, sort of trying to address the misinformation and the issues that had come out. He ran a great process and screened three candidates. And I love where we wound up. That's not to say the other two weren't highly qualified and would not have been good fits at Notre Dame. That's not the case.
"As he said in his press conference, they made decisions for personal reasons, and we honor that and have no issues at all with that. That this took us to coach (Gerad) Parker is, for many of us, a really great result. He understands the program. It results in us being able to move forward with the same terminology, an issue which is really big in terms of implementing game plans and offensive and defensive schemes.
"He understands the personnel. He is so well liked, and so well regarded in the building. And he's got a great relationship with Marcus. I think all of that gives us an opportunity to be able to look back on this process and his selection and feel great about it."
Q: What have you learned about Marcus Freeman after one year that you didn't know when you appointed him a year ago?
JS: "Well, you never know, you can't know for certain how someone will handle adversity. I always say I learned virtually nothing about our coaches when things are going well. But you learn a ton when you face adversity. And the Marshall game for me, was so insightful as to who he is as a coach. Bad result, terrible result. And everyone could not have been more disappointed.
"But his leadership and the next 24 hours was spectacular, both with the staff and then with the players. And I'll never forget his message to the coaches, which was, 'If you're different on Monday than you were on Friday, you're going to lose the student-athletes. They need to have confidence in you and our approach.'
"And so, we're going to go back to work but not change who we are or what we do. And then he said something which I loved, I think it got public attention, too. He said, 'You can't look at this game and say the issue was the player performance. You have to look at it and say the issue was our teaching of the players.' And that was a great message to everyone that we, as the adults in the program, accept the responsibility.
"What I've learned beyond that is he is among the most direct communicators I've ever worked with. I never leave a conversation with him with any doubt about his position, what he believes, what he would like to see happen. And that makes for such a great working relationship, because then my job is to make sure I'm helping him implement those things that are important to him."
Q: Marcus Freeman is such a visible representative of the university, and there's few people that the closer you look, the better they get. He embodies the values of this university and all that Notre Dame stands for as well as any coach or representative throughout the university that I've ever met. What does that mean to the program and everybody who's involved?
JS: "Fit is everything here. You have to embrace what makes Notre Dame Notre Dame, and not because it's a strategy, but because of who you are. And if you don't believe in it, if you're not really committed to the values of this place, it's a tough place to be, a hard place to work or be a student. But when you do, there's nothing like it in the world. It's such a special experience. And Marcus is an example of that.
"He loves every day here. He loves the people he works with. He provides great leadership. But all that is just sort of fundamental to his DNA. He's not becoming somebody else, because he's at Notre Dame. He's demonstrating who he is is a perfect fit with Notre Dame."
Q: In your 15 years as athletic director, I don't know if there's been a greater rush to change on so many different fronts as you've experienced in the last year or two. … When you look at this mess that is NIL (name, image, likeness), it's born of good intentions, but it seems like things have gone askew. Where do you see things moving and what hope do you have for a better resolution going forward?
JS: "Askew is a kind description. First of all, many people have heard me say before, we were the earliest proponents of name, image and likeness. In a 2015 story in The New York Times, (university president) Father John (Jenkins) advocated for extending name, image and likeness rights to student-athletes, because every other student at Notre Dame had those rights. And that has always been our position.
"We could have never foreseen that reality coming to fruition with no rules in place, no guidelines, no guidance. And so, it quickly spun out of control. And stories like the one you've told are all too common. While, yes, there's money changing hands and some people are benefiting from that, there are a lot of sad stories coming out of this too, because of the lack of any guidance or regulation. We understand the importance of NIL. We understand it's part of the discussion we'll have with prospective student-athletes and current student-athletes. And we're fully engaged.
"We have four employees that are now full-time name, image and likeness staff for us and have various functions that they do. We're helping to build marketplaces to create opportunities for our student-athletes. We engage in education about it. We try and encourage people to take a look at ways they can work with our student-athletes. And, importantly, and really a hallmark of this has been our ability to work closely with Brady Quinn.
"Brady's creation of what is referred to as the FUND, Friends of the University of Notre Dame, we will never be able to thank Brady enough for what he has done out of just the goodness of his heart and his concern for Notre Dame to build this fund, a collective in the regular parlance, that fits with what Notre Dame wants to do.
"It wants to see an entity like this collect the resources to make opportunities available to our student-athletes, but real opportunities. In this case, there are opportunities to be involved in promoting and marketing charitable enterprises that could never do that otherwise. They can't advertise. They don't have the resources.
"And so, this connection gets made. Our student-athletes engage with those entities, The FUND makes a payment available to them for that service. So it's very Notre Dame-like. I encourage anyone who has an interest to take a look at the FUND. And if you run into Brady, to thank him because his service has been pretty extraordinary here."
Q: So you're pretty much supportive of having the Notre Dame fan base support collectives like the FUND, to make a financial contribution if that's something that they're passionate about?
JS: "Absolutely. And especially the FUND, because of my confidence in how it operates. Anybody can set something up and say it's affiliated with Notre Dame, and we don't have any control over it. This one is working so well. Look, we're trying to win national championships. We understand that we have to be in a position where student-athletes view this as a sort of opportunity they want, and NIL is part of that.
"At the same time, none of the other obligations go away. So, I hope we will have a lot of people who continue to support us through The Rockne Fun and Jesse Harper Council, Director's Circle — great giving societies that you (Nanni) have set up. And we hope people will make gifts to support capital projects.
"We have to stay current in those as well. Lastly, our long-term strategy in success depends on endowing coaching positions and scholarships. And your team has done a great job of getting more and more of that done. So, when I'm the James E. Rohr Director of Athletics, it means that a very generous donor, in this case Jim Rohr, stepped forward to endow the position."
Q: How would you say NIL is being implemented at Notre Dame in a distinctively Notre Dame way?
JS: "Well, it starts with trying to make sure it extends to as many interested student-athletes as possible. So, at this point, 40 percent of our student-athletes — that's a complement of about 725 students — 40 percent of that total, have engaged in NIL activity. Some number of student-athletes don't have an interest in it. They are so pressed for time that when we bring an opportunity or refer them to somebody, they'll sometimes say 'No, thanks. I don't want to do that.'
"But what we want to do is ensure that they are true transactions, not pay for play. We're just not going to go there. We don't need to go there. But true transactions in which the student-athlete engages in something, does something, lends their name, lends their image. But importantly, as you point out, lends their ideas, lends their intellectual firepower.
"Some of our most interesting NIL opportunities right now surround the launching of businesses, where a young person has an idea of patentable technology or a new company and we have a way to help them develop that as well as decide to do a photo shoot for somebody."
Q: Has Notre Dame supported the independent Notre Dame Football Medical Research Project and what role is ND playing in it?
JS: "This is such an exciting development. On their own initiative, Ed (Ziegler) and other former football players, created an opportunity through Boston University to conduct research on the health experience of former Notre Dame football players. And the first phase of that study was completed last year, had a lot of very interesting findings that illuminate some of the issues that former football players have, some of the ways, frankly, in which they fare better than the average person.
"But all of it, really interesting, exceptionally well done. Boston University. And again, couldn't be prouder of the fact that Notre Dame's football alums have done this on their own initiative. We fully support it. We have taken the opportunity, I think I found five separate occasions where we published things about it. We use our communication to the legacy network, former football players, to call attention to it.
"We have passed the Friends of Notre Dame Football materials out at gatherings of alums. There are two ways in which we haven't and can't support it. The first is we can't specifically endorse the research. We didn't participate in it. Our researchers weren't part of it. So, while we can call attention to it, we can't directly be involved, put our name on it, for example.
"The second is — it's a policy from a university perspective — we don't share a mailing list either directly or indirectly. We don't give it to somebody, nor do we invite somebody to give us materials that we'll send to them. And so, those have been the only limitations. I know there's a perception among some that we're not supportive. And that just isn't true.
"I'm very proud that many of my classmates are involved in this. And I think it's producing great results. It's the second phase now where they want to gather more data for more football alums, and I hope it's successful."
Q: The NBC contract for Notre Dame football expires in 2025. What is your goal for the new deal?
JS: "Well, the first goal is — we're talking to NBC, because we have an opportunity to do that right now — but what we need from our media partner, that NBC has done so well historically, is to A) broadcast us nationally. Every game. And, B) give us an opportunity to promote Notre Dame. 'What would you fight for?' ads are a great example. No one else is getting 90-second PSAs.
"The opportunity to just see campus and the way they cover our games, and helps people understand more about Notre Dame. So, that's No. 1, a sort of committed partner to our message and in conveying about Notre Dame.
"Secondly, we need the financial resources to compete with the schools in the Big 10 and the SEC. And that's a given here, that as we enter into new negotiations, we have a very specific goal of making sure we reach those levels, because we want to compete."
Q: When you look at the climate, do you feel encouraged by how these discussions might play out?
JS: "I am encouraged. I think that one of the reasons to be encouraged is that everybody who does a broadcast agreement today — the NFL or anybody — understands that part of their inventory will be streamed as opposed to carried on regular television. And NBC with Peacock is a great streaming partner.
"And so, we found that out with the games we've done already, and we look forward to continuing to work with Peacock, but you have to have that component. So, they have it. And we have such a long relationship. It goes back so long. And it's so important to both companies.
"And then lastly, I feel especially good with their Big 10 partnership, because we are better if they have more college football inventory. There'll be cross promotion, and it'll create a better environment. As opposed to being very limited football inventory on NBC, we're now part of a much larger package."
Q: What is the latest on conference realignment and Notre Dame's independence versus joining a conference?
JS: "Well, there's a lot of attention right now on the Pac 12's media rights discussion. And a lot of speculation that if that doesn't go well, there may be another phase of realignment here perhaps with some PAC 12 schools moving elsewhere. I don't know if that's the case. But it is a very hot topic right now. There's a lot of speculation surrounding it.
"I've never felt better about our independent status, both its value to the university and our ability to maintain it. The expansion to College Football Playoff, 12-team playoff with six at-large positions, gives us a fair opportunity to get into the postseason.
"The opportunity to have a committed broadcast partner, like I just discussed, gives us an opportunity to stay independent. And finally, the question of whether we can build the schedules we need to build. And that has never been an issue, and it's not now. I've yet to place a phone call to a colleague and asked if they were interested in playing, where they didn't say yes. So, we have all the ingredients. Frankly, it's a great time to be independent, and we're going to take full advantage of it."
Q: With the new playoff format, there's a chance Notre Dame would be playing home football games in the third week of December. What would you have to do to get Notre Dame ready?
JS: "You know, we have some experience. We hosted the Winter Classic, for example, the NHL. We learned a lot from that. But it starts with the playing surface. We'd have to heat the playing surface to ensure it was adequately safe for the participants. Most of the rest of what we have to focus on relates to mechanical issues, if you will.
"Make sure concession stands can be opened without pipes freezing, and restrooms. And so, there'll be a lot of that sort of work which will be required. The rest of it, we're in good shape."
Q: Why would our partner, the ACC, go two years scheduling byes before football games with Notre Dame?
JS: "We all control our byes. Though, if you're in a conference, you're identifying for the conference your preferences, we control ours. I mean, you go back and look over the schedules in the past 15 years, you'd probably have USC say, 'How come Notre Dame always gets to schedule a bye before we visit them?'
"So, it's less the conference then the schools making individual choices based on what they anticipate the schedule being. A lot of us schedule the bye around fall break. Students aren't on campus. I don't doubt that people were seeking a competitive advantage when they placed the bye the week before they played us. But this year, we don't have that challenge that for the most part.
"Every one of our opponents has a game the week before. So, we have the same opportunity other schools do. I don't have any problem with it. And in fact, I think this year is indicative that we'll see less of it in the future."
Q: Any word on the men's basketball head coach search? Do you think we can attract a great candidate?
JS: "I do. I'm in the middle of it right now. It's a little challenging to be engaged in the search during the season. And so, I'm careful not to be distracting other coaches. I'm talking to agents principally or friends of these coaches that we have an interest in. So, (it) takes a little more time when you're doing it this window, but we've made great progress.
"The simple answer to the question is we can absolutely attract a great coach. We have great facilities. I think our practice facility is the best in the country. We have a perfect arena. The ACC is a great conference, a great basketball conference, and I think a conference with some potential opportunity.
"As coach K's moved on and coach Williams and eventually some other coaches in a conference, I think there's a chance to build your position in the ACC. And, of course, the school represents everything a lot of coaches are looking for.
"So, I'm absolutely certain we're going to be able to attract a really good coach, and we'll need one, because we're replacing the winningest coach in Notre Dame basketball history and a guy I have loved working with during my time here."
Q: The offensive line opening, is that the one that's still in play with football? And do you feel there could be really good candidates?
JS: 'Yeah, I feel really good. Three sort of first-tier candidates have been identified. And we'll see how that process goes. But really encouraged by the quality of those candidates. And that's a process that I think will move fairly quickly.
"Although less attention is drawn to it, we're also going to look for a person to sort of lead the whole personnel side of the player process — recruiting, development — sort of a general manager for roster purposes. (It's a new role.) It'll help bring a lot of different pieces together that sort of aren't necessarily connected as well as they should be right now."
Q: Would the NIL people report to this new person?
JS: "No, but they'll be an important conduit for it. They'll be a real resource inside the building. Dave Peloquin is one of the four employees I mentioned earlier and is the principal NIL liaison for the football team."
Q: It seems like so much of the news on the Division I level is moving in the wrong direction. Do you still feel bullish about college sports and especially college sports at Notre Dame?
JS: "Yes, I do, and I do because it's too good. It's too valuable to not not find a way forward. We were overdue for some of this change. And, frankly, we have nobody to blame but ourselves as the college sports industry in that it unfolded in such a messy way. But second only to the GI Bill, college athletics has allowed more people to attend college and gain a degree than anything else.
"The lessons learned — teamwork, leadership — that are part of the education you get in football or basketball or swimming or whatever are just amazing. I've used the example before, but when our student-athlete alums come back and visit with me, and I asked them, 'Who had the greatest influence on you in your time at Notre Dame?' I will almost always get a coach as the answer. And that's not to say they weren't greatly influenced by professors or their rectors or others.
"But that relationship with the coach for four years — five in some instances — is so important. So, long-winded way of saying it's too much good here to not continue. And the way it builds community for Notre Dame. Your efforts are enhanced by the fact that our family gathers seven times a year. So, we'll find a way forward.
"We've got a mess. We need help from a number of sources, but we'll get there. Our principal focus right now is to try and avoid a situation where our student-athletes are declared employees. We don't want them to be separated from the rest of the student body. We want them to be part of it. And we fear the designation of employees, which is being pursued in a number of legal actions, would undermine that."