{{ timeAgo('2021-07-22 12:03:37 -0500') }}
football
Edit
Tracking Notre Dame Athletes And Their NIL Deals
NCAA student-athletes earned the ability to profit off their names, images and likenesses July 1 after the NCAA passed interim national guidelines that struck down existing bylaws preventing the practice. In states without NIL laws that took effect July 1, individual schools were left to create their own rules.
Notre Dame has not yet released its own NIL guidelines or initiatives, though it is expected to this month, but its athletes have already begun striking deals. This tracker will be updated with Notre Dame athletes' announcements of NIL ventures.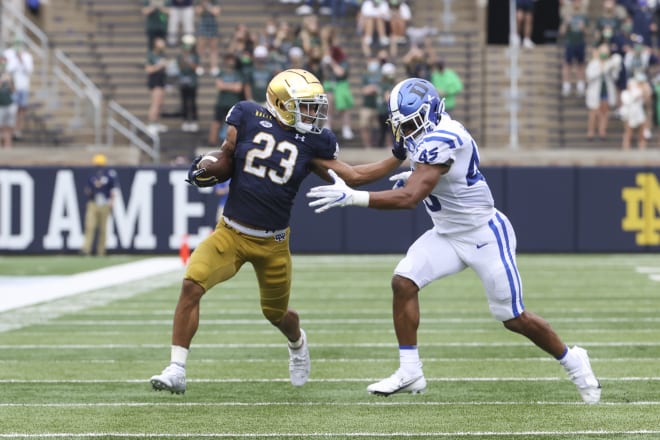 Hamilton Endorses Rhoback Apparel, Will Hold Training Session
Notre Dame junior safety Kyle Hamilton has signed with Rhoback Apparel, which makes performance dress shirts and polos. He will reportedly lead its Rhoback U program, which the company launched specifically to find college athlete brand ambassadors. It will pay athletes for first-time sales generated.
Hamilton also announced he is holding a camp and training session July 27 in South Bend for youth football players ages 8-17. With only 10 spots available, it's a personalized setting to work with and learn from an All-American. Spots are $90 each, meaning Hamilton can make $900 from the camp.
"The lesson will consist of a proper dynamic warm-up and stretching session, drills for fundamentals, and a competitive game that will help hone the athletes' skills and teach them what it takes to play at the D-1 level," the sign-up form reads.
Between these two ventures, his YOKE gaming partnership and his Cameo, Hamilton has been one of the most active Notre Dame athletes in securing NIL deals. That's hardly surprising considering his status as a projected top-10 pick in next year's draft, his visibility as an Irish football player and his social media following that is topped by only three of his teammates.
Ademilola Twins Sign With Vayner Sports
Notre Dame senior defensive linemen Jayson and Justin Ademilola have signed with VaynerSports agency as their representation, the company announced.
According to a report from Irish Sports Daily, the brothers have signed a five-figure deal to sponsor Six Star Pro Nutrition.
The twins were rotation members on Notre Dame's defensive line the last two years. Jayson is the projected starter at three-technique defensive tackle, while Justin looks to be the No. 2 "big end" behind fifth-year senior Myron Tagovailoa-Amosa.
Offensive Line Gets Local Food Sponsors
Notre Dame's offensive line is eating well because of two new deals.
The entire offensive line room has partnered with Jet's Pizza and Mission BBQ, various Irish players have announced. Both restaurants have South Bend-area locations.
Kyren Williams, Notre Dame's junior running back, has reportedly signed with Rosenhaus Sports agency. He ran for 1,125 yards and 13 touchdowns in 2020, his first season as Notre Dame's starter, and is considered a draftable prospect next year. He is also the most-followed Notre Dame athlete on social media.
Williams is on Cameo, an app that allows fans to pay people for personalized video messages. He has not yet announced any other partnerships.
Kyle Hamilton Reveals Logo
Hamilton has put out a personalized logo. Like Williams, he has joined Cameo. His father, Derrek, tweeted that clothing with the logo will be out soon. Hamilton is a projected top-10 pick in next year's NFL draft.
Notre Dame Athletes Partner With YOKE
Several Irish football players' first NIL venture supported an old teammate.
At midnight on July 1, right as NIL deals were allowed, Hamilton posted on his Instagram account he was partnering with YOKE gaming, an app that allows fans to pay to play video games against athletes. Former Notre Dame walk-on running back Mick Assaf started the company while he was in school.
Williams, Tagovailoa-Amosa, safety Houston Griffith, cornerback Clarence Lewis, defensive end Osita Ekwonu and Notre Dame women's basketball player Sam Brunelle joined Hamilton as YOKE athletes within 24 hours.
Linebacker Bo Bauer, wide receiver Braden Lenzy, wide receiver Xavier Watts and defensive end NaNa Osafo-Mensah tweeted July 9 they are endorsing YOKE and BODYARMOR sports drink. The two companies are partners.
Assaf tweeted July 1 YOKE had secured partnerships with more than 10,000 college athletes in the first 18 hours they were allowed.