Top-Ranked Player Samantha Brunelle Commits To Notre Dame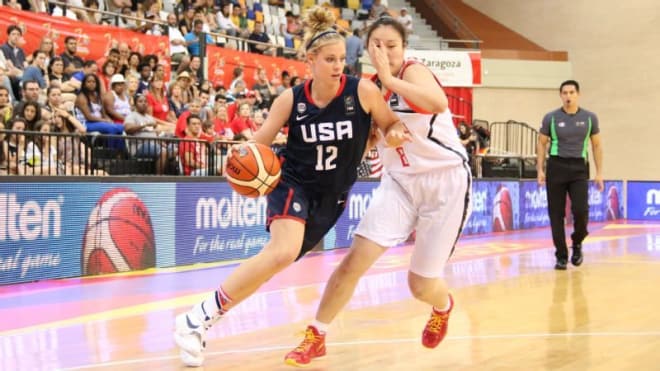 The surreal ride of Notre Dame's 2018 national championship program continued Sunday afternoon when espnW and Blue Star Basketball Report's No. 1-ranked player, 6-2 forward Samantha "Sam" Brunelle, gave her verbal commitment to the Fighting Irish.
Residing in Ruckersville, Va., Brunelle has been a starter at William Monroe High since day one of her freshman year when the budding basketball prodigy averaged 25 points, 17.3 rebounds and 2.9 blocked shots per game.
By her sophomore year she already was a USA-Today third-team All-American, and in her recently completed junior season she was Virginia's Gatorade Player of the Year while averaging 30.0 points, 15.6 rebounds, 3.5 assists, 3.0 blocks and 2.2 steals while leading a 23-2 campaign that ended in the Class 3 state quarterfinals.
Last fall she was a member of the USA Basketball Under-16 Women's National Team that won a gold meld at the 2017 FIBA Americas U16 Championship held in Argentina. Earlier this month she was named to the 2018 U.S. Youth Olympic Games Women's Basketball Team.
Her versatility and equal effectiveness in the post or along the perimeter have often elicited comparisons to her role model, WNBA all-star Elena Delle Donne, the 2015 League MVP. Brunelle's mother Katie was a Division III player at Bridgewater before becoming a high school coach, while father Rod played baseball at Grand Valley State and was drafted by the Philadelphia Phillies.
A National Honor Society member, Brunelle carries a 4.15 grade-point average (4.0 scale) in weighted classes, and her 2015-16 Future Business Leaders of America presentation was first in her district and third in the state. In her announcement at her high school, Brunelle explained her decision was based on factors beyond basketball, prior to revealing Notre Dame as her destination.
She stressed she wanted to be "where the coaches are passionate about their team, strive to be the best while having strong young ladies not only to play the game of basketball but to have an impact on the world. This decision is not just about tomorrow, not just about the next four years, it's about the next 40 years.
"I wondered how I would pick just one place, and at times was stressed about it," Brunelle continued. "Some of the best advice I received in this process was, 'Sam, when you find the right place, you will just know.' Now, I found the right place for me. There is rich history, a beautiful campus and a sense of community that was felt the moment I stepped on campus. I believe in the coaching staff, not only in their knowledge of the game but their dedication to the university and to their players.
"When faced with adversity, I watched this year's team come together and play harder. In my opinion, that's grit, good leadership and trust in each other. That's what I know and it's something I would like to be a part of."
With that, she stepped back from the microphone and unzipped a warm-up jacket that revealed a Notre Dame Basketball T-shirt and gave thanks for the blessing to be part of a new community following her senior year at William Monroe.
Over the past decade, head coach Muffet McGraw and her staff have landed numerous top-5 ranked or even a national player of the year by one outlet or another — Skylar Diggins, Jewell Loyd, Taya Reimer (transferred to Michigan State), Brianna Turner, Jessica Shepard, Jackie Young and Erin Boley (transferred to Oregon) — but Brunelle is the first to be ranked No. 1 by espnW. (Turner was No. 2 in 2014, behind South Carolina A'Ja Wilson, and Diggins No. 3 in 2009, with Brittney Griner No. 1).
With guards Arike Ogunbowale and Marina Mabrey plus forwards Shepard and Turner in their final seasons of eligibility in 2018-19, a superb recruiting class in 2019 is needed to keep future Fighting Irish national title aspirations in place as they have been for the past decade with six trips to the Final Four since 2011.
Prior to Brunelle, Notre Dame had already received a 2019 verbal last summer from 5-10 point guard Anaya Peoples of Danville, Ill. Peoples is ranked the No. 15 prospect overall by espnW (No. 3 at point guard), and No. 5 by Prospects Nation (where Brunelle is No. 4, but the No. 1 forward).
The Irish hope to land at least two more premier prospects in the 2019 haul. One of them could be 6-4 post Aliyah Boston, who plays for Worcester (Mass.) Academy and is ranked No. 11 by espnW and No. 16 by Prospects Nation. Brunelle and Boston were teammates who captured the 2018 USA Basketball 3x3 U18 national championship, and she has reportedly taken an unofficial visit already to Notre Dame.
Among other projected top-10 prospects the Irish are interested in are 6-1 Ohio Ms. Basketball Kierstan Bell, 6-1 California wing Haley Jones, 6-2 Illinois wing Breanna Beal and 6-3 Canadian star forward Laeticia Amihere.