{{ timeAgo('2020-10-17 18:52:43 -0500') }}
football
Edit
Top Notre Dame Players Against Louisville
The Fighting Irish players who performed the best on offense, defense and special teams in the 12-7 Notre Dame victory over Louisville.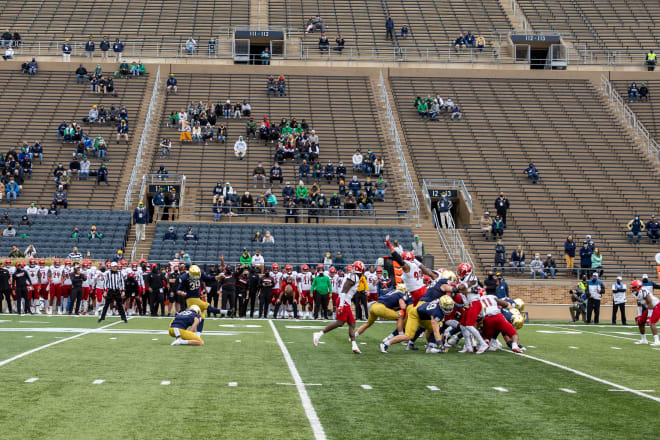 Offense: RB Kyren Williams
Running back Kyren Williams was an integral piece of Notre Dame's 12-7 victory over Louisville, as the Fighting Irish placed an emphasis on controlling the clock via its ground game.
The sophomore running back carried the ball 26 times against Louisville, rushing for 127 yards (5.1 yards per carry) and catching one pass for 5 yards. His production accounted for 39 percent of Notre Dame's total offense.
Defense: LB Jeremiah Owusu-Koramoah
From the start of the game, Notre Dame senior linebacker Jeremiah Owusu-Koramoah made it clear that he was one of the most athletic players on the field, and that continued to show it throughout the rest of the game.
He finished the contest with five tackles, two of which accounted for lost yards for Louisville.
Special Teams: K Jonathan Doerer
In a game where Notre Dame struggled to put points on the board, senior kicker Jonathan Doerer's two field goals proved vital in his team's five-point win over Louisville.
Both of his field goals came in the first half of the game, with the first coming from 32 yards and the second from 30 yards. He did not miss a field goal in the contest.