Top 15 Quotes On The Notre Dame Quarterback Decision
There was plenty of talk about the Notre Dame quarterback situation at media day Wednesday.
Here are the best quotes from coach Brian Kelly, quarterbacks DeShone Kizer and Malik Zaire, as well as offensive coordinator Mike Sanford.
----
1. Kelly on the difficulty of rotating two quarterbacks.
"It's never easy playing two quarterbacks. It's much easier just playing one. But we're in the business of winning and so if it's a little bit harder on us, then we can make that work, if the net is we win the football game. Yeah, there's no question that some people shy away from this kind of business in terms of playing, too, because it's easier to just play one. My job is to win, and my belief is playing both of them gives us a better chance to win.
2. Kelly on if he'd ever use both quarterbacks at the same time.
"Yeah, I would. I would definitely consider it."
3. Kizer on if he'd like to whittle the QB battle down to one.
"Absolutely. There's supposed to be one quarterback on the field at one time. I committed here and decided to play college football so I can be that one guy. When you decide to play this position, especially at this level, you have to have the desire to be the only guy out there. To truly take credit for all the good and all the bad that happens within the team, that's part of being the complete quarterback, and in order to do so I would love for it to be just me."
4. Kizer on if he'd like to be on the field at the same time as Zaire.
"Absolutely. Two dual-threat quarterbacks who can throw it, run it, catch it, kick it, whatever you want. If we can both be on the field that would be awesome."
5. Kizer on the QB battle and where he sees it going.
"Obviously we're both going to continue to compete and try and separate ourselves and see where the season takes us, but as of now what has been told to us is that we're both going to be on the field. We're going to have to somehow figure out a way to buy into that and try and win a big game."
6. Kizer on his initial reaction to the news.
"When something like this happens you quickly have a bunch of selfish thoughts about the situation. After a long conversation with my parents it was quickly understood that this is about something a lot bigger than who I am and what my aspirations are this season. This is about Notre Dame and winning football games and that's what I came here to do. With that, I completely trust in whatever is put out there and if it takes two quarterbacks being in a game to win a game, then I'm for it."
7. Kizer on Kelly's experience playing two quarterbacks.
"I believe this situation is a little different than any one he's ever been in, and I'm curious to see how he figures it out."
8. Zaire on if the offense is better playing both quarterbacks.
"I feel like the offense is better when I'm out there."
9. Zaire on the challenges of playing two quarterbacks.
"It's not the most ideal situation, but as a pro you have to deal with the cards you're dealt and make something happen. My whole goal is to turn chicken crap into chicken salad. We've to to make him right."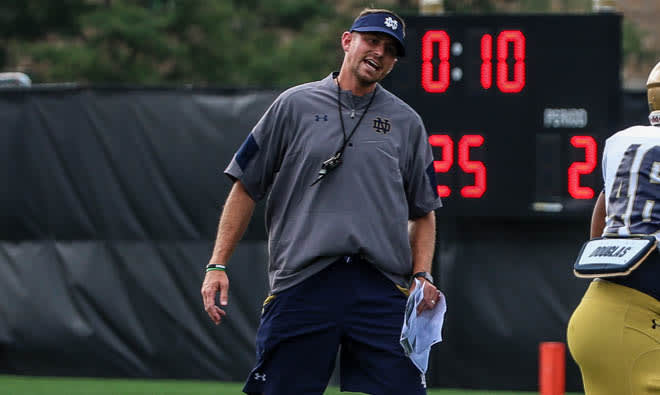 10. Sanford on playing two QBs.
"At the end of the day it's a positive thing. We've got two great players. A lot of the time when a decision like this is made, everybody immediately looks to the negative of a decision, but there are some great positives. The great positives for me include that both guys have done very, very good things on Saturdays, and hopefully in this case do some more great things on a Sunday night in Austin, Texas."
11. Sanford has no experience with a situation like this.
"It is outside the box, and it's outside the box for me from my own personal experiences which aren't' nearly as expansive as Coach Kelly or other people on our offensive staff, Coach Denbrock, Coach Hiestand. But they've been through it and playing both guys."
12. Sanford on Zaire pushing Kizer this camp.
"To be 100 percent honest and transparent, this has been a very good version of DeShone Kizer this camp, there has been absolutely no letdown in his growth. In fact the way that Malik has come back and reinserted himself physically and as a quarterback and being able to take reps, I really believe that's truly given DeShone that competitiveness which has helped him to grow significantly."
13. Sanford on the plan with Kizer and Zaire.
"This is fresh. You don't expect to have a complete roadmap already paved out."
14. Sanford on the quarterbacks not being pleased with the decision.
"The thing I like about both of them is that in their own mind, there's no question they're the starting quarterback at the University of Notre Dame. If you're going to be able to handle the scrutiny and the pressures of being the quarterback and dealing with any type of adversity and how the fanbase is going to respond, how the national spotlight is going to be on you, you've got to have that trait in you, you've got to have that desire to be the man and to truly embrace that and every high and low of it."
15. Sanford on handling the whole playbook as a quarterback.
"You talk to defensive coaches and they get a lot of extreme formations that are difficult to defend, we'll it's not always easy to be the maestro behind all that as a quarterback."