{{ timeAgo('2023-03-15 10:56:48 -0500') }}
football
Edit
Chat Transcript: Dishing on ND's latest safety dance, staff chemistry
Eric Hansen: Welcome to Notre Dame Football Live Chat, semi-frozen tundra/spring edition.
Some quick programming notes:
► Our Inside ND Sports Podcast records Thursday this week. So be sure to look for it on our homepage or on your preferred podcast platform including: Apple Podcasts, Spotify, Google Podcasts, Stitcher, SoundCloud, Podbean and Pocket Casts.
► If you missed this week's live episode of our weekly offseason Notre Dame Football YouTube show, Football Never Sleeps, you can catch up anytime on YouTube, In our latest episode, Tyler James and I discussed safety recruit Brandyn Hillman being released from his National Letter of Intent by Notre Dame, if the Irish need to make another safety addition to the roster, what obstacles Notre Dame is facing in competing for a national championship and the five most intriguing people entering spring football.
► Finally, if you love winning big cash prizes and fabulous merchandise, then you might as well skip right to the chat. However, we are sponsoring a Bracket Challenge with some modest rewards. Finish first, second or third, you get one year, six months or three months free! Beat Tyler and me, and you get a free month. If you're already a subscriber, we'll add the time to your subscription. Enter here: https://notredame.rivals.com/news/win-a-free-year-of-inside-nd-sports-...
As far as this week's chat …
Please remember to include your NAME and HOMETOWN along with your questions.
Here are the rules: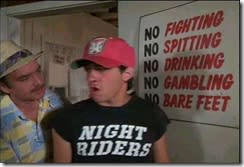 Eric Hansen: Let's get rolling.
Marie from Atlanta: Hi Eric, I hope you're having a great week. I'm sure you're excited for the beginning of spring practice. With the unfortunate news that Brandyn Hillman will not be enrolling at Notre Dame, it seems likely that the staff will go to the transfer portal for help, but it also seems necessary that someone will need to switch to safety for the spring, who do you think is the most likely candidate? Clarence Lewis, Ryan, Barnes, and what has happened to Philip Riley? In an unrelated question, given Al Golden's subtle flirtations with the NFL, it seems like he may partially be out the door at Notre Dame. Although this probably won't affect his coaching for the year, do you think this will result in him being less invested in recruiting? As always thanks for hosting the chat and your awesome insights.
Eric Hansen: Hi Marie, thank you for your awesome questions. Oklahoma State transfer safety Thomas Harper is coming off shoulder surgery as is early enrollee Adon Shuler (more recently), so the numbers will be down in the spring. That does mean a lot of reps from freshman Ben Minich, whose speed may allow him to be an asset early in his career. I don't know that you'd want to move someone just for spring and then move them back, but if ND commits to it for the longer term, then trying CBs Clarence Lewis and/or Ryan Barnes makes sense. The loss of Hillman really affects the 2024 roster and beyond more than 2023. ND needs promising young safeties, because the roster is top heavy and is about to turn over.
As for Philip Riley, he would have to have a transformative spring to even get in the two-deeps at corner. ... As for Al Golden, I think it's more the NFL flirting with Al than the other way around, though I believe his listened and listened intently. And he's got to figure out if his future is with the NFL as a coordinator or in college as a head coach. The whole NIL/transfer portal combo is making the NFL look more inviting for some college coaches/assistants. ... I do know he's invested in recruiting. Just got off the phone with someone who talked to him today about how fired up he is about this cycle's linebacker prospects and getting after them.
Eric Hansen: Speaking of Marie, I promised Tom from Sister Lakes, Mich., I'd answer this question this week if I got Marie's permission, so here it is:Hi Eric, Here's a different question for your chat. I've been intrigued for some time now by another regular chatter. And that's Marie from Atlanta. She always asks very good questions and knows her football. I believe many of us would be interested in her background without giving away identity. Is she a ND alum? Did she grow up watching ND football with her dad and brothers? How did she gain all that knowledge? I hope this doesn't come off chauvinistic but truly in admiration.
Eric Hansen: And here is the answer in Marie's own words:
Wow, that was an awfully nice question. Of course you can pass on a little information about me. I think you know I am a Notre Dame grad and that I played a sport at Notre Dame. I was there prior to the opening of the Gug, and my guess would be that the different sports teams intermingled a little bit more back then just because of the lack of space. All of my football knowledge does come from my father. My dad worked a lot, and quality time with him was spent either playing sports or watching sports. My brother and I would always watch college football games with my dad, and Notre Dame was his favorite team and then became my favorite team.
My dad was not a graduate of Notre Dame, so I never attended an actual game until my freshman year of college, and I remember having an amazing time. I would also add that I don't think there's a better university in the country to be a student-athlete.
Eric Hansen: A couple of footnotes. Marie is not her first name. She is in the medical profession and she was (and probably still is) a very good tennis player.
Jim Tal from Valley Center, Calif.: Greetings Eric. As always, these chats are very much appreciated. Thank you so much for providing such a forum. Because of the numerous coaching changes, is there any legitimate concern about the staff meshing together as a group? From the outside, it seems possible this many changes could cause enough disruption to result in greater uncertainty and lesser success on the field.
Eric Hansen: Hi Jim. I think the concern might be greater, just because of how long it took for the coaching carousel to play out with ND's coaches. It's a big difference hiring someone in early January versus hiring someone in March. But that challenge can be overcome. Only twice (besides his initial staff) did Brian Kelly add more than two assistants in an offseason. One was before the 2012 season and the other was before 2017. One of those teams played for a national title and one improved by six wins over the previous season. I think the other positive is Gerad Parker inviting collaboration. He can then better take advantage of two additions (Gino Guidugli and Joe Rudolph) who have more coordinator experience than he has.
Irish Mike, Altoona, PA: Hi Eric from snowy central Pennsylvania! The Nittany Lions just started Spring practice yesterday which has me anxiously waiting for the Irish to do the same! Now that Marcus has assembled a premier coaching staff with his guys what is your win/loss prediction for this season? Also, as ND lost some top-notch coaches who Freeman fortunately was able to replace admirably, as well as several flirting with other jobs do you see a continuation of the exodus by assistant coaches to pursue other opportunities?
Eric Hansen: Hi Irish Mike. As long as Notre Dame hires good assistants and as long as the team is successful, other teams -- both college and NFL -- are going to have interest in those assistants. It's both a challenge and also a blessing and I do see it continuing.
Jeff - Elyria, OH: Do you see any of the RB's transferring out after the spring game? There is an awful lot of back's and not enough carries to go around, thoughts?
Eric Hansen: In this day and age, I wouldn't rule out a transfer in any position group. It's just the way of the world. There are six running backs, and none of them have expiring eligibility when you add in Chris Tyree's COVID-exemption year. I think the playing time issue can be alleviated if Tyree moves full-time to slot receiver. We'll find out soon if that's a possibility. Once Jadarian Price is fully recovered, it's going to be tough to keep him off the field. Logan Diggs and Audric Estimé are established 1 and 1A. That leaves Jeremiyah Love, who you can bring along slowly, and Gi'Bran Payne. Payne is the one who will have the biggest challenge in the fall to find carries, I would think. Could you move someone to safety? Perhaps, but there's not a natural fit there.
Brandon from Arizona: Can any young LBs see the field early and often? Also a review of DL depth? #goirish
Eric Hansen: So let's start with young linebacker question. I'd throw six players into the young category -- junior Prince Kollie, sophomores Jaylen Sneed and Nolan Ziegler and freshmen Drayk Bowen, Preston Zinter and Jaiden Ausberry. I'm assuming Junior Tuihalamaka's role at DE will be full time or close to it this spring. He could always move back to middle linebacker. So, the path of least resistance is rover, That's especially true if Jack Kiser follows through and challenges Marist Liufau (and Kollie) at Will (weakside) linebacker. That's where the logjam is. There's an open spot to back up JD Bertrand at middle linebacker. Another wildcard is a new LBs coach in grad assistant Max Bullough.
Of the young guys, Kollie is probably the most ready, but Sneed is surging and is an ideal skill-set fit at rover. Should Kiser stick at Will, it opens up the rover lane too for Ziegler and Ausberry. Bowen is a natural Will, but could back up at MLB. Or the Kiser/Liufau/Kollie option who finishes third in that race, could also back up at MLB. As far as defensive line depth, I'll publish our projections at all positions on the depth chart next week. If you've got a more specific question about the depth, I'd be happy to entertain it.
Mike from Rochester, N.Y.: Hi, Eric and Tyler, I really enjoy your YouTube program and the live chats, keep up the great work! With the unexpected loss of Brandyn Hillman, is there anyone in the other position groups (LB, WR, CB) who would get a serious audition at Safety? Or is the portal the more likely place to find immediate help? Why are they struggling to recruit great talent for this position after they did such a great job developing Kyle Hamilton and putting him in a position to demonstrate his incredible ability?
Eric Hansen: Mike, thank you. We appreciate you watching. I do think dipping into the new portal pool that enters May 1-15 is the most likely outcome to fill that safety spot. Ideally, it's an underclassman who can thread the needle and get through admissions, because the bigger need is a future starter in 2024 or beyond, not a starter this year. They need depth in 2023. As I mentioned earlier, there are candidates in the safety ranks and numbers at RB (but not natural fits), but none of those potentially work as well as the portal. Safety has been a weird recruiting journey. ... It looked like they were going to get five-star Peyton Bowen in the most recent cycle until it didn't. They're had some highly rated prospects in Derrik Allen and Houston Griffith, who never lived up to the hype. The Brian VanGorder years of recruiting safeties was a lost few years, but he's long gone. The 2024 cycle is super critical for that position, but I think the portal will be used again perhaps next year.
Tanker, Dulce NM: Hi Eric, happy march madness week to you. Two players i dont hear much about but see as valuable pieces are Keanaaina the DT and Walters at safety. Keanaaina seems to be a stout road grater sort specimen and Walters to me seems like a physical alley player with athleticism who can provide a thumping, tough presence at the second level or maybe even evolve into a rover type player if he fills out a bit more. Any word on their respective progress or what to expect this year for both players?
Eric Hansen: Hi Tanker. Let's start with Aidan Keanaaina. At 6-3, 323, there's no one quite like him on the Irish roster. He fits the traditional 3-4 nose guard role, and there's value in that even if ND is primarily 4-3. The question he can answer in the spring is long-term health coming off knee surgery last spring. If there's been continued progress health-wise and football-wise, then he's someone who can help. Justin Walters looked good in practices as a freshman and has kind of disappeared. He doesn't get mentioned in short-term or long-terms plans at safety. That's not a good sign for someone hoping to climb the depth chart, but we'll see.
Chris in Albuquerque: Hey Eric, A great morning to you and all on this board! I need some good ND football news...any? It feels like not a week goes by without something negative happening. It feels like this administration could use a swift kick in the pants. I also cannot imagine what Coach Freeman is hearing with the negative recruiting that happens on the trail. Thanks.
Eric Hansen: Hey Chris — back to back questions from New Mexico. I love it. We addressed this on Football Never Sleeps last night, how some of the recent news legitimately strikes a nerve and how some of the narratives get hijacked and are either embellished and just flat out misreported in some corners of the Web. So some good news? Recruiting will pick up again in full forced with lots of new offers (Friday) and big-time visitors coming into South Bend in late March and virtually all of April. I really like the new coaches coming in on offense, Joe Rudolph and Gino Guidugli. I think Sam Hartman at QB is going to be everything he was advertised to be, and I think he'll make Tyler Buchner better. And I think Marcus Freeman can handle the negative recruiting and do well to use it to his advantage.
Jeff from Phoenix: Hey Eric, I have a few questions about ND QB recruiting. CJ Carr committed for the 2024 class last June. Do you see a 2025 QB committing to ND that soon or even this summer? Are they starting over with the change from Rees to Parker?Can ND afford to be more patient for the 2025 cycle? Also, the hot topic around CJ Carr last year was potential 'reclassification' to the 2024 class, and that idea faded fairly quickly. Has 'reclassification' been mentioned for any 2025 recruits at any position or was that largely speculation about a very unique situation? Thanks and Happy St Patrick's Day.
Eric Hansen: I have a hard time seeing ND getting an elite 2025 QB by this summer. For one, Tommy Rees' departure was like a reset button. I'm sure the 2025s need time to get to know Gerad Parker and Gino Guidugli. You'd think they would want to see that offense in action too before making a decision. Notre Dame has offered just three in that class so far -- Bryce Underwood (a five-star and the No. 3 player overall in the class), Antwaan Hill (No. 68) and Ryan Montgomery (97). There may be more coming this Friday with ND's big Pot of Gold offer blitz. ND can afford to be more patient provided CJ Carr sticks, which I believe he will.
Reclassification nationally generally happens with quarterbacks, but there are other positions who will do it. Safety Sonny Styles (Lorenzo's younger brother) did it at Ohio State, for example. I don't see it happening with any 2025 recruits ND is pursuing. Carr's situation at the time was unique. The Irish looked like at the time they might not get a QB in the 2023 class and the portal was a crapshoot. Then, they got Kenny Minchey for the 2023 class at the 11th hour and struck gold in the portal with Sam Hartman. ND's preference is for early enrollees but not THAT early. Happy St. Patrick's Day to you as well.
Chris in Albuquerque: Thank you thank you for all you do for us!
Eric Hansen: Thanks, Chris!
Barry: Eric, greetings from the nation's capital. First time submitter but long time reader, so thanks for all you do. Do you think the mantra that ND is an O- and D-line driven program might give skill players pause in choosing the Irish? That sentiment is often interpreted as a run-first (and stop run first) mentality, when really it's also about pass pro and giving the QB and the skill players time to connect and/or DBs to be more aggressive in coverage since the line will get home. I don't hear the coaches make this case, but should they so we aren't turning off the top skill players available to ND?
Eric Hansen: Barry, I got an almost identical question from someone in DC named Warren, so I'm going to call you Warrenbarry until you tell me otherwise. Thanks for jumping in with a question even if you have multiple personalities. I understand your concern, but ND does a great job of explaining it to recruits. They got three top 160 players at wide receiver in a class for the first time in the Rivals Era (2002-present) in the 2023 cycle and a top 50 player (No. 42 Cam Williams) at WR already in 2024 with more of that type in the mix. Plus a QB who will likely end up as a five-star prospects in 2024. So, the message seems to be getting across. Thanks again for submitting your question.
Mike from Rockville, MD: Hi, Eric! Thanks for your time on these weekly chats! I'm curious to know your thoughts on the quality AND quantity of the Graduate assistants and analysts on the ND staff. It seems like other programs (like Alabama) have more staff and get bigger names. How do you think this affects ND on the recruiting trail, development of players and game day?
Eric Hansen: Hi Mike. Thanks for participating in them. So, the size and roles of grad assistant/analyst staffs may soon be undergoing changes, where analysts may be able to perform on-field coaching for the first time. Currently, there is a limit on grad assistants a team can have. There's also a limit on how many years a coach can carry grad assistant status (and that carries over to a new school). There are no limits on analysts theoretically. I think anytime you use Alabama for an example, you have to be careful, because would those same numbers and concepts work if say, Bob Davie was Alabama's head coach? Nick Saban would probably win games if he hired sports writers as analysts. Typically ND hires coaches in analyst roles who are developing in the coaching business (with some exceptions). There's a lot of grunt work, breaking down film, etc., that is more helpful than having a name coach, who may not want to do that.
An exception would have been last year, to have an experienced offensive mind for Tommy Rees to bounce ideas off of and to help with some of the conceptual coaching of young QBs. Remember, they can't help on the field. ND has hired some really good grad assistants that make a difference. James Laurinaitis and Chris Watt last year come to mind. More is not always more. As long as ND is willing to spend the money on a more experienced analyst when warranted, I think they're in a good spot with this.
Eric Hansen: Sean from Schaumburg, I'm sorry I can't answer your question, largely because it was a manifesto and really only had rhetorical questions contained within. I'll let the no-bare feet rule slide, even the no-drinking rule. But I'm firm on no 17-part questions, no manifestos. It isn't that kind of chat. If your question won't fit in one take, it's too long. I love your passion and everything you ranted about we addressed in last night's Football Never Sleeps show. Listen to that, and you'll either be happy or we'll put YOU to sleep. Thanks for understanding.
Jason from Grand Rapids, Mi: Eric, I'm optimistic on our offense with a proven passer like Hartmann (assuming he wins the QB battle) leading it. What's the biggest obstacle to seeing our offense be consistently great. QB transition? No Mayer? New OC or a mix of all of the above.
Eric Hansen: Hi Jason. New offensive coordinator. I think he can handle the games where ND has a talent advantage. His proving ground will be when the talent is even or ND is at a deficit (Clemson, Ohio State, USC). The wide receiver corps needs to surge this spring, but I expect that.
Doug from Sunny Florida: Eric, the three new hires on offense, Gerad Parker included, have quite a bit of OC experience already. Do you think that was by design or more of a coincidence? What do Coach Freeman and OC Parker need to do to take advantage of that experience and what are the downfalls?
Eric Hansen: Hey Doug, it's sunny here too, but the heater part of the Sun seems to be defective. I don't think it's a coincidence (but wouldn't have been a deal breaker). I think it's important that everyone is aware of who's in charge and who ultimately makes the decisions, but Gerad Parker came out publicly and invites collaboration, and that's a great thing. And he'll get it from Deland McCullough and Chansi Stuckey as well.
Don in PHX: Eric, another rainy day in Scottsdale. While it's great for us I feel sorry for those who are visiting on spring break. I've been reading about recruiting, which is a first as I never paid much attention. Aside from Alabama, Ohio State and Georgia does any team consistently recruit well up and down the roster? Given the built-in difficulties I find it amazing Freeman has changed the recruiting dynamic as quickly as he has. What am I missing?
Eric Hansen: Hi Don. I'd say Clemson typically too generally recruits thoroughly and has a high hit rate, though they probably would be helped by using the portal more to fill holes. I'm in alignment with your thinking regarding Marcus Freeman. I think you're missing (and good for you) the fear of the unknown regarding NIL. It's effect on recruiting is ever-morphing and Marcus is not defeated by it. i do think the fears about ND's self-imposed shallow portal pool is an issue that is concerning and that needs to be addressed.
Art from Houston: I was sad to see Harry H. depart. Seemed sudden and right after Tommy left. Anymore to this story besides spending time with his family?
Eric Hansen: Hi Art. I think most people are suspicious when a coach says he's leaving to spend more time with his family, because sometimes it's disingenuous. I don't think it is in Harry Hiestand's case. But I also think after he was fired by the Bears, he was going to be picky about his next job. And working with Tommy Rees had a lot of appeal. I think he'll still be very involved with his former players and still watching and cheering for Notre Dame.
Romon from Virginia: Hello Eric! How are you doing ?? Curious I ask you question. Which is one Notre dame football strength and weak is area ??? What are you thinking about offense coach staff?? My concern is about defensive line and saftey ?? Lil worry about Defense . I hope they will able get defensive line player and defensive back.
Eric Hansen: Hi Romon, going into spring, I'd say the three position groups that look most solid/proven are quarterbacks, running backs and cornerbacks. I think the one with the most to prove is D-line followed by safety. I like the new offensive coaches. They made a strong first impression. I'll have more to say about that once I get to see them in action in practice.
Eric Hansen: OK, that's going to do it for this week. Remember, we'll be moving to Thursdays for all but Easter week during spring football. So Thursday at noon next week. Thanks for all the great questions today. And don't forget to enter our Bracket Challenge.